See Swatches Of Tarte's Tartiest Matte Lip Paint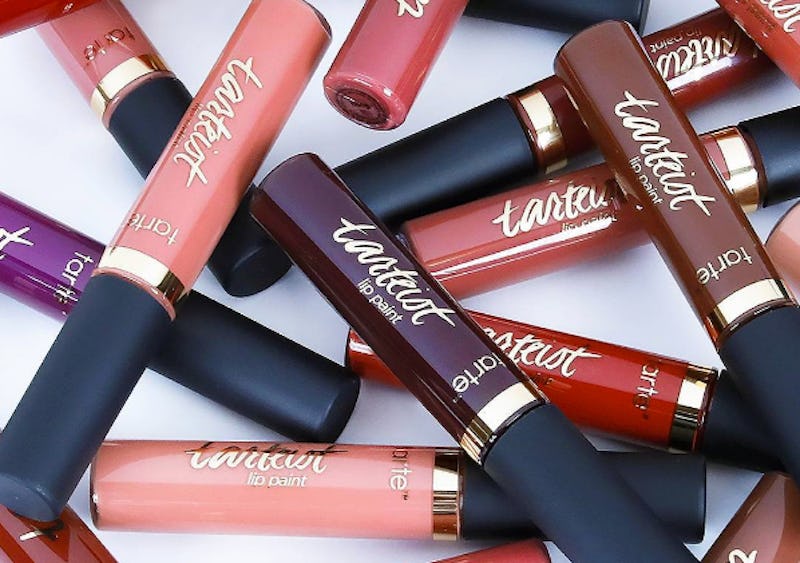 Tarte Cosmetics is back at it again, and I'm not talking their Holiday Collection. The company has launched three brand new products and they saved the best for last. Tarte created a quick-drying liquid lipstick that's completely different than their other products. Not only do swatches of the Tarte Tarteist Quick Dry Matte Lip Paint look great, but the new formula is one you'll want to get your hands on.
On a trip to Bora Bora with a group of fabulous YouTubers, Tarte unveiled a few new products. The first was the Tarteist PRO Amazonian Clay Eyeshadow Palette, which features 20 gorgeous shades. The next was the Tarteist PRO Glow Palette, since, you know, glow is the biggest makeup trend. Last, but certainly not least, came a brand new quick dry liquid lipstick formula in ten different colors that will blow you away.
Tarteist Quick Dry Matte Lip Paint, $20, Tarte
The new colors range from basic nudes to vampy lips that are perfect for fall. Each one is absolutely gorgeous, in my opinion. The only problem with the collection is trying to choose which shades to add to your makeup bag. They're all currently available on Tarte's website for $20 each, and something tells me that they'll be instant bestsellers. Just one look at the swatches and you'll see exactly what I mean.
Even if you already have colors like this in your collection, you'll still want to stock up on the new formula. They first showed the colors on the company's Snapchat, and I was instantly impressed. Not only did they dry super fast, but some people even wore the new lippies jet skiing and they didn't budge one bit. It was pretty incredible.
Tarteist Quick Dry Matte Lip Paint, $20, Tarte
As of now, they are all in-stock and ready to be added to your virtual cart. Although the formula looks to be a permanent part of the makeup brand's collection, there's no telling how fast they will restock. Bottom line, you should probably get over there and shop your favorites.
Matte, quick dry, and long-lasting? I don't know how Tarte did it, but I'll take one of each! Fingers crossed that they come out with even more lip hues in the future, because this looks like a real winner.
Images: TarteCosmetics/Instagram (1), Tarte (1)