A Guide To The 'RHONY' Ladies' Favorite Spots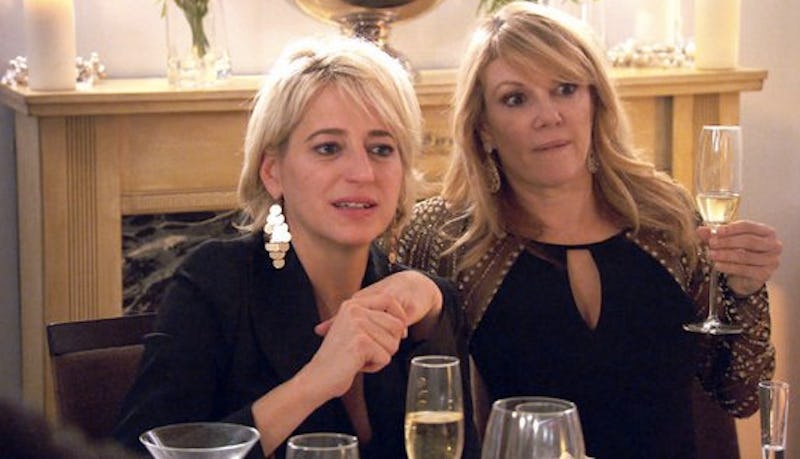 I would do anything to be one of the Real Housewives of New York City cast members. Sadly, I have zero shot at that dream becoming a reality, but I've tried to figure out ways to make up for that. If you are on my level of fandom, you'll definitely appreciate this Real Housewives of New York City location guide, so you can check out all of the spots that the ladies love to frequent. Not only will you be able to channel your inner Housewife (and reenact some of the most iconic scenes in reality television), but there's also a really good chance that you will run into some of the cast members.
These ladies are very habitual creatures, or at least that's how it seems with them name checking the same places over and over again. So, if you show up at the right time, you might end up in the background of some juicy RHONY drama. At the very least, you can snap selfie at one of their favorite haunts and show off your honorary Real Housewives status to your friends on social media.
These are the places that you need to check out if you want to feel like the RHONY ladies.
1. Beautique
If it seems like the RHONY ladies are always at Beautique, it's because they pretty much are. This is where Kelly Bensimon made her random guest appearance that caught Bethenny Frankel off guard, and it was where Sonja Morgan infamous asked John Madhessian, "What are you doing here without Dorinda?" So for that alone, it will forever be iconic in my eyes.
2. The Regency Hotel
I wonder how many times "The Regency" was uttered during this past season. This is the place where Luann de Lesseps' fiancé (of one week), Tom D'Agostino, kissed another woman, after which the pictures were sent to Bethenny, setting off some major drama. Hopefully, you don't get into too much trouble if you show up at The Regency yourself.
3. Brass Monkey
This is the bar where Kelly and Bethenny had one of their most iconic arguments. Kelly told Bethenny, "We're not the same. This is you (gesturing downward) this (she lifts her hand) is me." I will never forget that moment and I'm not going to lie: I've reenacted it a couple of times at this location.
4. Le Cirque
Even though she pretty much got along with no one, Aviva Drescher contributed one of the best scenes in reality TV history when she decided to toss her own prosthetic leg in the middle of the floor at an event at Le Cirque.
5. Madame Paulette
At this point, Dorinda's boyfriend, John, is an honorary cast member, so of course I had to include his dry cleaning and alteration business, Madame Paulette, on this list. After all, a lot has gone down here. This is where Luann's ex-hookup Rey drunkenly showed up and it somehow turned into a fight between Ramona Singer and Dorinda. Good times.
6. Satoko NYC
If you had to go to one place on this list, I would suggest booking an appointment with Sonja's facialist Satoko Yamazaki since it's pretty likely that she will spill gossip and start rumors about the RHONY cast like she infamously has in the past — sorry, Luann.
7. Joanne Trattoria
The ladies don't go here all the time, but the last season really kicked into overdrive at this restaurant since this is the place where Sonja revealed that she had been "friends with benefits" with Luann's fiancée and shocked the cast. So, if you have some scandalous news to share with your clique, you might as well pull a Sonja and do it here. (And, yes, this is also Lady Gaga's parents' restaurant.)
8. AOA Bar & Grill
AOA Bar & Grill is the sports bar for which Ramona is a partner, so maybe you can run into her or her daughter Avery if you go there to grab a bite. Personally, I'll always remember this restaurant for the scene with Ramona and her business partner interviewing prospective employees since she said to one of them, "We asked you to list any other office machines you can operate and you put stapler. Is that correct?" Too funny.
9. Hotel Gansevoort
The Gansevoort is where Dorinda hosted her bra-fitting party, which seemed like a cute idea until Ramona started telling her gossip about John. And then John showed up and got into a major fight with Bethenny about Skinny Cow ice cream. If you want to argue like a Housewife, then the Ganseveoort is the place to do it.
10. Bistro Chat Noir
If you want an awkward way to celebrate your birthday, then you should go to Bistro Chat Noir, the place where Ramona has her birthday brunch every year. Yes, this is including the episode where Ramona got mad at Luann for re-gifting her a necklace for her birthday present after she gave Bethenny a customized purse for hers. This is also where Ramona argued with Dorinda about who should throw Luann and Tom an engagement party, which is obviously weird since Ramona dated Tom, as well.
11. Black Barn
This is one of the places where Luann had her engagement party, because who just has one celebration these days? And, of course, it was super awkward since other cast members used to date or have friends-with-benefits relationships with her fiancée. Hopefully, if you go to Black Barn, then you will not end up in a love triangle or square with your besties.
12. The Strand Hotel
Ramona is the Madonna of RHONY. She is always pushing a "new Ramona," and I absolutely live for it. She infamously had her "New Beginnings" party at the Strand Hotel, which I feel like is such a random reason to have a party, but it's a #TotalRamonaMove. If you have a non-event to celebrate, you should copy Ramona and invite your friends here to do so.
13. Zarin Fabrics
This is such a throwback reference, but anyone who has been watching RHONY from the very beginning will know how much former cast member Jill Zarin referenced and filmed at her family business, Zarin Fabrics. If you miss seeing Jill on your TV screen, you should pop by Zarin Fabrics.
Sadly, we can't all be Real Housewives of New York City cast members, but if you go to these places where some of the show's most infamous moments have gone down, then I'm sure you'll feel like you're one of the ladies.