The Most Popular Halloween Candy In Each State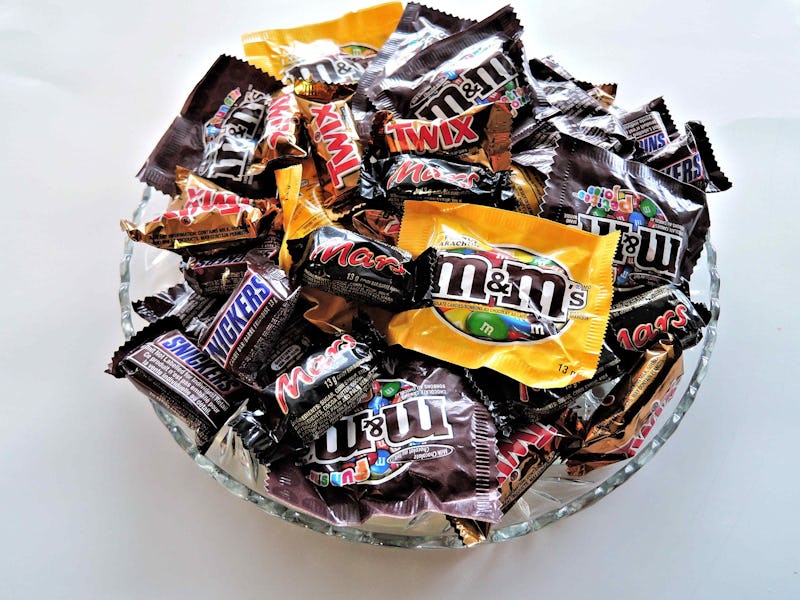 Trick-or-treating was always my favorite part of Halloween when I was a kid. Now that I'm the one handing out the candy, I know how important it is to choose the perfect fun-sized bar — which is exactly where CandyStore.com's awesome infographic of each state's favorite Halloween candy comes into play, making your front door the destination for sweets this Oct. 31. Some Halloween cynics may be handing out tiny boxes of raisins and travel-sized toothpaste, but do you really want to see a nine-year-old dressed as Harry Potter cry? Not me. As anyone who has ever trick-or-treated knows, there's a hierarchy of Halloween candy, and it's not to be ignored (unless you want your house to be TP'ed, that is).
So how do you choose the candy that is right for your neighborhood? By analyzing an impressive eight years of sales data, CandyStore.com has determined the best-selling candy in each of the 50 states. Looking at sales of sweets from the three months before Halloween in the years 2007 through 2015, they have created a comprehensive list of the top candies by state. I always loved Nerds and would trade anything for them, but surprisingly they don't even make the list. (Go figure, right?) Check out this run-down for the most popular choices, and see what treat is the one to beat in your area — and head on over to CandyStore.com to see it all laid out in an absolutely delicious-looking map.
Reese's Peanut Butter Cups
Iowa, North Carolina, Oregon, and Texas choose these nutty chocolatey confection as their absolute fave. Whether you like to eat them in one bite or slowly peel off the chocolate shell, they're tasty any way you do it (there's no wrong way to eat a Reese's, remember?). Pity there are only two to a pack.
Candy Corn
Why Idaho, Michigan, New Mexico, Rhode Island, and South Carolina can't get enough of these waxy, tri-colored triangles is beyond me. Candy corn is only really eaten around Halloween time, so maybe the seasonal aspect has these states sold.
Blow Pops and Tootsie Pops
West Virginia, Tennessee, New Jersey, and Kentucky love their lollipops. While these were never my top pick at Halloween, they are the longest lasting candy, at least. (Literally — it take forever to get to the center of a Tootsie Pop). If you live in one of these four states, consider loading up on these suckers.
Sour Patch Kids
Sour Patch Kids are a crowd-pleaser in chillier states such as Maine, Nebraska, and New York. These martian-shaped confections never fail to provide ample excitement for your tastebuds, so don't be afraid to load up your shopping cart with this tart choice.
Hot Tamales
Why Virginia, North Dakota, and Indiana? Why??? (Just kidding. You do you, guys. You do you.)
Skittles
This year, trick-or-treaters in Minnesota, Pennsylvania, and Florida will be tasting the rainbow. It seems these three states just can't stop buying up these fruity, multicolored gems.
Milky Way
Vermont, Missouri, and Maryland can't get enough of these nougat-filled candy bars.
Salt Water Taffy
Who the heck gives out assorted salt water taffy? In all my years going door to door, I've never seen that in my trick-or-treat bag. Must be a West Coast thing — as taffy ranks as California and Washington State's favorite candy.
Honorable mentions include:
Starburst, which is beloved in South Dakota and New Hampshire;
Twix, which is the all-time a fave in Arkansas and Colorado.
And Butterfinger, which tops the list in Massachusetts and Wisconsin.
For more of America's favorite treats, check out the state-by-state candy infographic here.
Images: Pixabay, Giphy (6), Evan-Amos/wikimediacommons, Ehardt/wikimediacommons, Steven_Depolo/wikimediacommons