Here's Where Khloe K's Good American Denim Is Made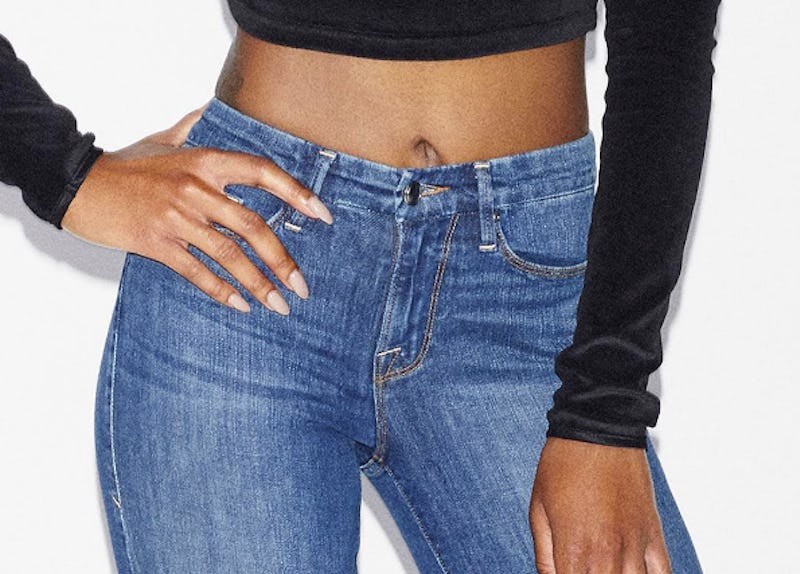 After weeks of waiting, D-Day is offically here. I'm talking denim of course! Khloe Kardashian's Good American line is coming, and it's better than you could have ever imagined. If you're wondering where is Good American denim line made, you'll be happy to know that the name says it all.
There was a lot of speculation going around when Kardashian first announced that she was creating a denim line. Would it be pretty size inclusive? Made in American? Have a wide variety of styles? Well, you can say yes to all three of those questions. People on Twitter have been asking if Good American is made in the United States. I'm happy to report that the name does not disappoint.
"Made in Los Angeles," says the Good American website. "GOOD AMERICAN is dedicated to having a positive impact on the community. Pledging to sustain the manufacturing of jeans in the United States and supporting charities that empower girls to realize their true potential."
That means that on top of have a wide range of styles and sizes and preaching self-love, the brand also fights for American-made products. Sounds like an all-around great brand to me. There aren't to many brands that hit that triple whammy of greatness, but Kardashian's line is definitely one of them.
There is one downfall when it comes to the denim being made in the United States — the price. Kardashian labeled her line as a premium denim brand, so you'd already know the jeans would bring a hefty price tag. Being made in Los Angeles also contributes to the price tag, which ranges from $149 to $215.
On a more positive note, Good American offers a decent range of sizes. Every single one of the styles comes in size zero to 24. There's also a Good Legs, Good Cuts, and Good Waist section where you can choose your style accordingly.
Good American Denim Line, Nordstrom
Besides the hefty price tag, I'd say that this is an all-around great collection. If you're looking to splurge, then this line is the way to go.
Images: goodamerican/Instagram (1)