25 Outdoorsy Gifts For Guys Who Like Nature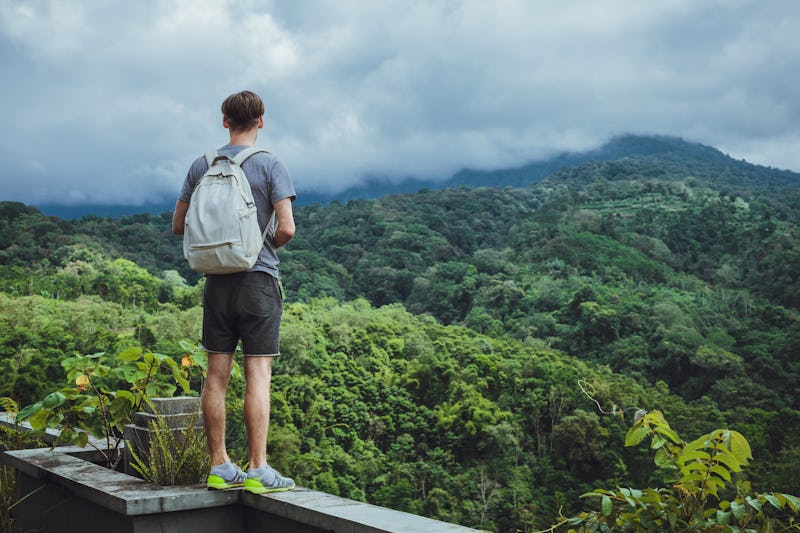 We all know the one. The guy at the office perpetually in plaid. The dude at the dog park who wears Tevas for their "breathability." The friend who carries around a knife every day, just in case. They'll appreciate outdoorsy gifts for guys because they're the rugged outdoorsmen, and their numbers are growing.
In 2015, visitors came out in record breaking numbers to visit one of America's 58 national parks. From the coral reefs of Biscayne, Florida, to the rugged landscape Joshua Tree National Park in California, to the snow caps of Denali in Alaska, dudes have been showing up en masse to ditch their smartphones and take in nature.
But unlike in their apartment, where food delivery is a few clicks away, and the landlord provides a place to rest their head, in the wild they need to be self sustaining. Whether it rains or snows or the sun doesn't stop shining, the outdoorsman needs to be able to build a fire, erect a shelter, find their way to the next campsite and, after a long day, relax. To help the flannel-wearing, knife-carrying, Teva-toting guy in your life make the most of the outdoors, here are the best gifts to help him survive and thrive.
1. For The Connected Outdoorsman
BioLite Wood Burning Campstove, $126, Amazon
Seems like a gimmick, but it's not. Burning wood in the campstove for around 20 minutes will give him enough charging power for about 60 minutes of calls on an average smartphone. Couple with a KettlePot to cook while he charges.
2. Roast Marshmallows And Hot Dogs Without Dropping Them
Light My Fire Grandpa's FireFork, $10, Amazon
These little gadgets offer an updated design to poking your marshmallow through with a stick. Just remove the safety cap to reveal two stainless steel points, which securely hold your dinner. No more losing s'mores or hot dogs to the fire.
3. For Staying Warm Around The Campfire
Patagonia Mens Better Sweater 1/4 Zip (XS-3XL) , $99, A mazon
Patagonia's latest version of their extremely popular and comfortable "Better Sweater" is slim downed — with a quarter zip, instead of a full, and the removal of the two front pockets. Perfect for packing into a backpack for chilly fall nights.
4. For Cold Drinks and Fresh Food
Yeti Hopper Cooler, $299, Amazon
This flexible cooler can be thrown over a shoulder and taken directly from the car to the campsite with ease. Yeti is known for making the toughest coolers on the market, and this portable cooler comes with enough storage to fit — according to Yeti — an 18-pack, six-foot-long subs, or nine quarts of potato salad. That's a lot of potato salad!
5. Make Eating On The Trail Easier
Snow Peak BiPod Stove, $67, Amazon
This camp stove from Snow Peak uses the gas canister as a third stabilization point, allowing for a sturdy but lightweight solution for dinner after a hike.
6. Practical Footwear For Cold Weather
Red Wing Mens 6 Inch Ice Cutter Boot (8-13), $360-379, Amazon
For American-made boots, look no further than Red Wing Shoes in Minnesota. The Ice Cutters offer a thick, solid rubber sole that won't slip on ice, whether at a work site, or just shoveling the driveway.
7. For Keeping Your Hands Warm (And Useful)
Smartwool Unisex Cozy Grip Flip Mitt, $44, Amazon
Made from soft, durable, and extremely warm merino wool, these gloves offer a leather palm for grip and built-in touch capability for checking your smartphone in any weather.
8. Portable And Packable Kayaking
Oru Bay Kayak, $1,084, Amazon
For urban adventurers, space is typically the limiting factor for their passion. Oru Kayaks solve this problem by offering foldable but durable kayaks that can fit under the bed and then easily into the back of a car.
9. For The Huntsman
Browning DIY Butcher Kit, $67, Amazon
Whether he's hunting or fishing, the butcher kit will allow him to clean or dress his catch right out in the field.
10. Camping in Comfort
Western Mountaineering Ultralite 20, $485, Amazon
Western Mountaineering sleeping bags are great for men because they are cut to accommodate larger frames. This advanced sleeping bag is lightweight at one pound and eight ounces, and it features a draft collar, which helps block out the cold and keep the warmth inside.
11. Socks For The Trail Or The Restaurant
Smartwool Men's Diamond Jim Socks, $21, Amazon
No one wants to spend over $20 on socks for themselves, but everyone wants to be given $20 socks. They are warm, comfortable, and the diamond pattern means they can be worn on and off the trail.
12. Get His Caffeine Fix In The Wild
Aerobie AeroPress Coffee Maker, $32, Amazon
The Aeropress is a single serving, portable, and easy-to-clean coffee maker that can be used on the trail, on the road, or at home. The intuitive design allows for a bloom cycle, which results in a more mellow cup of coffee.
13. No Electricity, No Problem
EZE Hand Burr Coffee Grinder, $16, Amazon
This hand grinder is the perfect match for an Aeropress and requires no electricity, making it perfect for the outdoorsman.
14. A Smart Menswear Storage Solution
Topo Designs Mountain Pack 23L, $189, Amazon
Topo Designs makes great looking packs for your commute to the office, and the Mountain Pack features extra storage space and more durable construction for the trail. Don't worry, there's still a laptop sleeve.
15. Badass Birdwatching
Nikon Monarch 5 8x42 Binocular, $275, Amazon
The Nikon Monarch 5 is the best deal for that birdwatching dude at the office. In a world dominated by taking low resolution photos with a smartphone, give him something that'll help him see things clearly.
16. For Sourcing The Best Tinder
Light My Fire Swedish FireKnife, $23, Amazon
The 3.75 inch Sandvik stainless steel blade is extremely sharp, perfect for slicing off bark for tinder. And at the base, a flint is stored securely in the handle for getting that tinder crackling.
17. For Incredible Campground Napping
Grand Trunk Double Parachute Nylon Hammock with Carabiners, $65, Amazon
Without breaking the bank, Grand Trunk's parachute hammock is a perfect combination of durability, comfort, and ease of use. Just add: two trees.
18. Light Up the Night
Fenix Flashlights FX-PD35TAC Flashlight, $72, Amazon
The PD35 is a highly respected flashlight in the "everyday carry" world. This latest iteration produces a blindingly bright 1000 lumens and is small and sturdy enough to fit into a jacket pocket for any excursion.
19. Hands-Free Lighting
Snow Peak SnowMiner Headlamp, $50, Amazon
Sleekly designed and simple to use, this gadget converts from a headlamp (with focused light for finding firewood), to a lantern (with ambient light for brightening up a tent).
20. For The Outdoor Drinker
Stanley Classic Flask, $16, Amazon
Inexpensive and functional, this flask won't rust and is naturally BPA-free. For discrete drinking (and leaving glass bottles at home), a flask is a must.
21. For Comfortable Campground Lounging
Big Agnes Helinox Chair One, $80, Amazon
Never before has a camp chair been so lightweight, easy to pack and comfortable to sit in. For comfortable campfire lounging, Helinox is top tier.
22. Flannel For Smart Layering
Legendary Whitetails Buck Camp Flannels (S-3XL), $30, Amazon
Third only to a beard and an axe, a flannel shirt is a must for any outdoorsman.
23. And For Bringing The Outdoors Inside
America's Great Hiking Trails, $35, Amazon
This award-winning guide to the great hiking trails of America — an often overlooked advantage of living in America — will help him find any trail, whether it's part of the Appalachia, the Pacific Crest, or the Continental Divide.
24. For When He Hits the Town
Canada Goose Bromely Bomber (S-3XL), $850, Amazon
This classically styled bomber is both wind- and water-resistant and will keep him warm even if temperatures dip below zero. The look's ideal for letting people know that he's a mountain man, even when he's ducking into a subway station.
25. Vintage Styles Beanie For Staying Warm
KAVU Adult Herschel Beanie, $30, Amazon
Vintage styled and available in six colors, these beanies are made from 100 percent acrylic and feature a pom pom on top. For keeping warm but looking cool.
Images: Fotolia (1); Amazon (25)
Bustle may receive a portion of sales from products purchased from this article, which was created independently from Bustle's editorial and sales departments.