Here's What Lengths Good American Jeans Come In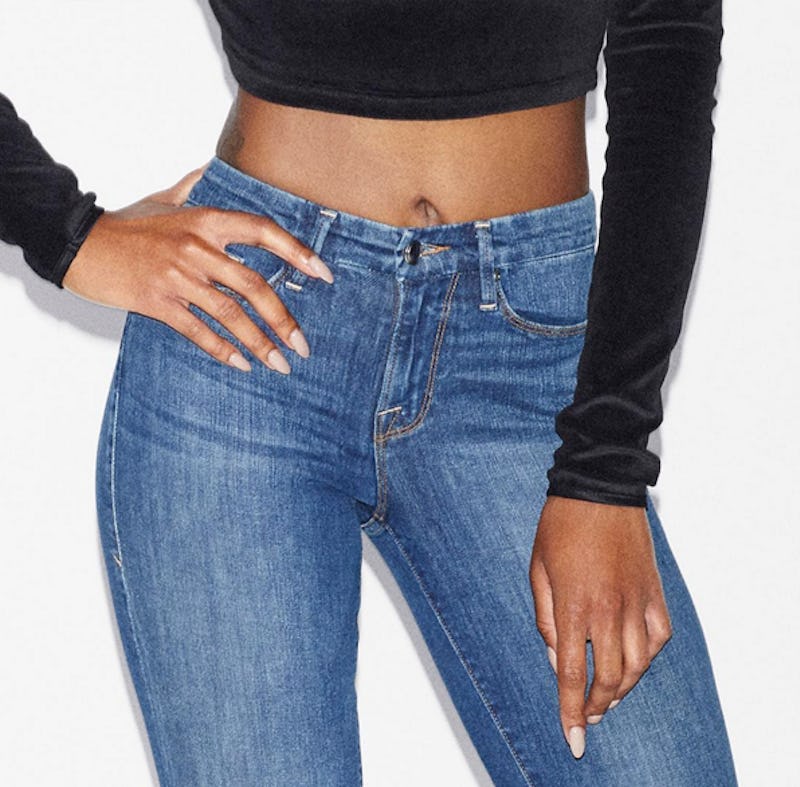 Khloé Kardashian's denim line is officially available to shop, and select styles are going fast. So, you're going to want to head over to the website and stock up on these pants while you can. But, before you make a purchase, you'll need to find out if the Good American denim line will come in tall lengths.
As of right now, there are two different inseams to choose from. There's a 29-inch inseam and a 27-inch "cropped" option. According to the LA Times, the industry standard inseam is around 35 inches, made for women who are five feet and nine inches tall. So, the 27-29 inch inseam is great for the shorter gals out there, but perhaps not so great for taller folks.
Bustle has reached out to the brand to see if they plan on offering even more length options in the future. But, keep in mind that Good American is just getting started. It's only just launched, and it's already got 19 different styles to choose from. Plus, each pair of pants comes in sizes 0-24. For right now, it seems as though the brand chose to focus on offering a wider variety of waistband sizes over different inseam lengths, but stay tuned for further updates.
Kardashian and Emma Grede set out to create a line that's "sexy and flattering, and made to fit you – not the other way round," according to the website.
People online seem to love the denim offerings, too.
I mean, even Kylie Jenner is part of the #goodsquad, so these jeans have gotta be good!
If there's anything people are disgruntled about, it's the pricing of the pants, not the length selections.
All in all, I'm convinced that there's plenty to look forward to from Kardashian's first-ever denim line. This is only the beginning for the brand, and I gotta say, so far, I like what I see. Head on over to the Good American website to see exactly what collection has to offer.
Image: goodamerican/Instagram (1)