I Used Liquid Lipstick Instead Of Gel Eyeliner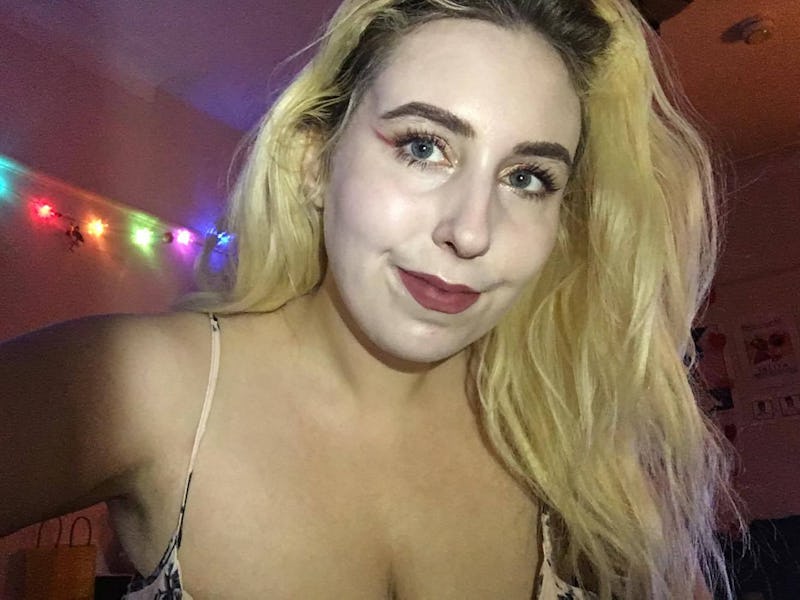 There are a few recurring trends in my life: The first being doing cool stuff to my face with makeup, the second that I love to use things for tasks other than their intended purpose. So why not put the two together and use liquid lipstick as eyeliner? After all, I do love a bargain, and if I can get more than one use out of a product, then a small thrill runs down my spine as I think of the amount of money I'm saving. That said, I don't think I'll be jumping on the "whole face using only liquid lipstick" trend just yet.
As beauty trends come and go, so do "makeup hacks" but while using liquid lipstick in lieu of gel liner kind of makes sense when you think about it, some of them are a little more wild. Using eyeshadow instead of eyeliner takes a hell of a lot of skill, and using lipstick to replace highlighter? Talk about next level.
All things considered, I was totally down to try using liquid lipstick as a gel eyeliner. For this experiment, I would need two tools. The liquid lipstick, obviously — I chose to use NYX Cosmetics Lip Lingerie in Exotic. The second tool I would use for this experiment was an angled brush, one my mom gave me ages ago.
NYX Lip Lingerie in Exotic, $7, nyxcosmetics.com
First off, I did my whole face of makeup as usual. Unlike many who do their eye makeup first, I like to leave mine to last. It requires the most precision and attention and really finishes the look, so I have always left it as my final part of my face.
You may have noticed that I chose to wear the lippy I was applying to my eyes on my lips too. This was a purposeful decision, as I figured the matching colors would make my face look put together and well thought out.
My brush was nowhere near able to fit into the lipstick tube (and I didn't want to cross contaminate my makeup) I took product off the lipstick wand itself onto my brush. It was no more hassle than dipping my angled brush in a pot of product.
Seeing as it would be impossible to not blind myself taking pictures while shoving a brush at my eyelid, this picture follows our next step. If you want more of an explainer, first read about how to apply gel liner. All actions here were exactly the same: Draw your wing with the brush, then follow on with the liner along the lash line.
To finish, I added a little mascara to complete the look. Because what even is an eye makeup look without some lovely dark lashes, right?
In all honesty, I think this browny red shade looked beautiful as an eyeliner replacement. It made for a more subtle look and didn't look at all like I was trying to use a different product to cut corners. Instead, I looked like I knew a lot more about makeup than I actually do.
The process was no different to using a gel liner and made for a pretty effect without having to actually spend any money on different colored eyeliners. If you love playing around with colors in your makeup routine, this is a great way to do it without having to invest in new products!
Images: Georgina Jones