Richard Is Literally A Huge Part Of 'GG's Revival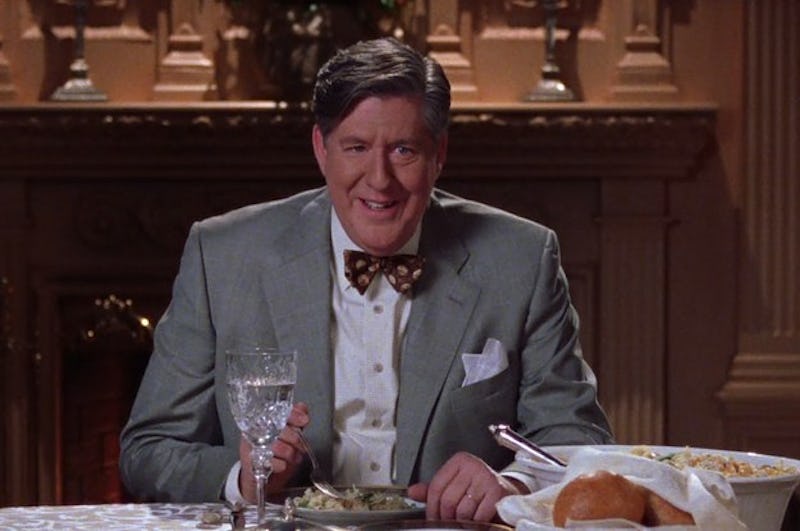 Alert: There are new photos from the Gilmore Girls revival and you're going to want to drop everything right now to look at them. From Jess and Luke talking at the diner to Lane and Rory hanging with Mrs. Kim to a Stars Hollow event to a glimpse of Friday night dinners, it's so good to see these beloved characters back in action. There is also one particular Gilmore Girls revival photo of Richard that proves he will have a huge presence in the Netflix reboot — literally.
The photo I'm referring to is below, so definitely take a look. At first glance, you'll notice Rory and Lorelai are having dinner with Emily. I can only assume this is their weekly Friday night dinner, but maybe they're gathering for another reason. Then, if you look to the left of the photo you'll also see Luke. Whoa. Luke is having dinner with the Gilmore women?
As exciting as it is to see these key Gilmore Girls characters in one room, take another look at the photo for something else noteworthy. Do you see what's behind Emily hanging on the wall? Do you see that photo next to the fire place and by the painting of Lorelai, Richard, and Rory? Yes, that is one massive portrait of Richard Gilmore. It is from floor to ceiling. I told you he will have a huge presence in the new episodes.
Knowing Emily, this is her way of honoring her husband Richard now that he has died. Actor Edward Herrmann, who portrayed Richards died in 2014. It's definitely sad, but it's also good to see that just because both Richard and Herrmann are gone their memories will be very much kept alive.
Images: The WB; Netflix