7 Ingredients You Should Avoid In Skin Products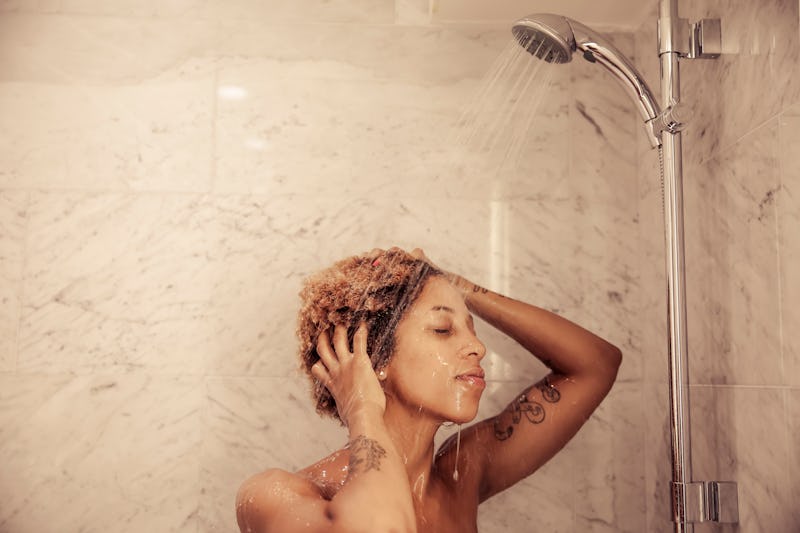 Understanding the ingredients list on the back of a skincare product can feel impossible for those of us who don't have some sort of an organic chemistry degree. What the heck do all of those long, science-y words mean?! And which ones of them will mess with our faces?! Thankfully, the only ones you really need to be able to recognize are the ones that will hurt you. So which skincare ingredients should you avoid?
In lieu of doing a spot test, I spoke to Dr. Jessie Cheung about the worst possible things we can put on our faces. Reading labels on beauty products and understanding what you're lathering yourself in is just as important as reading labels on food to understand what you're ingesting, especially because a lot of the ingredients are more common than you'd think.
While Dr. Cheung has plenty of advice what to stay away from, she also has a few ingredients that she deems important for skin health. "I recommend ingredients that are restorative," she says. She encourages the use of zinc, which is "the safest ingredient," topical vitamin C because it "multitasks as an antioxidant, collagen builder, and brightener," and retinoids.
As you're trying to figure out how to integrate those into your daily skincare routine, here are seven ingredients you should watch out for and seven products that are totally safe to use — your face will thank me later.
1. Formaldehyde-based Ingredients
Tata Harper Skincare Regenerating Cleanser, $40, tataharperskincare
"Look out for common irritants and potential allergens," says Dr. Cheung, which are usually found in formaldehyde-based preservatives or fragrances. Exposure to formaldehyde can put our bodies at risk for developing sensitivities to other chemicals, so it's best to steer clear. All of Tata Harper's products, including this cleanser, are made from natural ingredients, so they are totally safe for your skin.
2. Methylisothiazolinone
Lala Retro Whipped Cream, $60, Drunkelephant
Don't use it in your beauty products, and don't bother trying to pronounce it correctly out loud. This preservative has been OK'd by the FDA, but can still cause nerve damage, says Dr. Cheung. It can usually be found in very small amounts of rinse off products, including some very expensive ones, so be sure to check labels. Drunk Elephant's products only use ingredients that directly benefit the skin's health, and their natural ingredients make them appropriate for all skin types.
3. Some Organic Ingredients
BeautyCounter Rejuvenating Toner Pads, $45, Beautycounter
Sure, they're from mother nature, but natural ingredients can still be harmful to your skin — just think about poison ivy. "Most fragrances are derived from nature, but some are potential allergens," says Cheung. "I have seen skin burns from the application of freshly crushed garlic." Beautycounter has 1,500 questionable or harmful chemicals on their "Never List" that you'll never find in your products, so you know you're always safe.
4. Retinyl Palmitate (But Only In The Daytime)
Hydro-Plumping Re-Texturizing Serum Concentrate, $58, Kiehls
This chemical is fine for wearing at night, but there is a suggestion that sun plus retinyl palmitate may generate free radicals that can damage DNA, says Cheung. Kiehl's is one of the OG natural skincare brands, and its products for men and women support skin health via soothing and calming ingredients.
5. Tricky Combinations
Neutrogena Naturals Purifying Face Cleanser, $7, Target
Even though some ingredients may be fine on their own, mixing them with other actives may cause damage to your skin. "Be careful about combining a leave-on benzoyl peroxide cream with antioxidants or retinoids," says Dr. Cheung. The benzoyl peroxide may deactivate the other ingredient, and then neither product will do what it's supposed to for your skin. Don't apply retinoid with an acid (alpha hydroxy acid or beta hydroxy acid) unless the products are specifically formulated to be used together, since the acids may just breakdown your retinoid. This natural facial cleanser, from Neutrogena, proves that not all healthy products need to break the bank.
6. Anti-Bacterial Products
The Honest Company Hand Sanitizer Gel, $7, Jet
"The overuse of the antibacterial ingredient Triclosan may have contributed to the epidemic of 'superbugs,' which are antibacterial-resistant bacteria," says Cheung. She suggests avoiding toothpastes and cleansers with this ingredient for the benefit of your skin and body health. This hand sanitizer comes from Jessica Alba's line, which means its safe for you and whatever babies you might come across.
7. Synthetic Coloring
Juice Beauty Daily Hydrating Essentials Kit, $39, JuiceBeauty
I like hot pink skincare products as much as the next '90s baby, but it turns out they're not great for our skin. It takes a lot of dye to make a beauty product turn a certain color, and some of these dyes are seriously bad for our health — for example, yellow 5 has been linked to hypersensitivity and blue 1 is possibly linked to cancer. Stick with clear or white products, just to be safe. Get the full kit of Juice Beauty's hydrating products for a full skincare routine without any artificial coloring.
Images: Bustle; Courtesy of brands