Awesome News, 'Space Jam' Fans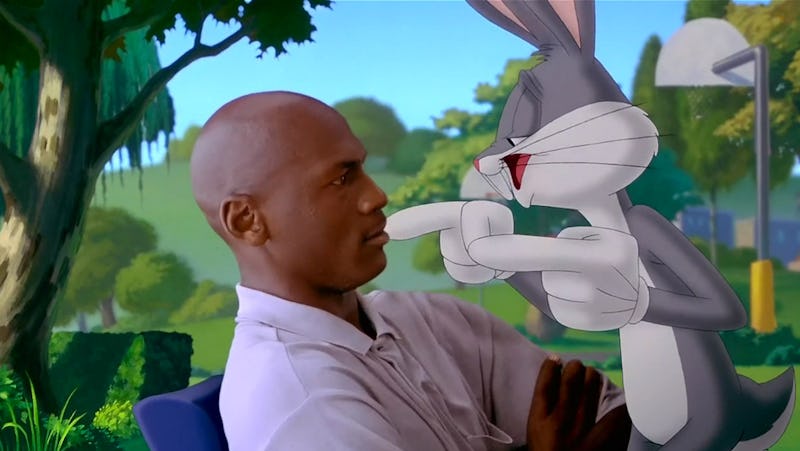 Everybody get up it's time to slam now, because the greatest live-action/animated film to feature the Looney Tunes and basketball and Michael Jordan and aliens and the cleaning power of spit shine will be back on the big screen next month. In honor of the movie's 20th anniversary, Space Jam will return to theaters on Nov. 13 and Nov. 16. You can check out locations and ticket information over on the Fathom Events website.
Now, you could go and watch Space Jam in theaters in the year 2016 without making a day of it. You could just go to the multiplex, buy your ticket, order some buttered popcorn and a blue raspberry Icee, watch the flick, and then go home. And that is fine. Live your truth, do you, listen to your heart, have a good time at the movies, et cetera.
...But maybe that isn't enough for you. Maybe you do want to make a day of it. Maybe you want to celebrate the Space Jam re-release in a big way. Maybe you want to get into the spirit of the occasion. Maybe you want to party like it is 1996.
Here are some ways to do just that.
Wake Up With A Bowl Of Waffle Crisp
Waffle Crisp, $24, Amazon
Do you miss seeing Waffle Crisp (aka the best cereal the '90s ever gave us) in cereal aisles? Same here. But hey, at least we can order it online.
Play Super Mario 64
But don't let yourself get too caught up in all of the 3D goodness. You don't want to accidentally miss the movie.
Throw On A Looney Tunes Pocket Tee
Those embroidered T-shirts are the pinnacle of pocket tee fashion and I won't listen to anyone who says otherwise.
Looney Tunes Warner Brothers Tweety Bird & Sylvester Pocket Red T -Shirt, $11, jimditmyer2012/ebay
Throw An Izzy Pin On Your T-Shirt
A subtle and stylish nod to the mascot of the 1996 Summer Olympics.
1996 Atlanta Izzy Runnung on Red Background Olympic Torch Mark Mascot Pin, $4, olympicman9/ebay
Throw On A '96 NBA Champions Cap
Go MJ, go Bulls, go basketball.
Chicago Bulls 1996 NBA Finals Champions Snapback Cap, $30, Amazon
Throw On An Alien Necklace
Gorgeous. Timeless. Extraterrestrialquisite.
Alien Choker, $10, Etsy
Do The Macarena While You Get Ready For The Movie
Play the song and do the choreography as many times as you see fit.
Make A McDonald's Arch Deluxe
McD's adults-only burger — and yes, that really was a thing — was discontinued in 2000, but fear not: you can assemble one in your own kitchen.
Chug At Least One Can Of Surge
You want to be properly hydrated for the movie, duh.
Acquire At Least One Pack Of Butterfinger BB's, Er, Butterfinger Bites
Butterfinger BB's are one of the '90s-est candies ever (Bart Simpson was the spokesperson, for Milhouse's sake), but unfortunately, the Blockbuster checkout aisle staple has gone the way of the Arch Deluxe. Thank goodness for Butterfinger Bites?
Listen To The Space Jam Soundtrack On The Drive To The Theater
Fly like an eagle all the way to your local movie house.
A merry Space Jam re-release to you and yours, you darling Monstar, you.
Image: Warner Bros.