FOX's "Dammit Janet" Is All About Cemetery Love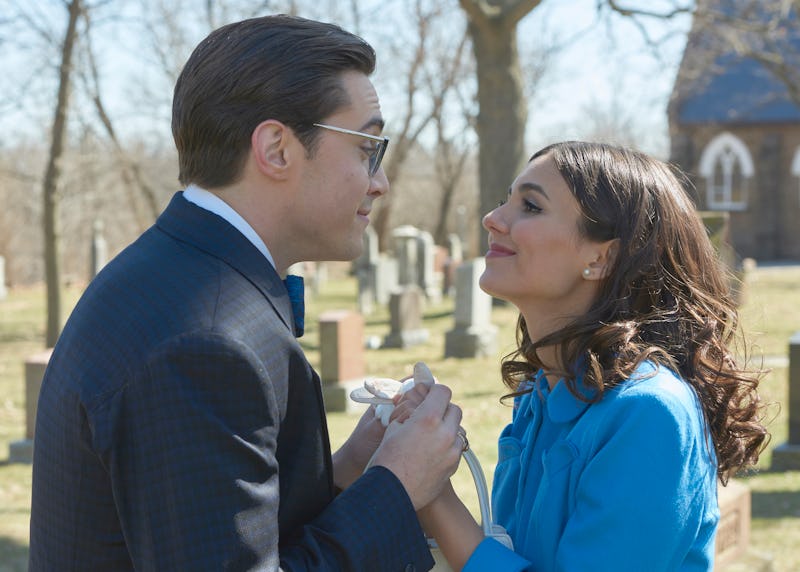 On Thursday night, FOX's Rocky Horror Picture Show re-imagined movie brought the spirit of the 1975 original flick into homes everywhere in 2016. After being literally ushered into the film with the slow jam "Science Fiction/Double Feature," the audience meets cute young couple Brad (Ryan McCartan) and Janet (Victoria Justice). Together, they sing "Dammit Janet" in FOX's The Rocky Horror Picture Show while dancing in a cemetery, showing that love can blossom — and get engaged — anywhere, really. Even right by some kind of spooky graves.
In the original film, Brad (Barry Bostwick) and Janet (Susan Sarandon) sing some of the number as they walk through a cemetery, but the rest of it is filmed in a small chapel, where their friends Ralph and Betty just got hitched. In the 2016 version, Brad and Janet remain in the cemetery the entire time, dancing among the trees, and Brad proposes right in front of a grave, which is kind of awkward. But Janet's happy because the ring from Brad is "better than Betty Monroe had." McCartan and Justice have the chemistry to pull of this adorable musical number about sweethearts in love before their characters descend into the weird world of Dr. Frank-N-Furter (Laverne Cox), who they'll meet later at a spooky castle.
And that's where things get kind of crazy. Frank-N-Furter will try to test the sexual boundaries of the virginal couple with plenty of songs, fishnets, and a perfect specimen of man named Rocky Horror.
Bostwick told The Arizona Republic that he's in full support of FOX's version, as long as the movie's message of inclusion remains. "I think it will gather a whole new group of people to it, and then they can go back and see the original film. I'm sure it's going to be colorful and big and try to out-lust us. But that's fine," he said. "But the message of it will hold true, and I think the message of inclusion and finding who you really are and all that stands the test of time."
And, the FOX movie kicked that message off to a good start with their own rocking "Dammit Janet" rendition.
Images: Steve Wilkie (2)/FOX