25 Gadgets For Tech Lovers That They Don't Own Yet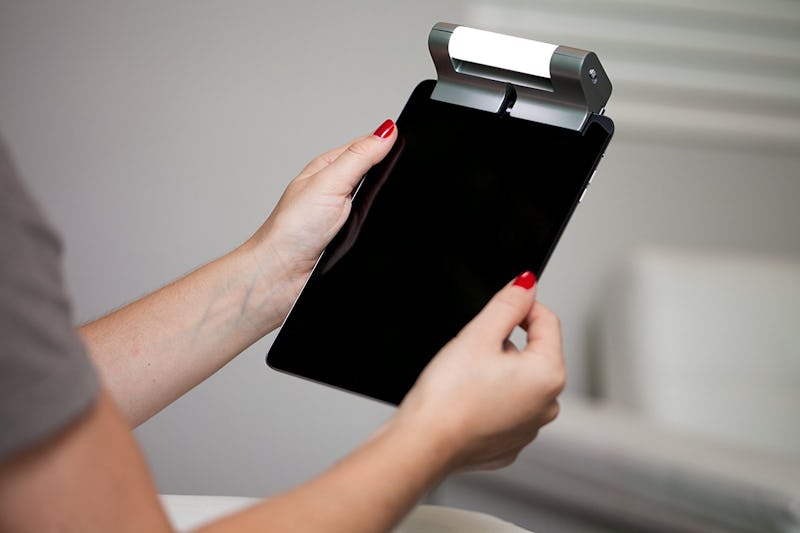 Sometimes the modern man or woman craves a simpler, less tech dependent time. Calling friends on their home phone, instead of texting. Listening to a vinyl album all the way through, instead of skipping from song to song on Spotify. But there are some gadgets for tech lovers that can make life far more convenient and fun, even when other technology seems to complicate things.
These are the cool tech gifts that allow for sharing memories, for securing homes, for capturing life in 360°, for communicating with or without a cell reception. Some of them are obvious: the latest GoPro, the second generation Amazon Echo, Sony's top-of-the-line point-and-shoot camera. But some look like something out of SkyMall from the year 2020: video doorbells and alarm clocks that use natural light and nature sounds. They allow people to make the most out of the life they have, not distract them from living it (ahem, Facebook).
Here are the latest and the best gadgets for a tech lover that's working on improving their smart home, their home entertainment system, or just their smartphone.
1. For Texting Without Cell Service
goTenna Off-Grid Text & GPS, $200, Amazon
These lightweight, weatherproof, and durable sticks allow users to send texts and their GPS location to other goTenna users, even when there's no cellular coverage. By using a state-of-the-art cognitive digital radio, as long as you're within range (typically well over a mile in the outdoors) you can communicate with your friends, even if your adventure takes you deep into the woods, or just to a music festival in the middle of nowhere.
2. For Capturing Everything
Sony Cyber-shot DSC-RX100, $998, Amazon
Pricey and pocket-sized, the RX100 isn't your dad's old point-and-shoot. Don't spend half your vacation days on a trip that you capture only with a smartphone. Point-and-shoots have made great strides in recent years, and the latest example from Sony proves that you don't need a DSLR to get magazine quality photos.
3. For Music, Anywhere, Wirelessly
UE BOOM 2 Phantom Bluetooth Speaker , $165, Amazon
A good bluetooth speaker is about consistency. Sometimes the entire night depends on the music delivered from one of these puppies. Without a doubt, the UE BOOM is the most consistent portable speaker I've ever used, holding power, pairing with any bluetooth device and delivering high quality sound time and time again. Oh and it's waterproof, shockproof, and criminally easy to use.
3. Stylish And Comfortable Personal Audio
Grado Prestige Series SR225e Headphones, $200, Amazon
These headphones, from a family-run business in Brooklyn, are beautiful, comfortable, and deliver high quality sound. These aren't noise-canceling, ear consuming headphones with rigid construction. They are designed to look as good as they sound, but expect some noise pollution and a lose of durability for the sake of aesthetic. They are best used at home, or in a quiet office.
4. New-Aged Vintage Audio
Pro-Ject RM 1.3 Turntable, $399, Amazon
The sound quality of this turntable is a given; there's no electro-magnetic interference and the shock absorption is optimized for low noise and speed stability. The selling point for this turntable is the look. It's as much a conversation piece and object d'art as it is the best piece of audio equipment in the house.
5. Turn The Music Up
Cambridge Audio CXA60 Integrated Amplifier, $799, Amazon
This badass but expensive amp will amplify any digital or analogue audio source with a warm low end and meticulous detail. The engineers at Cambridge describe the audio as "musical and energetic" that allows the listener to pick out each instrument with ease with minimal audio interference.
6. Stay Charged On The Go
Anker PowerCore 20100, $40, Amazon
This power bank weighs as much as a can of soup but carries enough charge to fully charge an iPhone 6s seven times. With a two-amp charger, it takes 10 hours to fully charge, but once full, the power bank slips easily into a backpack or carry-on for instant power — via two USB ports — wherever you go.
7. Back Up Everything
LaCie Rugged Mini USB 3.0 2TB External Hard Drive, $140, Amazon
The importance of a reliable hard drive cannot be overstated. For photographers or filmmakers who are constantly on the road, get them something that is shockproof from drops up to four feet, as well as dust- and water-resistant.
8. Quality 3D Printing Without Mortgaging Your Home
FlashForge 3D Finder Printer, $500, Amazon
For $500, this is the most user-friendly 3D printer on the market. Get it for the beginner techie who wants to dabble in the future of at-home printing.
9. Low Tech, Instant Photography
Fujifilm INSTAX Mini 8 Instant Camera, $51, Amazon
For the techie with a DSLR around his neck at all times, get them an old school camera that instantly prints photos for memories that go on the fridge, not on Instagram.
10. At Home Secruity, For Nerds
Ring Video Doorbell Pro, $244, Amazon
The Ring is infamous for failing on Shark Tank, but picking up $28 million from Richard Branson. The result is a doorbell that allows users to view who is at their door in real time, from the convenience of a smartphone app, and even record video.
11. Wake Up Naturally
Philips HF3520 Wake-Up Light, $138, Amazon
This alarm clock helps maintain your natural circadian rhythm by waking you up with a colored sunrise stimulation that uses natural light and a choice of five calming wake-up sounds, in addition to FM radio.
12. Filming In Any Direction
360fly 4k 360 Degree Camera, $419, Amazon
The 360fly captures 16MP photo and 4K video. Users can control the video in a first-person POV app that allows them to view the 360° feed or switch to a standard 16:9 point-and-shoot mode. While the ultra-wide lens causes distortion, the results are impressive enough that they need to be seen to believe. Comes with internal 64 GB memory and a 1.5-hour battery life.
13. Stylish Smartwatch
Fossil Q Wander Touchscreen Light Brown Leather Smartwatch, $249, Amazon
Ditch the rubberized straps and oddly shaped screens, and get them a smartwatch that looks as good as a crystal dial. The Fossil displays notifications for texts, calls, emails, and app updates, controls music through their preferred music app and tracks their physical accomplishments with a built-in activity tracker.
14. The Most Useful GoPro
GoPro HERO Session, $199, Amazon
GoPro finally listened to its customers and is now offering a cheaper, simple-to-use version of its popular action camera. The HERO Session is good for first-time GoPro users with easy one-button control, shock- and water-proofing and the ability to capture 1440p30, 1080p60, and 720p100 video.
15. Boosting The iPhone Battery
Mophie Juice Pack Air, $88, Amazon
This battery pack extends the battery life of an iPhone by 100 percent using a rechargeable 2,750mAh lithium-ion polymer battery. Just as useful, the case provides a rubberized shell that protects from drops and scrapes without requiring a bulky exterior.
16. Expand Their iPhone's Storage
SanDisk iXpand Flash Drive, 128GB, for iPhone and iPad, $90, Amazon
The iXpand frees up space on your iPhone by allowing you to move photos and videos off of a phone and onto the flashdrive, and allows you to automatically back up photos, videos and contacts. Plus, this sleekly designed flashdrive can be used to back up files from your computer.
17. No More Fraying Cords
AmazonBasics Nylon Braided Lightning Compatible Cable, $10, Amazon
Save your charging cables with the addition of durable nylon fiber cloth for protection, strength, and flexibility and enhanced durability at the ends to reduce fraying.
18. Dependable Retro Gaming
8-Bit Entertainment System, $30, Amazon
Finally, the dependability of modern electronics merges with the fun of classic NES games. This third party version of the NES system can play any old NES games without resulting in a blank screen.
19. Stream Anything
Roku Streaming Stick (3600R), $49, Amazon
This portable stick allows the user to turn any TV with an HDMI input into a smart TV. The new powerful quad-core processor and fast dual-band wireless means eight times more processing power than before, providing lightning fast access to video from Amazon, VUDU, Netflix, Hulu, Google Play, and more.
20. Never Unprepared
Key for Lightning To Usb Cable for Apple Devices, $20, Amazon
This 3-inch durable and flexible lightning to USB cable fits on a keychain, so that you have the ability to charge your phone or sync media anywhere you go.
21. An Aerial View Anywhere
DJI Phantom 3 Professional Quadcopter 4K UHD Video Camera Drone, $808, Amazon
At under $1,000, this drone is an unbeatable value. Fantastic image quality and three-axis stabilization pairs with easy flying and a massive range for the best-looking aerial shots for the amateur photographer.
22. A Virtual Assistant At Home
Amazon Echo Dot, $50, Amazon
The newly released Amazon Echo Dot can hear a person's voice from across the room and allows them to use Alexa to play music, control smart home devices, provide information, read the news, set alarms, and even order pizza.
23. For Facetiming In Dark Conditions
Chatlight - Video and Selfie LED lighting, $27, Amazon
The Chatlight attaches to any smartphone or tablet with directional, adjustable light in order to take selfies or video chat with just the right lighting. The device is rechargeable and can also be used to light up books or keyboards.
24. For The Musician
D'Addario NS Micro Clip-On Tuner, $9, Amazon
This clip-on tuner is inconspicuous, portable, accurate and has a long enough battery for many, many performances. The musician's life just got easier, and more in tune.
25. Running with Headphones, Hassle-Free
Jaybird X2 Sport Wireless Bluetooth Headphones, $80, Amazon
Jaybirds fit securely in a person's ear while they run, or allow them to keep their hands free while they work, without having to deal with extra wires. And with an eight-hour battery, they'll last all day.
Images: Amazon (25)
Bustle may receive a portion of sales from products purchased from this article, which was created independently from Bustle's editorial and sales departments.