Ivy Levan Ushers You Into 'Rocky Horror'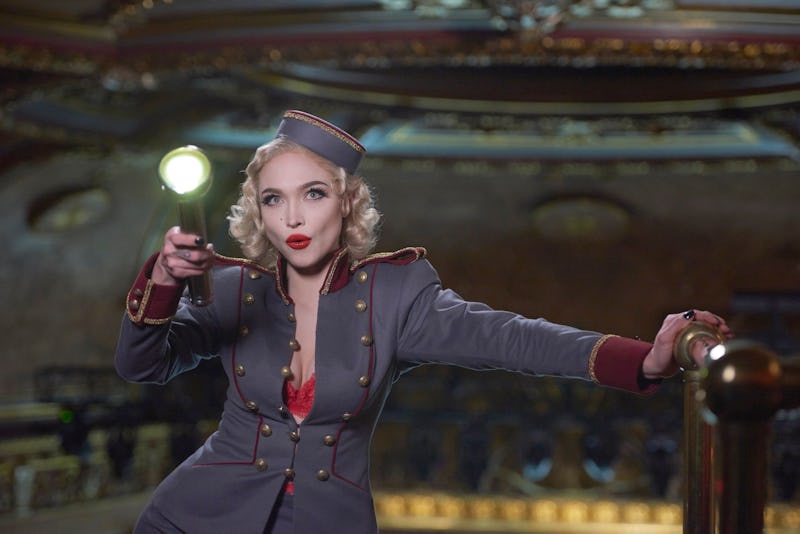 If you've ever seen the original Rocky Horror Picture Show, you know that the first song, "Science Fiction/Double Feature" is sung not by a cast member, but by a big, Rolling Stones-esque pair of bright red lips. However, when The Rocky Horror Picture Show: Let's Do The Time Warp Again airs on FOX on Thursday, Oct. 20, that won't be the case. Instead, Ivy Levan sings "Science Fiction/Double Feature" in FOX's Rocky Horror.
The network opted to ditch the lips and use an usherette played by Levan to bring viewers into the "theater" and their seats for the big show. This is clearly an homage to Rocky Horror Picture Show's status as a cult classic — it's the longest-running movie of all time, showing mostly at midnight screenings where people sing along and throw toilet paper and toast at the screen (it's a thing, for real). From a storytelling perspective, this makes sense for the FOX — a pair of lips on a big screen is a little jarring, but an usherette showing you to your seat and preparing you for the performance? That feels like you're part of a theatrical experience without leaving your couch.
Levan will be ushering you into that experience and according to the Fresno Bee, director Kenny Ortega found her through a recommendation from her friend, American Idol runner-up and singer Adam Lambert — who also plays Eddie in the TV remake. Fast-forward to a few days later, and Levan was filming "Science Fiction/Double Feature" outside a Toronto movie theater. With a new character like the Usherette, there was some flexibility in the role, and Levan remarked that she wanted her singing personality to show through. "I did that and added a little more sass," she told the Fresno Bee. "It was pretty nerve-wracking, but easy in the end."
Levan is a singer, songwriter, and actress based in Los Angeles, according to The Wrap, and her debut album, No Good, was released in August 2015. After looking through some of her videos on YouTube, she has a dance-y badass sort of vibe that makes her perfect to introduce the world to a new kind of Rocky Horror Picture Show. I see flashes of Lady Gaga in her, which is pretty high praise in my world. Listen to her track, "Biscuit," here:
This one, called "Hot Damn," has Elle King vibes to it, don't you think?
I'm really excited for this new opening. By using Levan instead of a pair of disembodied lips, it's showing that though this isn't the original Rocky Horror Picture Show, it's going to be just as fun. FOX is updating a favorite movie for a new generation, and I'm really looking forward to see the trajectory of its stars. Levan is a relative unknown, but after America sees her performance on Rocky Horror Picture Show: Let's Do The Time Warp Again, I doubt it will be that way for much longer.
Image: Steve Wilkie/FOX