Victoria Justice Rocks The Time Warp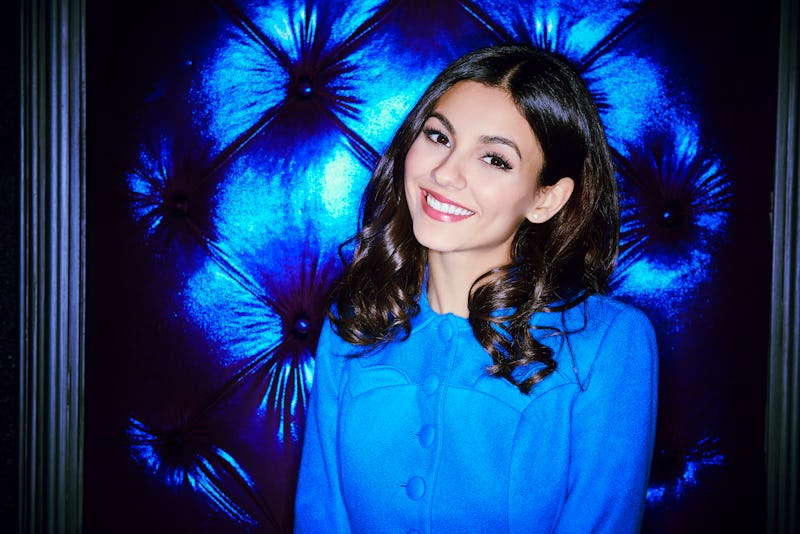 The role of Janet Weiss in Rocky Horror Picture Show is pretty iconic — after all, it's pretty difficult for any actor to take on Susan Sarandon's bra and slip? Victoria Justice is setting to find out: she's the new Janet Weiss in Rocky Horror Picture Show: Let's Do The Time Warp Again. With this role comes responsibility, namely one big song of sexual awakening in the middle of the production — but the question on many a Rocky Horror devotees mind is likely whether or not Victoria Justice really sings in the Rocky Horror remake.
Justice may look new to adults, but just ask anyone under the age of 23 — she's been around for a long time. Justice got her start as Lola Martinez on Jamie Lynn Spears' Nickelodeon show, Zoey 101 , before moving onto starring roles on Victorious (I mean, the show's name is basically her first name here) and Eye Candy. Like Ariana Grande, Miranda Cosgrove, Liz Gillies, and others who have come up through the Nickelodeon scene, Justice is multi-talented. She can act, sure, but she can also sing — half of her time on Victorious was her singing alongside Grande and Gillies. It was like a trifecta of gorgeous voices at once. Here they are spreading some holiday cheer on the set of Victorious.
It's very obvious that Justice has left her Nickelodeon days behind. In a recent interview with People, she said of Fox's Rocky Horror remake, "We all go through this dark and stormy night in this night of debauchery, and [Janet has] a complete sexual awakening. I'm in, like, my bra and slip for more than half of the movie. I think it's safe to say that my Nickelodeon days are over." I mean, duh — do you think that Nickelodeon would want Justice singing "Touch A Touch A Touch A Touch Me," with lyrics like, "Touch-a touch-a touch-a touch me/I wanna be dirty/Thrill me, chill me, fulfill me/Creature of the night"? Probably not. Also, she's 23, so she certainly doesn't have to act like a child for the rest of her life.
I like Justice's new, more adult role. She's getting to do the music she wants, and while she hasn't skyrocketed to the top of the charts like former costar Grande, she's able to exercise a little more creative control. I mean, isn't this Justin Timberlake medley she did on a Segway pretty cool?
Justice will make a great Janet — she already has comedic timing from her experience on other television shows, and, as we've reviewed here, she can definitely sang. I appreciate that Fox is really not trying to remake Rocky Horror Picture Show — it's just a re-imagination. Trying to recreate the magic of a really important cultural touchstone like Rocky Horror is fraught with peril, so tweaking it and making it work for a new audience is really the best way to go. With help from Justice, Let's Do The Time Warp Again will introduce the cult classic to a whole new generation.
Images: Steve Wilkie/Fox