Here's The 'Black Mirror' Season 3 Cast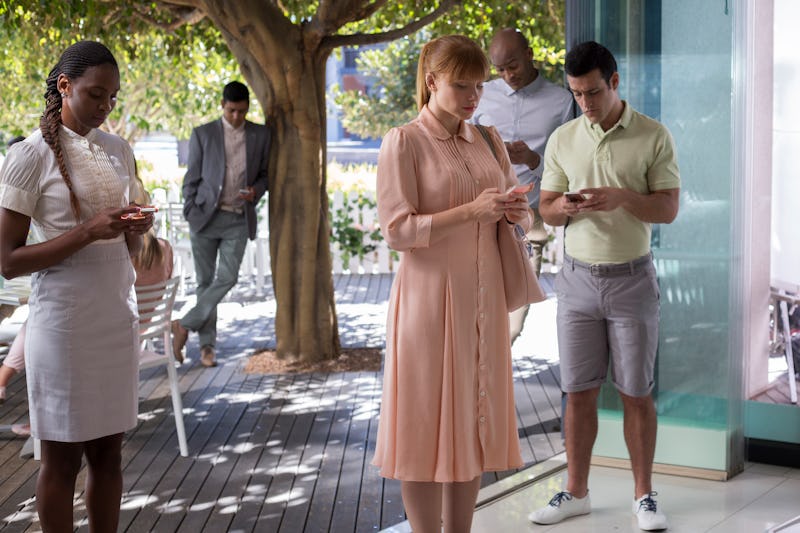 For its third season, British import Black Mirror is going straight to Netflix this year, which is good news for American audiences used to waiting ages for the series to show up on the streaming service. And to mark the fact that the show is now being produced with both UK and US audiences in mind, the cast of Black Mirror Season 3 is filled with far more American stars than ever before. After Jon Hamm fit so well into the world of the show during the Christmas special from a few years ago, this will be a chance to see stars from both sides of the Atlantic enter the technological dystopias sprung from the brow of Black Mirror creator Charlie Brooker.
And while the earlier seasons featured more actors that were on the brink of stardom, most of the people who will appear in Season 3 have already had at least one recognizable role. And don't forget that behind the scenes, stars like Rashida Jones and Mike Schur (of Parks & Recreation) wrote an episode of the series. The cast ranges from actors who just broke out with their first major role recently to established pros who you'll see in multiple films this year, so Black Mirror is going to be made even better by its cast.
Gugu Mbatha-Raw
She's going to be featured in the season's fourth episode, rocking some ambitious '80s fashions that might disguise you from recognizing her. But Mbatha-Raw has plenty of other roles, from her appearance in an episode of Easy recently to her heartbreaking performances in Belle and Beyond the Lights.
Mackenzie Davis
Fresh off of the Halt & Catch Fire Season 3 finale, Davis doesn't look quite as cool as she did in Season 1, but she is working the same preppy look that Cameron had to adopt when working in an office job. That's probably still her most famous role, nit you might have seen her in a couple of romantic comedies over the past few years like What If? and That Awkward Moment.
Gavin Stenhouse
The season's first star that you might not recognize if you're from the US, Stenhouse has spent most of his career in British projects and American TV. You may recognize him from Allegiance.
Bryce Dallas Howard
Don't confuse her Jessica Chastain, but BDH is a renowned actress and she's definitely one of the season's most recognizable stars. If nothing else, from her role as the badass in Jurassic World, which was so huge that you've almost definitely seen it. She's already proven she's the perfect person to usher in some form of futuristic apocalypse in that role, and she's played villains before in films like The Help.
Alice Eve
This won't be Eve's first foray into futurist science fiction. She starred in Star Trek Into Darkness as Carol Marcus, and has been in many other films as well.
Michael Kelly
That's right, Doug Stamper is going to be on Black Mirror. It seems impossible to think of him as any character besides the super-intense one he plays on House of Cards, but maybe this series will stretch him beyond his role as Frank Underwood's most trusted confidante.
Madeline Brewer
Brewer doesn't have a ton of high-profile credits yet, but her resume just keeps growing. Her debut role was an arc as Tricia on Orange Is the New Black, and now she's in another great Netflix series.
Malachi Kirby
He was recently in the Roots remake, but he's been a working actor in the UK for years, so he should perfectly fit in on Black Mirror.
Kelly Macdonald
Ever since Boardwalk Empire ended, I've been waiting for MacDonald to get another great TV role. Of course, she's also been in tons of movies (including, like all UK actors, a quick spot in Harry Potter) and she voiced Merida, making her an official Disney Princess.
Faye Marsay
You hated her over the past two seasons of Game of Thrones as The Waif, so now it's time to love her as a detective investigating some form of social media connected crime.
Wyatt Russell
Right now, he has every "good-natured jock" role in Hollywood on lockdown, and judging from the previews, he's going to be going to be channeling the same vibes in the Black Mirror Season 3 finale.
It's a big cast, and it's filled with performers that are going to be put through the twisted, computer-phobic wringer that is Black Mirror Season 3. The episode order and the talent of the cast have both been supersized, and it's going to make for a great season.
Image: David Dettmann/Netflix; Giphy (5)