What Colors Are Tarte's New Lip Paints?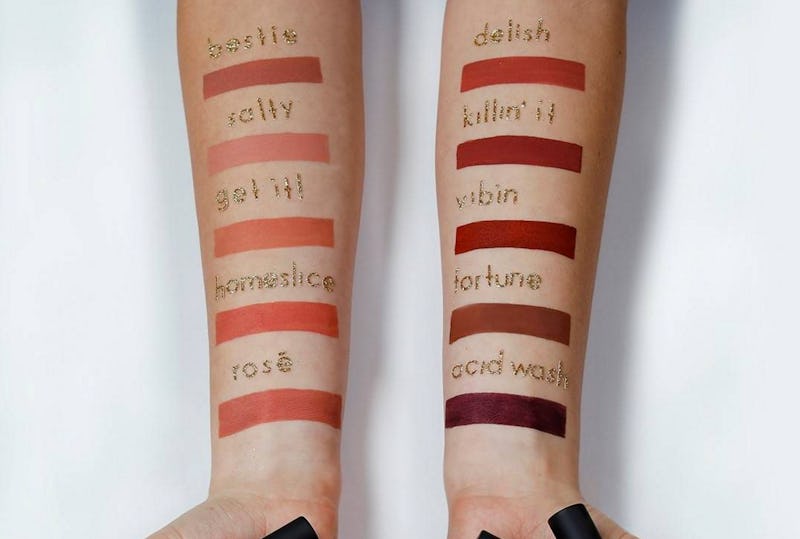 If there's one single thing I don't need more of, it's liquid lipstick. Not for many, many years. And yet, that doesn't stop brands like Tarte from coming out with formulas like their new Tarteist Quick Dry Matte Lip Paint, that render all my past, three-quarters full tubes just not good enough. It's a casualty of the game, and one that I'm often lacking the willpower to resist — especially when a brand nails the one way to make their pre-existing product better.
While tarte's Tarteist Creamy Matte Lip Paint has a loyal following, they are more mousse-y than most formulas, which can also mean transfer city. The new Quick Dry iteration puts an end to that woe, and while the colors aren't a one-to-one match with the originals, they're still pretty good. By which I mean, very good — tarte tapped into the trend for either "nothing" lips or all-caps "SOMETHING" lips, with a range that falls squarely into either nudes or natural drama.
Not to say there isn't variation, because within the two camps there is diversity. Homeslice, Get It! and Salty pull different iterations of the peachy nude to terracotta look, while Bestie leans more of a brown, warm gray. Delish, Rosé and Fortune stay nude but go darker, with mauve undertones that fans of the Creamy Matte's FOMO and TBT will definitely be into.
Noted faves BAE and Frenemy also have close matches in the dark trio, with Killin' It a perfect red/dark pink in-betweener, Vibin' a beaut' red brick, and Acid Wash an on-the-nose grape. Tarte branded their campaign with the hashtag "#RethinkNatural," explaining the lifelike hues — where brands like Anastasia Beverly Hills and Kylie Cosmetics are diving into blues, grays and greens, it's a nice change of pace.
I love an option, especially with the Quick Dry's fittingly fast turnaround. According to Allure, the brand's Instagram story showed blogger and brand ambassador Jen Crimmins applying the new lipstick, counting to ten and doing a successful no-transfer test. However, on the flip side because I am forever a cynic — you have all of ten seconds to get it right, or have makeup remover handy. But with great power comes great responsibility, and going by Twitter, people are ready for it:
To the Tarte website I go!
Image: tartecosmetics/Instagram.