Blink-182 Remake One Of Their Videos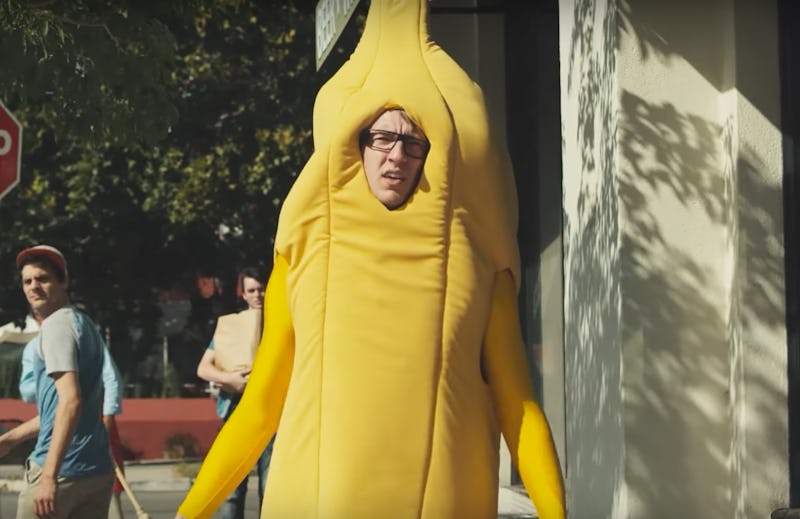 What happens when Mark Hoppus, Travis Barker, Matt Skiba, and Spotify join forces? A trip down Banana Costume Memory Lane, that's what. On Thursday, Blink-182 released a nostalgia-inducing music video for "She's Out of Her Mind," the second single off of California. The vid, which is part of Spotify's new original series Flash Frame: blink-182 , should look very familiar to anyone who watched MTV in the late '90s and early '00s.
In the Nicholas Lam-directed clip, three young adults jog around Los Angeles in their birthday suits. They hassle a banana costume-clad banana peddler, check out a nurse, and disrupt some strangers dining on the sidewalk. Now, if you think the "She's Out of Her Mind" music video walks like the "What's My Age Again?" music video and quacks like the "What's My Age Again?" music video, you are not a quack; the trio's latest clip is suppose to be an homage to the '99 video.
This time around, the Blink-182 dudes are not the ones galavanting around town in the buff. Instead, Vine stars Lele Pons, Hannah Stocking, and Vale Genta wreak havoc on the streets of Eagle Rock (I see you pretending to be a liquor store, The Coffee Table). And as for the nurse role originated by adult film star/Enema of the State cover model Janine Lindemulder? The stethoscope has been handed over to actor Adam Devine. It is a gender-swapped, Apple product-bedecked version of the original "What's My Age Again?" adventure.
So, uh, if you've ever wondered what "What's My Age Again?" would be like if it starred women and one of the guys from Workaholics played the nurse, here's your answer.
This is not the band's first "What's My Age Again?" remake: the music video for 2000 song "Man Overboard" referenced all of Blink's Enema of the State vids.
Image: Spotify/YouTube