10 Vegan Halloween Candy Ideas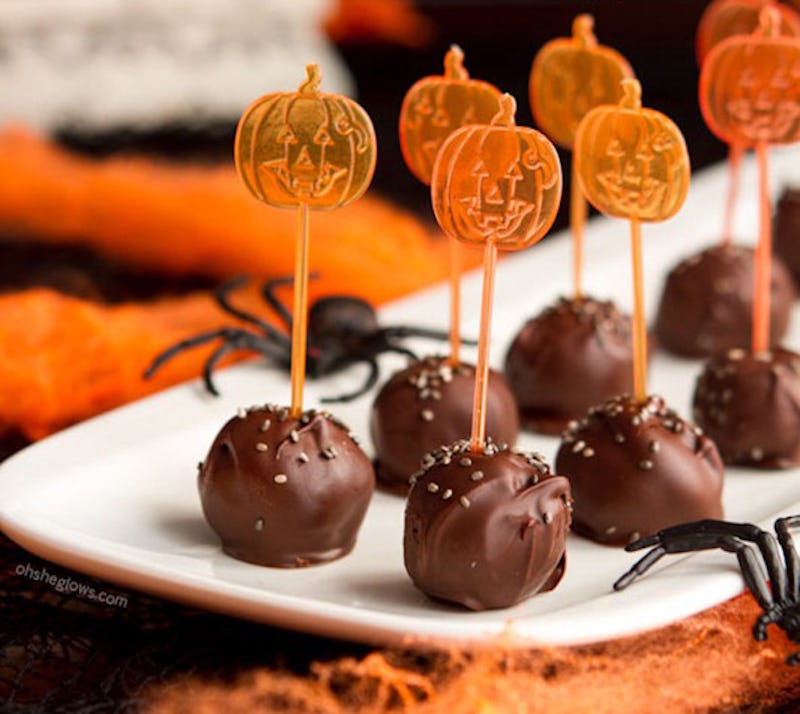 What's the first thing you think of when you think of Halloween? If it's candy, and you're vegan, then you might feel pretty left out... but thanks to these vegan Halloween candy ideas, you don't have to anymore! That's right, things are about to get real sweet, real dairy-free, and real delicious. Who could ask for more?
Most store-bought chocolate-based candies have milk in them, which basically means that vegans don't get to enjoy all the sugary sweets that Halloween brings to the forefront. Fortunately, there are some bloggers out there on the world wide web who have come up with their own dairy-free recipes for Halloween candy. And guess what else? They've also come up with some pretty spectacular recipes for Halloween candy alternatives... in the form of desserts! Could this holiday get any better? I don't think so.
Whether you're vegan or not, these sweet treats will leave your tastebuds begging for more. Serve them at your Halloween party, bake up some batches for your closest friends, or simply make some for yourself (hey, you deserve it!). Halloween shouldn't only be for the non-vegans, and thanks to these vegan Halloween candy and dessert ideas, it doesn't have to be anymore.
1. Fruit Rolls
Green Kitchen Stories' fruit rolls are as sweet as candy, but about 10 times healthier. While it may take quite a few hours to cook up these bad boys, it's totally worth it. As for flavors? You can basically go any route you want, from kiwi and mango to strawberries and banana.
2. Easy Homemade Vegan Chocolate
If you've got a serious chocolate craving, Oh She Glows' easy homemade vegan chocolate should hit the spot, sans milk or any other dairy products. The best part of this delicious recipe is the flaked sea salt that finishes off the treats.
3. Peppermint Bark Popcorn
It's hard to say no to peppermint bark, especially when it's Cookie and Kate's peppermint bark popcorn. The recipe is relatively simple, but the flavors are packed. Get some sweet, some salty, and some minty all in one bite.
4. Coconut Snowballs
Stock up on the coconut oil, coconut milk, and shredded coconut, because you're going to need all three ingredients for Dessert Now Dinner Later's Coconut Snowballs. These yummy snacks are the perfect mix of soft and crunchy.
5. Chocolate Black Bean Power Cookies
Green Kitchen Stories' chocolate black bean power cookies are a vegan chocolate lover's dream come true. Using cooked black beans to get their color, and some cacao powder to get their taste, you can't go wrong with these deep-shaded beauties.
6. No-Cook Fudge
Cookie and Kate's no-cook fudge uses peanut butter, bananas, and cinnamon in its recipe, so this isn't your typical fudge. It's got a kick of spice, some nutty flavor, and the smooth, sweet taste of banana all mixed into one delicious bite. It's basically heaven on earth.
7. Mini Crunch Bars with Peanut Butter Shell Drizzle
Oh She Glows' mini crunch bars with peanut butter shell drizzle is basically like a Rice Krispy Treat on steroids. The chocolate and peanut butter flavors mesh together so perfectly, and the texture of this treat is on point.
8. No-Bake Espresso Cookies
Naturally Ella's no-bake espresso cookies are amazing for two reasons. For one thing, you don't have to bake them. Secondly, they've got a caffeine kick that everybody can make use of on Oct. 31.
9. Homemade "Rolo" Knock-Offs
Oh She Glows' homemade "Rolo" knock-offs are perhaps the closest thing to "candy" on this list, and they hold their own in the flavor department. See, you can have tasty candies on Halloween without using milk and butter!
10. Whole Wheat Cinnamon Rolls
Naturally Ella's whole wheat cinnamon rolls are a vegan's perfect comfort food, and they're sure to be a hit at any Halloween party where your guests are looking for something sweet to munch on. There's no better moment than when you're drizzling on that sweet, sugar icing after these guys come out of the oven piping hot.
Images: Green Kitchen Stories; Oh She Glows; Cookie and Kate; Dessert Now Dinner Later; Green Kitchen Stories; Cookie and Kate; Oh She Glows; Naturally Ella; Oh She Glows; Naturally Ella