This Show Nails One Thing About American Obsession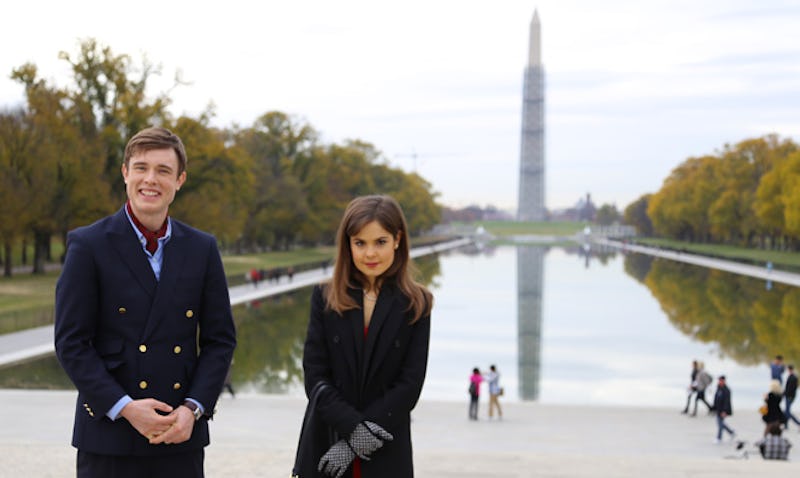 It's a simple fact that an astounding portion of the American population knows way too much about Pippa Middleton's butt and the current weird presentation battles going down between Kate Middleton and Queen Elizabeth II. America declared its independence from Britain over two hundred years ago and yet still my local cupcake shop had "guess the royal baby's sex!" as a cupcake theme before Prince George was born. Basically: Americans are obsessed with the royal family, and now BBC America's tackling that with their very first original comedy series, Almost Royal .
BBC America isn't known for its comedy — right now it's probably best known for being the home of American showings of Doctor Who and for bringing the world the wonders of Orphan Black. But with Almost Royal, it sounds like they could be off to a good comedic start.
Almost Royal 's set to be a seven-part series following two privileged siblings, George and Poppy Carlton (Ed Gamble and Amy Hoggart, respectively), who are distantly related to the royal family. The series will premiere in June after the season finale of Orphan Black. Here's the synopsis according to The Hollywood Reporter:
[George and Poppy are] the heirs to Caunty Manor, a large country estate in Norfolk, England, where they have enjoyed privileged lives as distant descendants of the British Royal Family. They have agreed to have a camera crew follow them on an unofficial royal tour of the greatest country on Earth -- the USA. While also commemorating their late father, Lord Carlton, the road trip will provide the sheltered siblings with an opportunity to spread their wings and see the world. Georgie and Poppy have never worked a day in their lives, driven themselves anywhere or solved any problem more complex than telling their butler to tell their cook what they want for lunch
Gamble, for his part, is a British stand-up comedian; you can watch a set of his below. According to Chortle, Hoggart is also a comedian, best known for her sketch character Pattie Brewster; you can see her Time Out London profile here. Here are their character descriptions, also via BBC America:
Georgie Carlton is the most affable man one could meet. He's using the trip around America as a way to become more "manly" in order to take on the responsibilities of Caunty Manor and live up to his Father's legacy. Poppy Carlton is looking forward to raising her profile on the trip around America. She has high hopes of finding fame as a pop star/actor/author/lifestyle guru/cookery presenter. Poppy has all of the self-delusion required to find fame without having a scrap of talent.
All in all, this sounds like a pretty good excuse to skewer both British and American culture at once — not to mention how psyched we are to be importing some new funny Brits.
Here's Hoggart in character as Pattie Brewster:
And Gamble's set on Russel Howard's Good News:
Image: BBC America