Your Fave 'GOT' Characters Will Finally Meet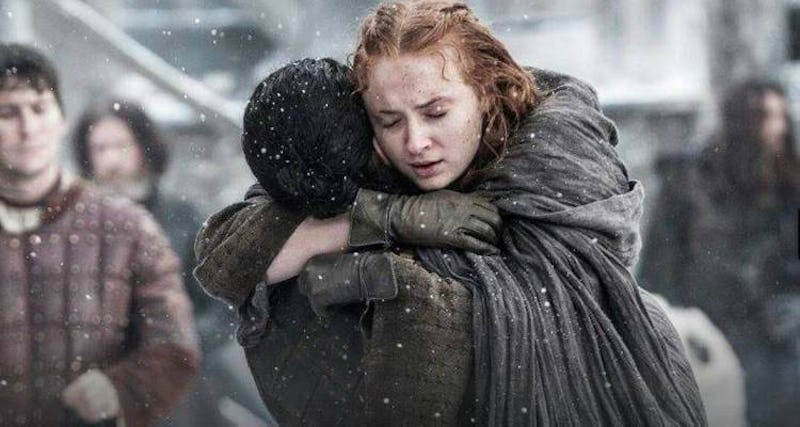 Today is as great a day for Game of Thrones fans as it is a terrible day for people who hate Game of Thrones spoilers. A photo from the set of Season 7 shows (major spoiler alert!) Jon Snow and Daenerys together in a scene. While many fans expected that these two beloved characters were going to meet eventually, the photo confirms that it will happen in the upcoming season, rather than later in its final Season 8.
The Game of Thrones blog Watchers on the Wall spread the news about the picture, which was originally posted to Instagram. It appears to have been taken on the islet of Gaztelugatxe in Basque Country, where Game of Thrones has been filming for the past few days. The picture, while blurry and from a distance, pretty clearly shows Emilia Clarke's Daenerys and Kit Harington's Jon Snow together in a scene. Dany stands near a cliff as Jon Snow approaches. They appear to be alone.
If you aren't already freaking out, this is a very big deal. Daenerys and Jon Snow are two of the show's major characters, and they're the closest thing to heroes Game of Thrones has. The HBO show notoriously has a lot of characters, many of whom never interact, so it becomes really exciting when two characters we know and love from their own contexts can finally get together. It's almost like fan fiction. This happened in Season 5 when Dany and Tyrion met, but it's going to be an even bigger deal when Khaleesi and Jon Snow finally get together, since it's been so anticipated.
This leads, of course, to the question: what are Dany and Jon Snow doing together? Lots of people are probably hoping it's for something romantic, and while they're not physically close in the picture, they are alone. It's long been assumed that the characters will get married at some point, but that speculation has been complicated by the fact that Daenerys has been revealed to be Jon Snow's aunt. Both are Targaryens, and while the Targaryens have been known to intermarry, creating future mad kings seem like something that both Snow and Dany would want to avoid.
It's also possible that this isn't a friendly meeting, let alone a romantic one. The reveal of Jon Snow's true parents makes him the Targaryen heir and a viable candidate for the Iron Throne, making him and Daenarys competitors. At this point, Dany probably has a lot more to benefit from killing Snow than marrying him. We'll have to wait until the show's seventh season airs in the spring for answers, unless those helpful spies on the set start getting really good.
Image: HBO, Giphy