Matt LeBlanc On 'Man With A Plan' Vs. 'Friends'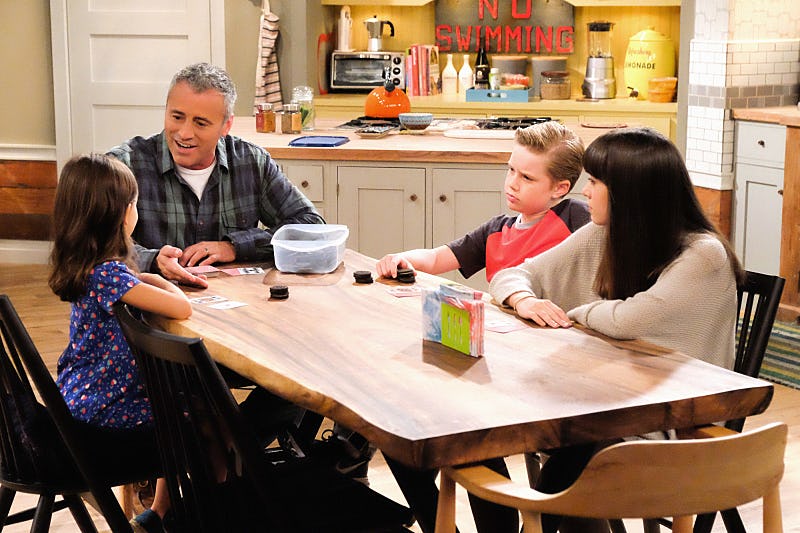 To Friends fans, Matt LeBlanc will always be the lovable and hilarious Joey Tribbiani, who lives on thanks to episodes in syndication and Netflix. LeBlanc has had other roles since saying his final "How you doin'?" but he'll make his grand return to primetime television on Monday night in the new CBS sitcom Man With A Plan. Naturally, fans will compare Matt LeBlanc's Man With A Plan character with Joey from Friends , even though they are two different shows premiering on separate TV networks over than 20 years apart. Joey was just so iconic that it's hard to let him go.
Man With A Plan stars LeBlanc as Adam Burns, a contractor who begins spending more time with his kids when his wife Andi (Liza Snyder) returns to work after being a stay-at-home mom. See, that doesn't sound like Friends — or everyone's beloved Joey — at all. Personally, that makes me both sad and glad, because it'll be hard for LeBlanc to ever top Joey, but it should be really fun to see him tackle a new character in a funny family sitcom.
But, because the comparisons between the two are inevitable, here's what you need to know about how Adam stacks up to Joey.
Family Situation
Joey on Friends: He's got Rachel, Ross, Monica, Chandler, and Phoebe, of course. Plus, he also comes from a large Italian family.
Adam on Man With A Plan: He's married to Andi and they have three kids together: Pre-teen Kate (Grace Kaufman); middle child Teddy (Matthew McCann), and youngest Emme, who is about to start kindergarten, according to CBS. Adam also works with his brother Don (Kevin Nealon).
Love Life
Joey on Friends: No woman seemed able to tame him — except for that hot second when he was in love with Rachel.
Adam on Man With A Plan: His heart belongs to wife Andi.
Employment Status
Joey on Friends: An actor who (mostly) works in theater, Days of Our Lives, and some film productions.
Adam on Man With A Plan: With his brother Don, Adam works as a contractor — hence the title (like a construction plan, get it?).
Attitude
Joey on Friends: He's goofy, silly, and lovably dim-witted, but also a total Casanova. Oh, Joey.
Adam on Man With A Plan: According to promos for the show, Adam tries to get his kids to take him seriously as a family authority figure, but it's tough.
How They Feel About Kids
Joey on Friends: He always seemed a bit freaked out by kids, but I don't think Joey ever minded them.
Adam on Man With A Plan: He has three that he loves, despite figuring out that they're little maniacs.
Food & Beverage Of Choice
Joey on Friends: Sandwiches (duh) and, well, most food in general. And beer, too.
Adam on Man With A Plan: In the promos, Adam is seen with beer and wine, but no sandwiches in sight.
Joey Tribbiani will always have a place in fans' Friends-loving hearts, but I'm sure they'll eventually embrace Adam on Man With A Plan with just as much love.
Images: Darren Michaels (3), Monty Brinton, Sonja Flemming/CBS; Giphy (2)