Go Inside Kat Von D's Shade & Light Obsession Kit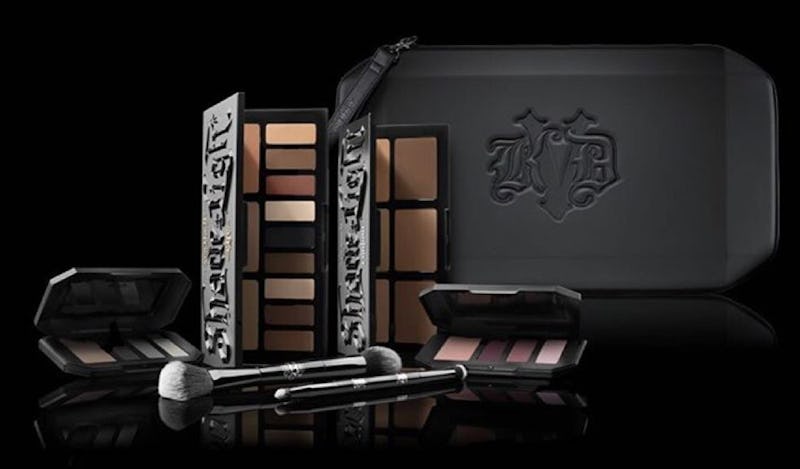 It's time to get obsessed! Kat Von D's Shade & Light Obsession collection cruises onto the Sephora site on Monday, Oct. 24. The products are packaged in a black, lust-worthy KVD-branded carryall case, which can be repurposed to hold other stuff, such as essentials, a tablet, and more. I admit that the clutch is my most favorite thing about this set. What's in the limited edition Kat Von D Shade & Light Obsession kit?
The exclusive collection, which made its debut via the Sephora app on Sunday, Oct. 23 and costs $200, boasts plenty of items for contouring your face and eyes.
Here is the breakdown of what's under the hood of the KVD S&LO collection. You get one Shade & Light Contour Palette and brush, so you can highlight your fave facial features. It also includes one Shade & Light Eye Contour Palette with a brush to help you define those soul windows. The Obsession collection also has two Shade & Light Eye Contour Quads in the Smoke and Plum color stories. In addition to the bomb AF carryall, Shade & Light Obsession comes with an insert, autographed by Kat Von D herself.
Take a closer look at the contents of the Kat Von D Shade & Light Obsession kit below.
The S&LO range represents another #ByeMoney moment from the brand. There are a lot products to play with and that you will likely use on a daily basis, so it's a worthwhile investment.
Because the colors are so lovely, why not further inspect the Shade & Light Contour Quad in Smoke? This shadow quad is included in the Obsession collection.
Ultimately, if you want to remain in-brand, loyal, and consistent when highlighting and defining your cheekbones, face, and eyes, this is the kit with which to do it. It's limited edition and it has that killer case, further upping its awesome quotient.
Images: Kat Von D Beauty/Instagram (2)