Unique Gluten-Free Thanksgiving Side Dish Recipes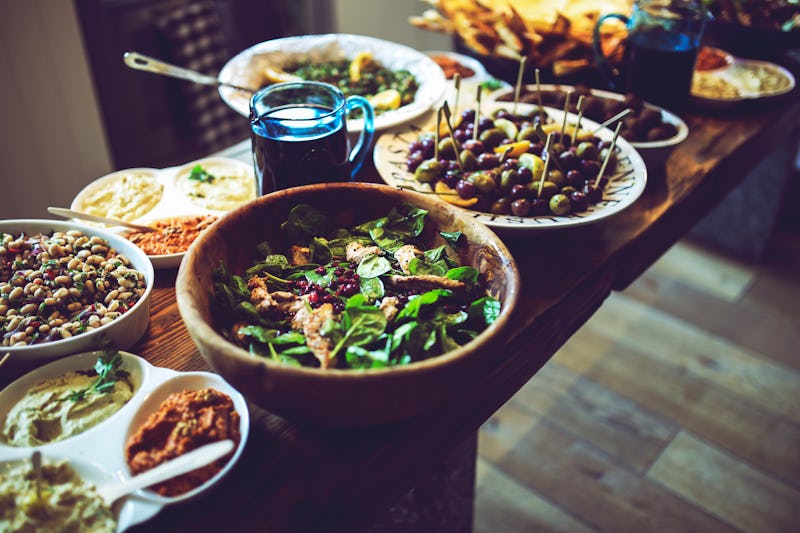 There are so many delicious Thanksgiving staples that are usually completely inaccessible if you have a gluten allergy — pumpkin pie, cornbread, stuffing, you name it. For some people, this means missing out on a huge part of Thanksgiving (the amazing food), but it doesn't have to be that way: There are plenty of unique gluten-free Thanksgiving side dishes to spice up the meal in a way everyone can enjoy this year. With just a little bit of creativity, this gluten-free Thanksgiving might turn out to be better than ever.
As I'm sure my fellow gluten-free friends out there would agree, Thanksgiving can be a tough time for us. There so many delicious-smelling treats around that us that we physically can't consume on this holiday (I just want some pie), and it's so common — gluten is found in any food containing wheat, barley, or rye. It can even be found in foods not containing those ingredients but that were grown or processed near them. Depending on how severe your allergy or intolerance is, this puts a lot of limits on what you can and can't have on Thanksgiving.
Whether you have Celiac disease, a gluten intolerance, or you simply choose not to include gluten in your everyday diet, there are ways to get around the torture of not being able to enjoy Thanksgiving along with everyone else. Even if you aren't gluten-free and you just want to try out something new this year, check out this list of tasty dishes that aren't just gluten-free but also have unique twists that set them apart from all those ordinary Thanksgiving sides in the best way possible.
1. Garlic Parmesan Spaghetti Squash
Spaghetti squash is so versatile, and can easily be shredded with a fork when cooked to create squash noodles. Add extra flavor to your favorite seasonal squash by mixing together garlic and parmesan, creating a dish that will make you wish you made it every year. Use rice flour or potato starch for the all-purpose flour when making your sauce. Check out this handy explanation of how to find gluten-free cheeses before preparing your dish just to be safe, and get the recipe at Damn Delicious.
2. Wild Rice Stuffing With Turkey Italian Sausage, Cranberries, And Hazelnuts
Everyone has their own special stuffing recipe they turn to each year. Why not change it up a little bit this Thanksgiving? Creating a tasty combo of hazelnuts, cranberries, and Italian turkey sausage (yum!), this stuffing is nothing like grandma's recipe. Try substituting the Italian sausage for your favorite brand of gluten-free sausage for an extra tasty twist. Get the recipe at Cooking for Keeps.
3. Toasted Sweet Potato Gnocchi With Sage And Walnut Pesto
As complicated as the name might sound, this is actually super easy to make. If you've never tried it before, here's your chance to make a mouthwatering gnocchi with pesto sauce that will almost guarantee a compliment from your dinner guests this Thanksgiving. Get the recipe at What's Cooking Good Looking.
4. Maple Cream Sweet Potato Soup With A Cheddar Cinnamon Sugar Twist
No fall meal is complete without a warm, delicious, vegetable soup. This rich and creamy maple sweet potato soup (complete with cheddar, cinnamon sugar bread twists) is sure to warm you and your guests up during a fantastic Thanksgiving meal. Make your own gluten-free puff pastry dough and use it in place of ordinary puff pastry to keep the meal gluten-free diet friendly for everyone attending the dinner. Get the recipe at Half-Baked Harvest.
5. Smoky Cauliflower Mac 'n' Cheese
Macaroni and cheese is about as close as you can get to comfort food, and Thanksgiving is definitely a time for comfort food. Just because you can't eat gluten doesn't mean you can't enjoy the most savory and cheesiest of mac 'n' cheeses. Substitute ordinary noodles with cauliflower florets, and you've got a skillet full of mac 'n' cheese you're going to wish you didn't have to share. Get the recipe at Cookies and Cups.
6. Parmesan Roasted Brussels Sprouts With Double Smoked Bacon
Brussels sprouts (as much as some people might dislike them) have so much potential to be the absolute best side dish. Using a little bit of bacon and parmesan, you can transform every kid's least favorite veggie into the hit of Thanksgiving dinner. Get the recipe at Closet Cooking.
7. Maple Chipotle Smashed Sweet Potatoes
Yes, that's right — chipotle. If you didn't think sweet potatoes could get any better, this recipe is here to surprise you. In only half an hour, you can transform five simple ingredients into a dish your friends and family will love. Sprinkle some finely chopped chipotle peppers on top for an extra kick. Get the recipe at FoodieCrush.
8. Pumpkin Cornbread
Pumpkins are a fantastic seasonal ingredient and definitely have their uses when it comes to Thanksgiving recipes. Luckily, being part of this cornbread recipe is one of them. As someone who rarely gets to eat the fantastic creation that is cornbread (because yes, there's flour in it), I feel like no Thanksgiving is complete without this side. If you feel the same and are all about trying a unique and tasty twist on an old favorite, check out the recipe at Gluten-Free on a Shoestring.
9. Roasted Butternut Squash Risotto
Don't worry — Gordon Ramsay will not be standing over your shoulder and shouting at you as he judges your risotto this Thanksgiving. Even if he were standing over you, there would be no reason to worry because this risotto recipe combines everything you could want — butternut squash, sage, red pepper flakes, and fresh parmesan cheese — in a warm, Thanksgiving meal, making for the perfect side dish. Get the recipe at Cookie and Kate.
10. Garlic Parmesan Roasted Potatoes
Thanksgiving dinner means it's time to embrace the root vegetables, and no root vegetable is more beloved than the potato. The great thing about potatoes is they can be mashed, baked, fried, or mixed into multiple dishes and still be delicious. Adding parmesan, thyme, oregano, and basil to a few roasted potatoes will give you a fresh, Thanksgiving side you can't go wrong with. Get the recipe at Damn Delicious.
11. Creamy Spinach Gratin
This Thanksgiving casserole-slash-hot dip is just the creamy, savory, cheese-filled dish you've been waiting for — and you can kind of count it as a healthy dish (because spinach). Use rice flour in place of the flour in the recipe, and you will have made a great spinach gratin that serves as an excellent side to any turkey. Get the recipe at Mel's Kitchen Cafe.
12. Crispy Prosciutto-Wrapped Asparagus
Probably the easiest recipe on the list, these prosciutto-wrapped asparagus may be simple to make, but they are just as delicious as any other side dish. The best part is that your guests can have as many as they want since they're so easy to make, and they only take 20 minutes to put together. Get the recipe at Closet Cooking.
13. Apple Crisp
Sometimes you really just crave the taste of apple pie, because there's really nothing else like it. But, how are you supposed to enjoy it when you can't eat the crust? By turning your apple pie into a hot, apple crisp (delicious with or without ice cream), you can enjoy all the flavors of an apple pie without any of the gluten. Get the recipe at Gluten-Free on a Shoestring.
14. Pumpkin Flan
Flan may not sound like your traditional Thanksgiving dessert, because it isn't. But, it is going to become one of your favorites this year, because this flan recipe combines the taste of fall with a classic rich, creamy dessert. Be sure to make plenty for everyone. You're going to need it. Get the recipe at Kitchen Confidante.
15. Maple Walnut Popsicles
This dessert might also seem a little unusual for a Thanksgiving treat, but if you're willing to give it a chance, this incredibly easy dessert will satisfy anyone with a sweet tooth. It only takes five minutes to throw together these tasty popsicles for everyone to enjoy. Try using pumpkin candy molds instead of popsicle molds for some extra fun! Get the recipe at Food Doodles.
Now that you have all of these fantastic recipes to inspire you this Thanksgiving, the only thing left to do is make them!
Images: Pexels/kaboompics; damndelicious (2); cookingforkeeps; whatscookinggoodlooking; halfbakedharvest; cookiesandcups; closetcooking (2); foodiecrush; glutenfreeonashoestring (2); cookieandkate; melskitchencafe; kitchenconfidante; fooddoodles