See A Sneak Peek Of 'The Moon Juice Cookbook'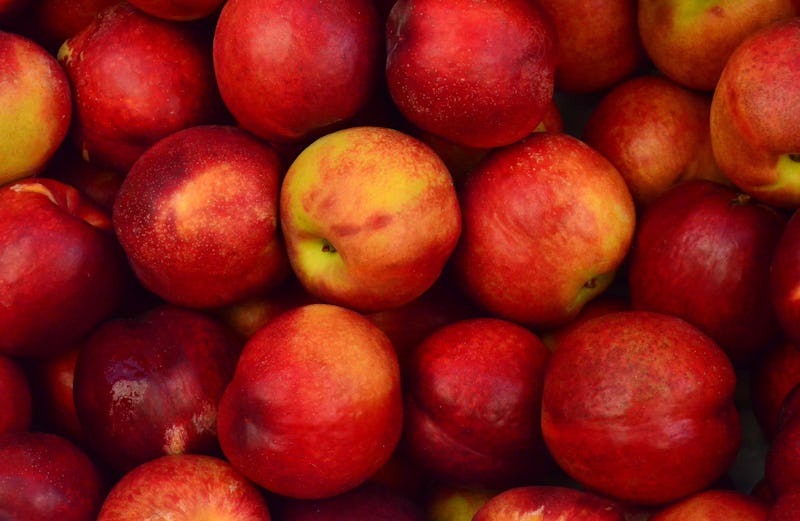 If you're a diehard Halloween fan, then you've probably had no trouble getting into the spirit. And maybe you've wished you could incorporate something creepy, ghostly, otherworldy into other months of the year. After all, October 31 is just one short day (even if it does result — as the ladies of Saturday Night Live recently showed us — in one long night). Thankfully, we've got the inside scoop about The Moon Juice Cookbook , the gorgeous new page-turner that's about to bring Amanda Chantal Bacon's signature brand of "cosmic alchemy" your kitchen.
Moon Juice, which operates brick-and-mortar and online storefronts, is the brainchild of Bacon, who trained as a chef but touts a "paradigm shift that begins with plant nutrition." After she noticed that the lifestyle of a chef was zapping her energy and burning out her immune system, Bacon set out on a quest to get her life on track, researching and experimenting with a lifestyle shift, one that found her eating "live, planted-based, organic." In 2011, she founded Moon Juice, and since then her empire has only been growing.
Bacon's recipes are totally consciousness-altering: this is cosmic alchemy, after all. She writes:
"When I create a juice or a milk or a cookie I want it not only to taste extraordinary, but also to work synergistically to heal and enhance your beauty, brain, body and spirit at the deepest level."
Ready to experience a change? Try these four sippers from Bacon's book, and bring that Halloween-y spirit into everyday, naturally.
1. Golden Milk
Inflammation tamer | Beauty food | Detoxifier
Golden milk is the cult moon milk. Years ago, unaware of its Ayurvedic roots, I naively conjured the idea of an ancient yogic recipe that added turmeric juice and spice into milk. This is a blend that really wants to be on the planet: From its resurrection in the Moon Juice kitchen to now being widely enjoyed by the masses, it is a luminous recipe that is equally healing and pleasurable.
Turmeric root has a thousand and one virtues, including inflammation-soothing properties that are as effective as a painkiller for me. I find it works within about twenty minutes to address joint pain.
This nourishing Moon Milk delivers lifetimes of pleasure and a multidimensional taste experience. It speaks to the magic of medicinal traditions that expand beyond time and space, recalling the ancient phenomena of Ayurveda. If you can't get fresh turmeric, you can substitute½ teaspoon of ground turmeric but it will have a distinctly different flavor.
MAKES 16 OUNCES
12 ounces Almond Milk
¾ pound fresh turmeric, juiced
2 teaspoons raw honey or sweetener of choice
1/8 teaspoon ground cardamom
¼ teaspoon ground cinnamon
5 whole black peppercorns, or 3 drops of black pepper oil
Combine all the ingredients in a blender and blend on high until the peppercorns have fully broken down.
Moon Dusting
Enriching this golden potion with 1 teaspoon lucuma powder adds to the inflammation-taming benefits of the turmeric, and will help you cut down on the honey content, enhancing the inherent sweetness of the fresh turmeric root juice. Try halving your honey, or use none at all!
2. Gracious Greens
Alkalizer | Beauty food | Digestive aid
The inherent sweetness of spinach and cucumber are accented by the elegant, vegetal notes of mint and lettuce in this delicate blend. It's great for warmer weather or the days you don't want aheavy hitter with loads of bitter greens. Gracious Greens helps bestow glowing skin as it alkalizes and hydrates with cucumber, and cleanses, alkalizes, and deeply mineralizes with loads of spinach and mint. The lettuce specifically supports skin, hair, and nails.
MAKES 20 OUNCES
1 head romaine lettuce, root end trimmed
1½ to 2 European cucumbers or an equivalent weight of Kirby, Persian, or standard cucumbers
1 cup tightly packed spinach
15 sprigs mint
½ lemon (see Note)
Feed all the ingredients into a juicer, alternating the greens and herbs with the cucumbers. Stir and serve.
Note: Unless you are using a centrifugal juicer, either remove the pith and peel from the lemon before juicing or squeeze the lemon by hand and stir in the juice to avoid releasing the bitterness of the peel into your juice.
3. Spiced Yam
Hormone balancer | Brain activator | Mineralizes deeply
I incorporate raw yams into my diet whenever I can, as they are incredible for short-term memory support and hormonal harmony. This blend is not too sweet—it's a deeply grounding, earthy concoction using just a touch of apple to bring these three golden roots out of the ground and into your glass.
My favorite element of the Spiced Yam is its almost chewy mouthfeel—radiant carrot juice teases out yam's every last milky mineral. Paired with ginger's spice and the aromatic oils of pressed cinnamon, this is a uniquely rich juice.
MAKES 20 OUNCES
4 sweet red apples, such as Red Delicious
5 cups coarsely chopped orange-fleshed sweet potatoes (about 6 small or 3 large)
1 pound carrots (8 thin medium carrots)
1 (2-inch) piece fresh ginger
¼ teaspoon ground cinnamon
Feed the apples, sweet potatoes, carrots, and ginger into a juicer, alternating among the ingredients. Stir in the cinnamon and serve.
4. Sesame Ginger Matcha
Energy food | Immunity food | Detoxifier
This moon milk is alchemized from a raw, sprouted, silky sesame butter that boosts the system with iron and B vitamins. Doses of tissue-regenerating lucuma support the skin and brain. Rich, green matcha blended with sesame, ginger, and lucuma creates a bright and nourishing milky potion.
Matcha is an incredibly energizing source of antioxidants that is gentle on the adrenals and boosts the metabolism. Instead of taxing the body, matcha provides a nourishing energy that supports the endocrine and nervous systems.
MAKES 16 OUNCES
16 ounces Sesame Butter Milk (page 101)
4 teaspoons fresh ginger juice
1 teaspoon raw honey or sweetener of choice
½ teaspoon matcha powder
½ teaspoon raw vanilla bean powder
Combine all the ingredients in a blender and blend until smooth. Serve cold or warmed.
Moon Dusting
I love boosting the creaminess and vitamin content of the sesame milk with a tablespoon of detoxifying tocotrienols and their bioavailable vitamin E. A teaspoon of antiaging, antioxidant-rich lucuma pairs perfectly with the mineral-dense, antiaging properties of matcha.
Images: John von Pamer
Recipe Credits: Reprinted from The Moon Juice Cookbook by arrangement with Pam Krauss Books/Avery, a member of Penguin Group (USA) LLC, A Penguin Random House Company. Copyright © 2016, Amanda Bacon
Images: Krishnam Moosaddee