Succulent Hair Is The Newest Must-Try Dye Trend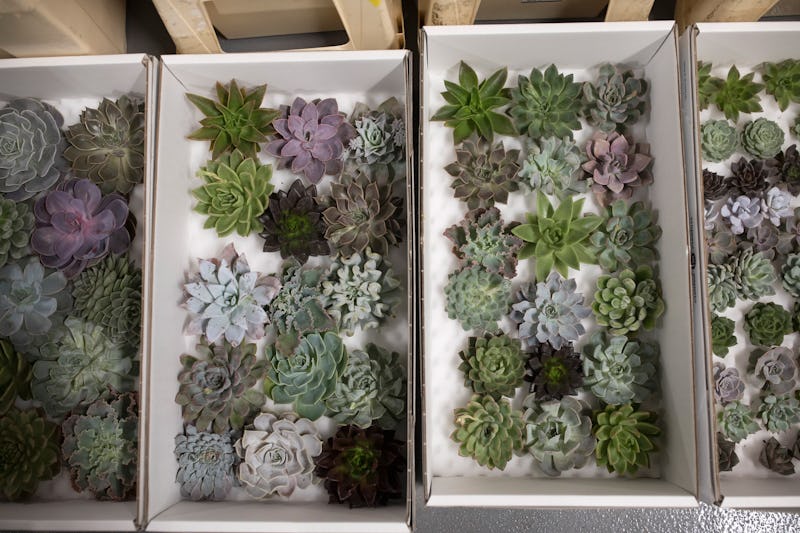 Dan Kitwood/Getty Images News/Getty Images
As someone who has yet to keep a succulent (or any plant, for that matter) alive for more than a few weeks, there is a new multi-colored hairdo is officially the best new way to get in on the cactus-collecting trend without having to worry about the care of a living organism. "Succulent hair" is the newest dye trend to hit the internet, and (rather surprisingly) it's seriously beautiful. So what is succulent hair, exactly?
No, it's not putting succulents in your hair like flower crowns (though some people, mostly brides, do do that, apparently). It's a new layered dye trend that incorporates all of the colors in succulents. You may think that cactuses are monochromatic green (or, in my apartment... dead, dry brown) but but if you look more closely, those of the succulent variety are actually multicolored — think lots of purple, red and yellow. Stylists have found major inspiration in the teeny plants, and have used it to create enviable dye combos.
Like with any bold dye job, caring for succulent hair takes quite a bit of work. Make sure to invest in the right kind of shampoo for colored hair, and wash as infrequently as possible with cold water. Sadly, the whole "spritz once a month" routine that works with an actual succulent doesn't quite cut it with the hair version.
It's very "Poison Ivy" circa Batman & Robin, isn't it?
But still definitely wearable 365 days a year.
I have a feeling this might be the new rainbow hair trend.
Who doesn't love these colors inspired by nature? Consider trying this new trend at your next color appointment.
Images: Dan Kitwood/Getty Image; ShearExcitementPompano/Mammachey/Instagram