Funny Halloween Costume Ideas For 2016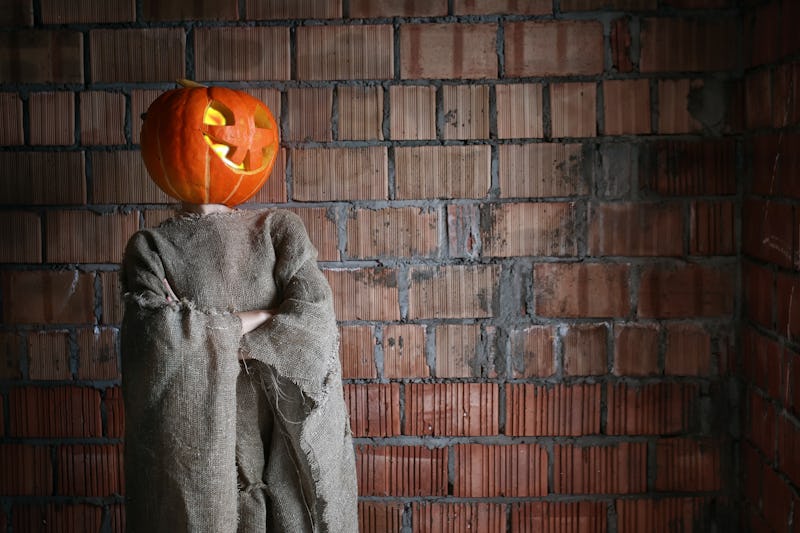 Sometimes you've just had enough of Halloween being spooky and scary — you want to add a few LOLs to the mix when presenting your costume. If this is you and you're looking for a funny Halloween costume for 2016, you're in luck — costumes are just getting more clever by the year. (Plus, there are a few new pop culture icons and characters that are just brand new to 2016.)
Of course, as the month of October is starting to come to a close, you might doubt whether or not your costume idea is funny to you (or, more anxiety-inducing, to everyone). When it's mid-October and you're still not completely set on something, panic might start to rise. Sure, everyone's sense of humor is different — but you don't want to arrive at your party and be a total dud, nor do you want to explain your costume to every person who walks through the door. In general, for Halloween, usually costumes that are clever, unique, or make you think get the most laughs — and that's what everyone wants if they're going for a funny look.
If you're still at a loss for hilarious ideas, here are a few that might be inspiring. While some are DIY, others you can purchase directly from a vendor — convenient, considering Halloween will be here before you know it.
1. Dust Bunny
All you need is a bunny costume ($39.99-$59.99, HalloweenCostumes.com), and a feather duster ($11.99, Amazon) instead of a carrot. Bonus: You can always get some light housecleaning done if the party gets stale. You can also add a few other maid-like accessories (like, perhaps an apron), but if you wanna keep it simple, just the two above will get the point across.
2. Bacon
I'm sorry, but dressing as food will never not be funny. There's a lot of pros to this bacon dress ($17.99, Costume Express) — first, it's everyone's favorite breakfast meat. Second, it's a conversation starter: perfect for if you're at a party to meet new friends (or possibly, a love interest who happens to be on the carnivorous side.)
3. Eggs Benedict Cumberbatch
Speaking of breakfast food, all you need is a print-out of Benedict Cumberbatch's face to turn your ordinary egg costume ($25.98, Oriental Trading) into an Eggs Benedict.
4. Rubber Chicken
What's funnier than a rubber chicken? Well, to comedians like Fozzie Bear, likely nothing. While this rubber chicken costume ($34.99, Target) specifies it's for men, there really isn't anything about it that says it's not unisex. I mean... it's a simple chicken.
5. David Pumpkins
Are you familiar with this incredible Saturday Night Live sketch yet? If you're not, you should be. After all, when a character is played by Tom Hanks, you know it'll be funny. David Pumpkins is a good costume solo, or in a group of three (as you'll need your two b-boy skeletons.)
You can buy the pumpkin suit online ($61-$77, Amazon). After that, all you'll need is a shirt for underneath ($11.99-$20, Amazon) and that famous "creepy face" Hanks uses throughout the sketch. (The last one might be hard to master, but I believe in you.)
6. Blue Ivy
Sure, we all wish we could have the legendary Beyoncé as a Mom and Jay Z as a Dad, but since we can't (sigh), we might as well dress like their offspring... sorta. This Blue Ivy costume consists of fake ivy ($4.98, Amazon) and a snazzy short-sleeved blue leotard ($15-$21, Amazon). (It might be cold outside, so if you also have a blue coat lying around, it might be good to grab it.)
7. Kangaroo Shoulder Rider
Uh, so. Look at the picture. It's hilarious. This costume ($49.99, BuyCostumes) needs no other words.
8. Pig In A Blanket
Usually you don't just eat one blanketed pig. So, as a result, this funny costume is good both solo, and with a group. And, bonus? It'll be extra cozy. All you need are the pig accessories ($5.66, Amazon), and a blanket of your choosing ($21.90, Amazon) if you don't already have one at home. Wrap yourself up good, and go party.
9. A Yellow Snowman
I don't know what it is about this costume ($27.47, Walmart) but it's cracking me up. Maybe the frown? Maybe the fact that it's a little crude, but something we've all seen before? Regardless, it's the perfect way to ring in the cold weather ahead.
10. Breadwinner
Big fan of bread? Just pick up a few loaves at your grocery store (or pick some up at Amazon, like the above Maier's Plain Italian Bread for $2.49, if you're feeling adventurous) and carry it around with a bunch of medals ($4.90, Amazon). The good thing is, the medals are fun, and the bread might just make for a useful snack later on.
11. Christmas Tree
Hate Halloween? Well, take a stand. (I swear, that wasn't meant to be pun-worthy.) Give this LOL-worthy Christmas tree costume ($77.99, BuyCostumes) a shot. It should go without saying that it'll probably get a laugh or two around the winter holidays, as well.
12. Inflatable Camo Suit
For the person who wants to be noticed, but also wants to hide within the crowd... this camo suit ($19.99, BuyCostumes) will surely make a few people laugh. Just make sure to inflate with caution.
13. Silence Of The Lambs
You can be "silenced" in a few ways. But, putting masking tape over your mouth might be a little painful and dangerous. (And hey, you probably want to drink at your Halloween party at some point, right?) For a less annoying solution, try this face mask ($10.99, Amazon) or, y'know, just use your fingers and make the legendary "shush" motion when people ask. The lamb gear ($13.91, Amazon) should be easy to pick up as well. Good solo, or in a group.
14. Plush Dinosaur
Want to stay warm while being both funny and ferocious? This plush dinosaur costume ($74.99, MyPartyShirt) might be right up your alley. The best part about it is that the dinosaur doesn't seem to be very... well, happy. With a tired look in his eye, he might very well resemble you after the party breaks up at 2 a.m.
Images: alexkich/Shutterstock, HalloweenCostumes.com, Amazon (18), Oriental Trading, Wikimedia Commons, Costume Express, BuyCostumes (3), MyPartyShirt, Walmart, Target, Giphy