Here's What's In Too Faced's Funfetti Collection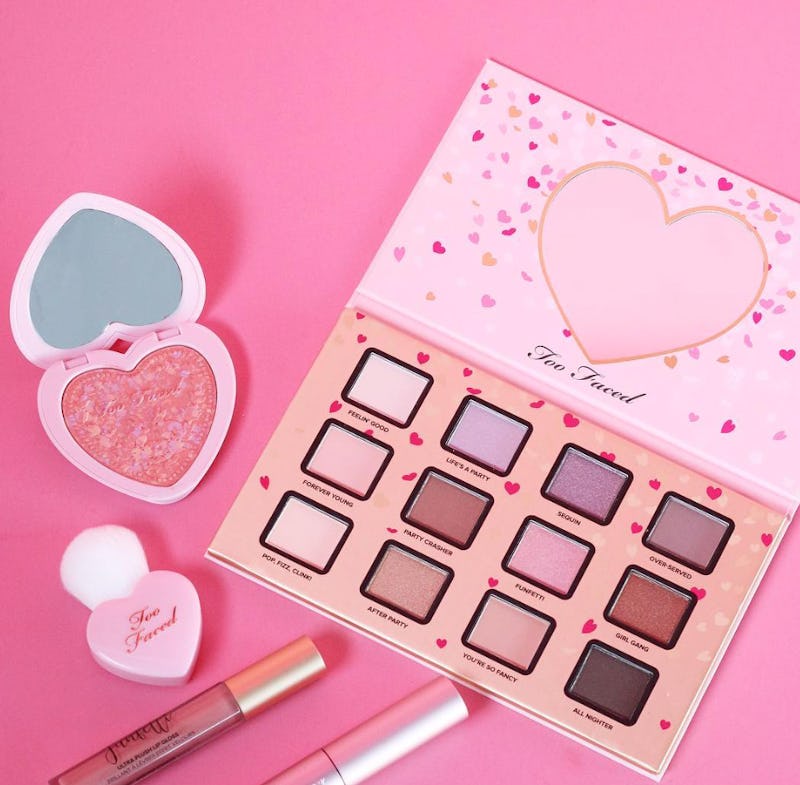 Are you ready to have some Fun(fetti)? That will totally happen, thanks to Too Faced, which certainly keeps our attention due to the constant influx of new products! The Too Faced Funfetti Collection will be available exclusively via HSN as of Friday, Nov. 11. The products are super pretty and according to the Instagram post from Too Faced co-founder and creative guru Jerrod Blandino, the set features items you cannot get anywhere else! That means it's a super exclusive. So what's in the Too Faced Funfetti Collection for HSN?
Let's take a look under the hood, shall we? The collection includes the Funfetti Eyeshadow Palette, which holds 12 brand new shades in both matte and shimmer textures. There is also a Funfetti Love Flush Blush, which is said to last a whopping 16 hours. But wait! There's more. There is also a Funfetti Lip Gloss, a Better Than Sex mascara, and a heart-shaped Flatbuki brush.
I'll pause for a moment so you can fan yourself with your hands so you don't overheat from the excitement. I'd pause for another second so you could do a quick calculation in your head about budgeting so you can purchase this lust-worthy set. But the price is TBD.
Observe the Funfetti set below.
Do you heart this collection already? It has all your features covered and the packaging is as pretty as what's inside the cases. The shadows are in the pink and purple family.
Go ahead and mark your calendar for Nov. 11, since that's when Fun(fetti) happens via HSN.
This statement, which I screen grabbed from the comments of Blandino's post, sums up all of the Funfetti (and Too Faced) feels. Too Faced is constantly introducing new palettes and products, resulting into many #ByeMoney moments throughout the entire year.
In other Too Faced news, the brand has collaborated with UK accessories brand Skinnydip London. That collab is coming soon.
Images: Jerrod Blandino/Instagram (1)