How 'Good Girls Revolt' Brought 1969 To 2016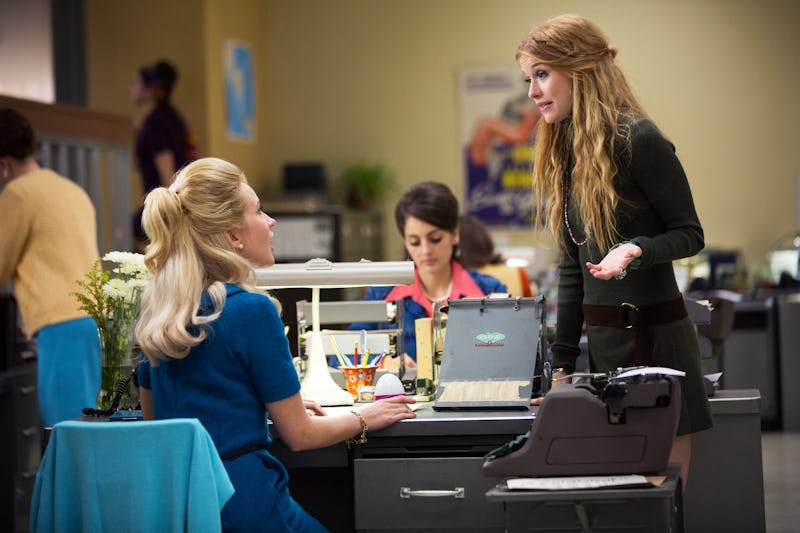 When making a television series like Amazon's historically accurate Good Girls Revolt , it's helpful to consider any real life resources to shape the true story on screen. The first season of the show premieres on Oct. 28 and invites viewers into the fictional News Of The Week newsroom, circa 1969. Good Girls Revolt is based on the book of the same name in which author Lynn Povich recounts the true story of the women who banded together in the '70s to sue their employer, Newsweek, for not complying with equal opportunity employment laws of the time. Bustle reached out to Newsweek for comment on the original lawsuit and the show portraying it now, but has not yet heard back. The lawsuit resulted in a settlement in which Newsweek agreed to provide equal employment opportunities to women.
Stream Good Girls Revolt here.
On the show, Genevieve Angelson plays frustrated researcher Patti Robinson, and the actor has a link to Povich through a college friend. "So I've also known women who were part of the lawsuit and in a way, the book itself is the most perfect piece of research that could ever exist," Angelson tells Bustle. "But at the same time, knowing these women, it was like, 'How can I act with the dignity, grace, and respect that those particular women really deserve?'"For the show's cast and creators, doing justice to the heroines of the real revolt meant portraying all parts of them. Or, as Angelson says, maintaining "all of the things that make them pioneers, but also messy and fun and funny and stylish."
Bustle talked to the talent behind and in front of the camera of the new Amazon series to find out how an important milestone in second-wave feminism is accurately represented in 2016. Obviously, finding the right actors was a big chunk of the job. Executive producer Lynda Obst remembers having a particularly difficult time casting the role of Nora Ephron, the journalist, screenwriter, and all-around Renaissance woman who passed away in 2012. Obst knew Ephron, and discovered that her fondness for her friend made filling her shoes nearly impossible. "I loved her so much that every actress who came in, if she didn't look exactly like Nora and if she wasn't the funniest person in the world, I was like, 'That's wrong,'" Obst says. She finally found her perfect Ephron in Grace Gummer, who also knew the writer during her prolific life.
So the role of Ephron was the last character to be cast. The first role filled was also a representation of a high-profile, flesh-and-blood woman. Joy Bryant was Obst's first and only choice to portray Eleanor Holmes Norton, now a Congresswoman, then, the lawyer who helped the Newsweek women to prepare and fight their case. During filming, Bryant took a train from New York to Washington, D.C. to meet with Norton. "I was like, this is Eleanor Holmes Norton and I'm going to meet her and I hope she likes me and I've done nothing with my life, not like her," Bryant laughs. "And she opened her door to her office, and then we hugged, and it was just love at first sight."
Executive producer Darlene Hunt gives credit to production designer Jeannine Oppewall for creating a newsroom set based on pictures of the genuine article that "really started to feel like a real workplace." The News Of The Week offices are almost a character themselves, from the upper floor where the men work to "the pit" where the women do their research to the break room where they meet. Hunt says that actors started storing personal items in their desks and that, when filming for the season ended, everyone felt like they were saying goodbye to a home.
According to the actors, the living research texts they drew from were the stories of the journalists who were there for the revolution and its aftermath. Erin Darke plays Cindy, who's working under a deadline set forth by her husband — he wants her home and pregnant as soon as possible. Darke points to Obst as an asset to her character development. "She was the first woman hired by New York Magazine after their women had sued," Darke says. "So for her, this was her love letter to the women who'd come before her. Having those conversations with her was an incredible resource for me."
It was also important for those involved to view every character in the series as a multi-faceted individual and not to draw a line down the middle between "with us" or "against us." Camp talks about the "balancing" act a woman like her character Jane would have had to do in a workplace where it's common and accepted for a man to persist in inviting his subordinate out on dates. "It's a fine line," she says of Jane's working relationship with her reporting partner Sam (Daniel Eric Gold), "to keep her job and to stay in his good graces but still be true to herself."
In their own research, the men of the series learned that some men of the time were by no means against equality across the board. Hunter Parrish, who plays reporter Doug Rhodes, says that his character is an amalgamation of several men in the book, but that he personally connected with a journalist who supported his female coworkers by leading unofficial seminars to teach them about the form and format of the magazine. Chris Diamantopoulos read the autobiography of Osborn Elliott and did some personal research through friends on the routine and speech patterns of the Newsweek editor his character Finn Woodhouse is based on. "His account of [the lawsuit] is that he embraced it," Diamantopoulous says, "He just wished that they'd come to him first."
Of course, the themes of equality, respect, and activism at the core of Good Girls Revolt are tied exclusively to no era. Check out the first season on Amazon Oct. 28 and be inspired by this intrepid group of working women.
Images: Amazon (2)