22 Gifts For Grandparents With A Sense Of Humor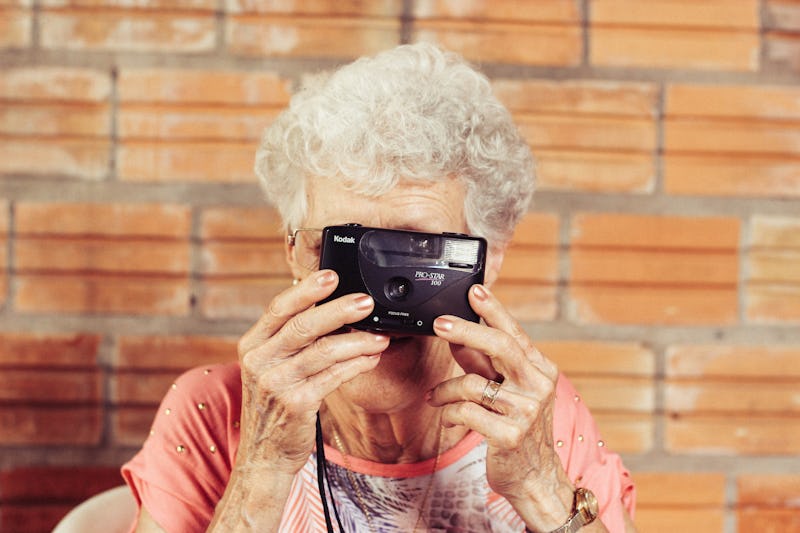 The moment my youngest cousin hit 21, our family holidays got a hell of a lot better. This isn't solely because we could now all partake in the spiked eggnog, but also because our grandparents stopped screening themselves around us. Fun gifts for hip grandparents became a huge hit every Christmas, and so did vastly inappropriate jokes and comments from the oldest members of our family. Any gift that makes them laugh is a winner in my book, and my grandparents seem to think so, too.
Let me put it to you this way: if my family held superlatives, my sweet Irish grandmother would be 'Most Likely To Own A Whoopee Cushion. Cousins and parents are always on the lookout for clever and original gifts for seniors, because the average "Best Grandpa" pen and "Nana's Kitchen" plaque simply aren't going to cut it for these guys. They're sharp, witty, a little bit vulgar, and have the best senses of humor. Consequently, they always appreciate funny but practical presents that they can use on a daily basis to bring a little extra laughter to their day.
1. So You Never Have To Hear "Can You Zoom In More?" Ever Again
Phone Screen Magnifier, $15, Amazon
For every grandparent who's ever said, "How do you see anything on that damn screen?" there's this phone screen magnifier, which works alongside tons of smartphones for a clear, high-definition picture that's friendly on tired eyes.\
2. A Light Show In Their Toilet Bowl
Color Changing Toilet Light, $26, Amazon
This color changing toilet light is motion activated and lights up the toilet with eight bright colors, so they can find the toilet in the dark during their 17 nightly bathroom trips.
3. Help Grandpa Humble Brag About His Vacation (While Looking Snazzy)
USB Flash Drive Cufflinks, $50, Amazon
If he's particularly tech-savvy (or he might as well do something with those USBs), these USB flash drive cufflinks look sleek and ensure that he's always got those vacation pictures on hand.
4. A Yoga Mat That's A Little Bit More Forgiving
CopyCat Yoga Mat, $56, Amazon
This CopyCat yoga mat has outlines for your hands and feet, as well as all the accompanying yoga poses that can be adjusted accordingly, so grandparents can get their daily flexibility in without straining themselves.
5. Because They're Too Old To Follow The Rules
SneakyBooks Recycled Hidden Flask Book, $39, Amazon
So they can sneak their grown-up water into the senior center dances, this SneakyBooks recycled hidden flask book looks like a legit hardcover book (because it used to be) and comes with a stainless steel flask.
6. This Hilarious Calendar With Senior Moments Quotes
Senior Moments Page-A-Day Calendar, $15, Amazon
Getting forgetful lately? This hilarious 'Senior Moments' page-a-day calendar is based off the bestselling book that's got the funniest quotes filled with all that age-induced absentmindedness.
7. These Adorable Conjoined Mittens For A Happy Couple
Smittens Mittens, $35, Amazon
If your grandparents are still in love after 50-some-odd years of marriage, these Smittens mittens allow them to comfortably hold hands while out on their winter walks.
8. For The Grandparents Who Lose Everything
LingsFire Portable Key Finder, $30, Amazon
If your grandmother or grandfather loses everything, this LingsFire portable key finder has five different rings for everything from the keys to the remote, has an alarm and a flashing light, and is really lightweight and reliable for use all over the house.
9. This Ego-Boosting Desk Plate
Mr. Big Shot Fancy Pants Desk Plate, $20, Amazon
Whether he just won't retire or spends tons of time at his home desk, this Mr. Big Shot Fancy Pants desk plate has a beautiful wood finish and shows everyone that Grandpa's boss.
10. And This One For The Real Boss Of The House
She Who Must Be Obeyed Desk Plate, $15, Amazon
And for Grandma, you've got this 'She Who Must Be Obeyed' desk plate, because everyone knows who's really in charge, anyway.
11. This Wine Glass For Gram That's A Little Too Accurate
Good Day Wine Glass, $17, Amazon
With this 20 ounce 'Good Day' wine glass, you can immediately see how well Grandma's day went based solely on her wine consumption.
12. Get Out Of The Kitchen While She's Cooking
The Recipe Bamboo Cutting Board, $30, Amazon
This durable and entirely natural bamboo cutting board not-so-subtly tells everyone to back off of Nana's cooking; she's got this, okay?
13. For The Appreciator Of Coffee And Punctuation
Let's Eat Grandma Stainless Steel Travel Mug, $23, Amazon
To the grandmother who owes everything she's got to proper punctuation, there's this Let's Eat Grandma stainless steel travel mug, which is insulated, spill-resistant, and dishwasher-safe.
14. This Cute And Clever Tea Infuser
Microphone Tea Infuser, $16, Amazon
All four of my grandparents sang, and all four of them love tea, so this microphone tea infuser is a cute, functional, and clever gift for any of them.
15. These Humorous & Cuddly Slippers
Snoozies Sheep Slipper Socks (S-XL), $15-$16, Amazon
These Snoozies sheep slipper socks are skid-resistant, have a soft cushioned sole, feel ridiculously warm, and add a little bit of humor to grandma's Wheel Of Fortune marathon.
16. A Shirt That Puts It Simply
Simple and Trendy Old Shirt (S-XL), $22, Amazon
If Grandpa is a straightforward man of few words, this Simple and Trendy 'Old' shirt is made with ring-spun cotton and lets everyone around him know what's on his mind.
17. This Gadget, So They Can Live In The Lap Of Luxury
The Clapper, $17, Amazon
Your grandparents deserve to turn the lights off for movie night without getting off the couch. Or turn the bedroom lamp on with out reaching over. The Clapper makes these dreams come true.
18. Keep Their Wine Fresh The Sassy Way
Wine Stoppers, $17, Amazon
These sassy wine stoppers are durable, reusable, rife with puns, and keep your opened bottles of wine fresh, preserving the taste for weeks.
19. A Clever Way To Hide Their Spare Keys
Hide A Key Spiked Sprinkler Head, $15, Amazon
These clever 'Hide A Key' spiked sprinkler heads look discreetly like sprinklers, but they easily unscrew, so you can hide your spare keys or cash right on the front lawn.
20. Vintage Is Always In Style
Vintage Dude Coffee Mug, $18, Amazon
Grandpa knows that everything gets better with age, and this Vintage Dude coffee mug ensures that everyone around him is well aware, "They don't make 'em like this anymore."
21. This Punny Apron For The Cooking Grandparent
Romaine Calm Lettuce Carrot On Funny Apron, $19, Amazon
Whether they're a vegetable enthusiast or just a huge fan of puns, this Romaine Calm Lettuce Carrot On funny apron puts a hilarious spin on a slightly-outdated phrase, which is what old people do best.
22. The Bouncy Walking Stick For Afternoon Strolls
BungyPump Walking Pole, $75, Amazon
For the particularly fitness motivated senior citizen, this BungyPump stick is essentially a walking stick with a bit more bounce to it. Reviewers are saying the stick helps with balance, as well as works their muscles for a great exercise, and you can lock it, too, for when you don't want any bounce.
Images: Unsplash/Pexels; Amazon (22)
Bustle may receive a portion of sales from products purchased from this article, which was created independently from Bustle's editorial and sales departments.