Huda Beauty's Lip Contour Sets Are Worth The Price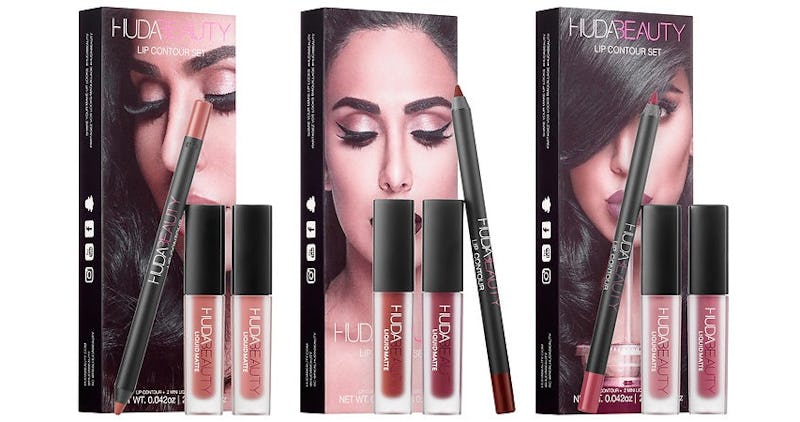 If you thought this company was slowing down anytime soon, then think again. Huda Beauty created a Lip Contour Set for all of you lip lovers out there. Instead of coming out with a brand new product, the company is combining two of their bestsellers for the ultimate kit. Is the Huda Beauty Lip Contour Set worth the price, you ask? You won't believe how great of a deal this is.
After launching their Rose Gold Eyeshadow Palette, the makeup company is going back to their roots. Huda Beauty created three Lip Contour Sets that are filled with everything you need to get the perfect pout. And when I say everything, I mean it. Each set comes with two different shades of Liquid Matte Lipsticks and a Lip Contour for just $24. That's three products for just $8 each!
Huda Beauty Lip Contour, $24, Sephora
When you consider what this set has to offer, it's pretty exciting. Although the liquid lipsticks are mini versions of the bestselling products, the Lip Contour is full-sized. The price of the lip pencil alone is $19. That's like getting the liquid lipsticks for around $2.00 each. Bottom line: the Lip Contour Sets are so worth the price that you'll want to snag all three of them before they're gone.
Trophy Wife & Muse Lip Contour Set, $24, Sephora
The trios are a Sephora exclusive, meaning that it's the only place to shop them. According to the website, these are not limited-edition, so there's hope that these kits will be staying for a while. That doesn't mean that they won't sell out super soon though.
Vixen & Famous Lip Contour Set, $24, Sephora
Each set is designed to all work together for Huda Kattan's lip contour technique, according to the site. The directions say to line your lips with the pencil and then layer the two shades together and pat with your finger to get the perfect blended color. Sounds easy enough to me.
Trendsetter & Bombshell Lip Contour Set, $24, Sephora
I don't know about you, but I want all three!
Images: Sephora (3)