13 Spooky Halloween Quotes From Books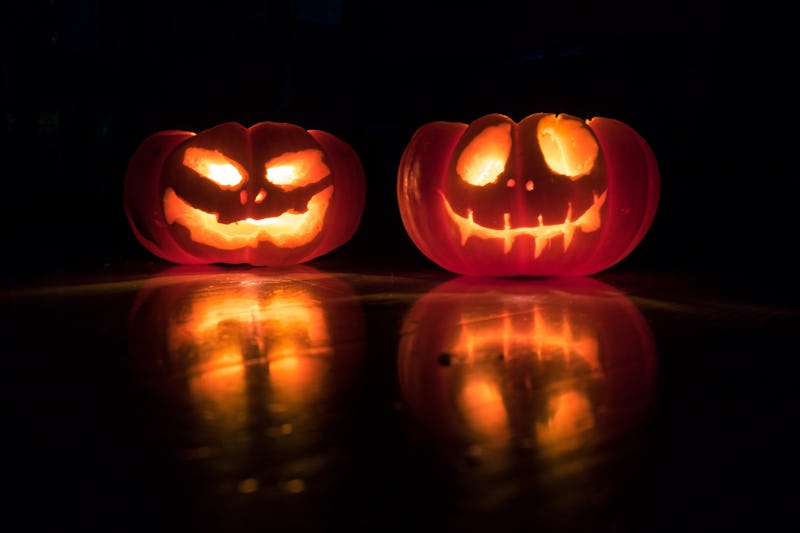 Angga Pramudya / EyeEm/EyeEm/Getty Images
If you're looking for some literary inspiration to get you in the pumpkin-carving mood, here are thirteen creepy quotes about Halloween from books. The celebration of all things spooky and artificially-flavored at the end of October has been around for a long time. From the ancient Gaelic festival of Samhain to candy corn flavored vodka (a recipe that I concocted once in my youth and would not recommend), Halloween has always had something of an otherworldly quality. Perhaps that's why this gourd-themed holiday has inspired so many writers over the years.
In literature, Halloween is often a time when the boundary between worlds is at its thinnest. Ghosts and the living dead walk the streets once more. Magic has a greater effect. Houses are especially haunted. Or, depending on the kind of book you're reading, all the characters dress up in wacky costumes and get very drunk. Either way, it makes for a pretty great literary backdrop. Whether you prefer horror, YA romance, or the Peanuts comic strips, there's a good chance that Halloween has made an appearance at some point. So take a break from fretting over costumes and potential sugar intake, and check out what these authors think of All Hallows' Eve:
1. Anyone could see that the wind was a special wind this night, and the darkness took on a special feel because it was All Hallows' Eve. Everything seemed cut from soft black velvet or gold or orange velvet. Smoke panted up out of a thousand chimneys like the plumes of funeral parades. From kitchen windows drifted two pumpkin smells: gourds being cut, pies being baked.
― Ray Bradbury, The Halloween Tree
2. I dropped the candies into the children's bags, thinking: You small mortals don't realize the power of your stories.
― Karen Russell, Vampires in the Lemon Grove
3. Harvey wasn't interested in the clothes, it was the masks that mesmerized him. They were like snowflakes: no two alike. Some were made of wood and of plastic; some of straw and cloth and papier-mâché. Some were as bright as parrots, others as pale as parchment. Some were so grotesque he was certain they'd been carved by crazy people; others so perfect they looked like the death masks of angels. There were masks of clowns and foxes, masks like skulls decorated with real teeth, and one with carved flames instead of hair.
― Clive Barker, The Thief of Always
4. I got a rock.
― Charles M. Schulz, Peanuts
5. I was born on the night of Samhain, when the barrier between the worlds is whisper-thin and when magic, old magic, sings its heady and sweet song to anyone who cares to hear it.
― Carolyn MacCullough, Once a Witch
6. He had arranged the arms and legs in letters, and the letters spelled out a single small word: BOO. The three torsos were carefully arranged below the BOO in a quarter-circle, making a cute little Halloween smile. What a scamp.
― Jeff Lindsay, Darkly Dreaming Dexter
7. I think if human beings had genuine courage, they'd wear their costumes every day of the year, not just on Halloween. Wouldn't life be more interesting that way? And now that I think about it, why the heck don't they?
― Douglas Coupland, The Gum Thief
8. Halloween is an ancient druidic holiday, one the Celtic peoples have celebrated for millennia. It is the crack between the last golden rays of summer and the dark of winter; the delicately balanced tweak of the year before it is given over entirely to the dark; a time for the souls of the departed to squint, to peek and perhaps to travel through the gap.
― Jenny Colgan, Welcome To Rosie Hopkins' Sweetshop Of Dreams
9. I'm so glad I live in a world where there are Octobers.
― L.M. Montgomery, Anne of Green Gables
10. Halloween shadows played upon the walls of the houses. In the sky the Halloween moon raced in and out of the clouds. The Halloween wind was blowing, not a blasting of wind but a right-sized swelling, falling, and gushing of wind. It was a lovely and exciting night, exactly the kind of night Halloween should be.
― Eleanor Estes, The Witch Family
11. By the time Hallowe'en arrived, Harry was regretting his rash promise to go to the deathday party. The rest of the school was happily anticipating their Hallowe'en feast; the Great Hall had been decorated with the usual live bats, Rubeus Hagrid's vast pumpkins had been carved into lanterns large enough for three men to sit in, and there were rumours that Albus Dumbledore had booked a troupe of dancing skeletons for the entertainment.
― J.K. Rowling, Harry Potter and the Chamber of Secrets
12. A dark Europe, groaning in superstitious fear, dedicated this Eve to the grinning Unknown. A million doors had once been barred against the evil visitants, a million prayers mumbled, a million candles lit. There was something majestic about the idea, Henderson reflected.
― Robert Bloch, American Fantastic Tales: Terror and the Uncanny from Poe to the Pulps
13. Halloween is one of my favorite holidays. Christmas and the others can end up making you sad, because you know you should be happy. But on Halloween you get to become anything that you want to be.
― Ava Dellaira, Love Letters to the Dead
Images: Angga Pramudya / EyeEm/EyeEm/Getty Images, Giphy (14)