How To Wear The Dinosaur Trend For Fall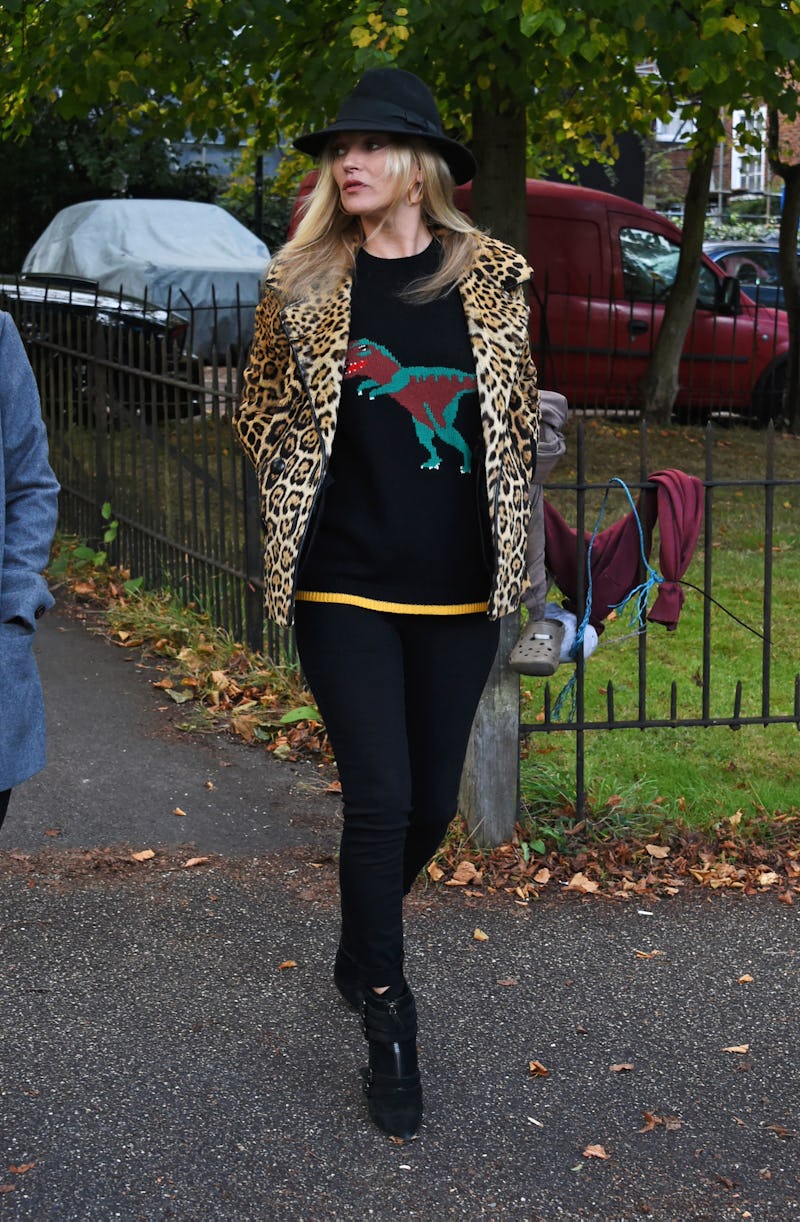 When Coach debuted a dinosaur sweater at their New York Fashion Week show, about a gazillion celebs took notice and then proceeded to rock it. Because there's nothing more adorable than a schoolboy-esque crewneck with a Tyrannosaurus rex knitted on the front, am I right? Raise your hand right now if you probably have something similar in the back of your closet, courtesy of a grandma with a lot of time on her hands and access to a lot of yarn. Us too.
Celebs like Zoe Kravitz, Diane Kruger, Winona Ryder, and Kate Moss have all donned the "Rexy" sweater, so obviously I had to create a dino-themed celeb inspo shopping story so you could too.
Zoe Kravitz styled the crewneck with barely-there short shorts, a Rogue bag, slide sandals, and cool shades, while front row at the show, Winona Ryder paired hers with black pants, loafers, and a black tote. Kate Moss threw a leopard jacket over it and added a chic hat, obviously. #DoAsKateDoesAlways. Julia Roberts was also a fan. But the ladies weren't the only ones lovin' the dino prints, however. Fellas like James Franco and Jared Leto have been spotted in the same pullover.
Let's take a look at some celebs rocking the dino look:
Love.
So good.
Chic AF.
If you want to embrace this Land Before Time trend, but don't want to fork over $700 for the Coach sweater, don't worry. I've rounded up several other dino items that won't make your wallet sad. You're welcome.
1. ASOS Dinosaur Tee & Legging Pajama Set
Dinosaur Pajama Set, $39, ASOS
This dino PJ set is on an entirely different level of awesome.
2. Dinosaur Necklace
Small Dinosaur Necklace, $192, Shoptiques
Make your Jurassic mark with this Tatty Devine dinosaur necklace. Everyone knows not to mess with T-Rex...
3. RI Grey Sequin Dinosaur Sweatshirt
Sequin Dinosaur Sweatshirt, $56, River Island
Dinosaurs are badass enough on their own, but then you go and cover them in sequins and they're OOC.
4. Dinosaur Graphic PJ Set
Dinosaur Graphic PJ Set, $15, Forever 21
Take a walk on the wild side...all the way to your bed.
5. Glow In The Dark Dinosaur Socks
Glow In The Dark Dinosaur Socks, $6, Topshop
YOU GUYS — glow in the dark dino socks are a thing and now life is complete.
6. Wildkin Dinomite Dinosaurs Sidekick Backpack
Dinosaur Print Backpack, $30, eBay
Backpacks are just better when they're covered with prehistoric creatures, don't cha think?
7. BDG Dino Coach Jacket
Dino Coach Jacket, $74, Urban Outfitters
Rep your Mesozoic Era respect on your sleeve, er, jacket.
8. Wino Saur T-shirt
Wino Saur T-Shirt, $23, Amazon
#Same
9. Land Before Sublime A-Line Dress in Dinos
Sublime Dress in Dinos, $80, Modcloth
Casual outing attire.
10. ASOS Sheer Glitter Dinosaur Ankle Socks
Sheer Dinosaur Glitter Socks, $4, ASOS
Life just does not make sense without glitter dino socks.
11. Puma x Swash Shell Playsuit
Puma x Swash Shell Playsuit, $132, Selfridges
We dare you to find a more quirky-cute playsuit than this.