Olivia Munn is Obsessed with Brow Pencils, Plus 10 to Shop Right Now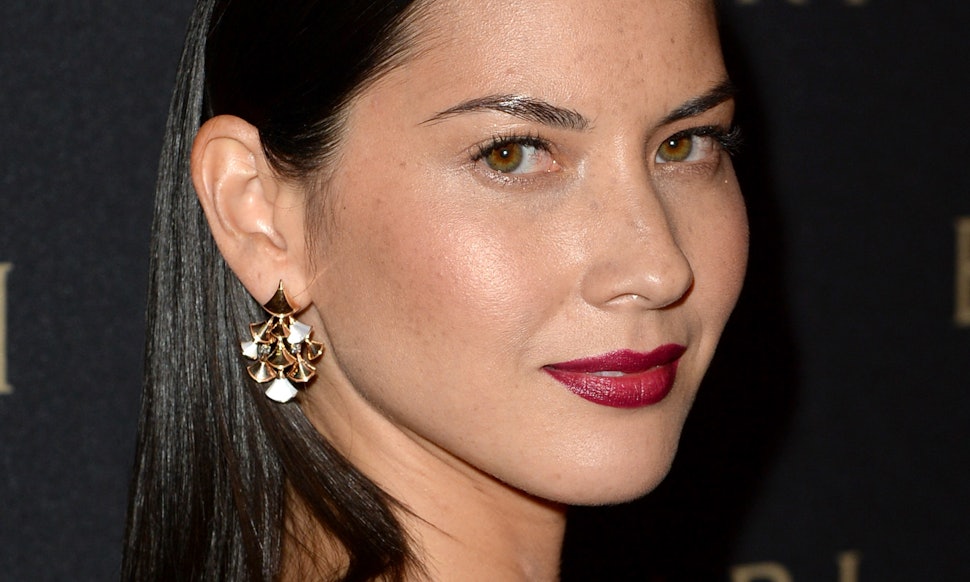 Jason Merritt/Getty Images Entertainment/Getty Images
Olivia Munn sits pretty high on my beauty icon list and I know I'm not alone. The actress' flawless olive skin, gorgeous hair and picture-perfect pout has earned her the title as one of Hollywood's most enviable women. You can imagine then how thrilled I was when the Newsroom actress let Style.com in on her little beauty secret: her go-to makeup product.
So, how does Olivia Munn maintain her gorgeous visage both on and off screen? "My makeup must-have is the Dior Brow Styler that twists up. I can't live without this. It's the right color and the consistency is really great. My go-to used to be cream blush, but now it's just the brow pencil."
Brows! It all makes sense. Munn is rarely seen without perfectly groomed brows. She thinks her obsession stems from her heritage, saying, "I think being [half] Asian, my brows have always been really important for whatever reason. I had a makeup artist over-pluck my eyebrows a few years ago, so ever since that happened the Brow Styler became my friend."
If you're looking to get stunning frame-facing brows like Olivia Munn's, shop her favorite brow liner, plus nine others here.
Diorshow Brow Pencil
Olivia Munn swears by this product. If it works for her, we're sure it can work for the rest of us, too.
Diorshow Brow Styler Ultra-Fine Precision Brow Pencil, $29, sephora.com
Sumita Beauty Brow Pencil
This creamy pencil won't smudge or smear, so it's easy to use even for those brow-shaping newbies.
Sumita Beauty Imlee Eye Brow Pencil, $11, shopsumita.com
Estée Lauder Brow Pencil
This Estée Lauder favorite has a twist-up brow color on one side and a brush on the other.
Estée Lauder Automatic Brow Pencil Duo Refill, $15, nordstrom.com
Clinique Brow Pencil
If you've got somewhat sparse eyebrows and are looking for a precise pencil to fill in the tiniest of details, this product will be your new go-to.
Clinique Superfine Liner for Brows, $15, clinique.com
Tarte Clay Brow Pencil
If you're looking for a waterproof liner, try this clay pencil from Tarte. It'll give you natural-looking brows that will last all day long.
Amazonian clay waterproof brow pencil, $19.50, tartecosmetics.com
Benefit Brow Pencil
This easy-to-use pencil glides on smoothly and leaves a super natural powder-like finish.
Benefit instant brow pencil for natural looking brows, $20, benefit.com
Sania's Eyebrow Pencil
Sania's unique angled applicator helps you define brows with the precision of a pencil but the smoothness of a powder.
Sania's Brow Bar Angled Mechanical Eyebrow Pencil, $30, saniasbrowbar.com
Smashbox Brow Tool
Smashbox Brow Tech To Go is perfect for those who have little brows and need some help in the hair department. What's more is that it's firm enough that it does not smear during application, yet soft enough that it does not drag your skin.
Smashbox Brow Tech To Go, $27, smashbox.com
Bare Minerals Brow Styler
This inexpensive liner's super defined tip and twist-up brow styler shapes, defines and fills brows for a natural and polished look.
Bare Minerals Brow Styler, $15, bareminerals.com
Chanel Eyebrow Pencil
This soft textured pencil applies easily, shapes and shades perfectly. It also stays put for all day definition.
Chanel Crayon Sourcils Sculpting Eyebrow Pencil, $29, chanel.com