14 Genius Items For Sweat Stains, Blisters & More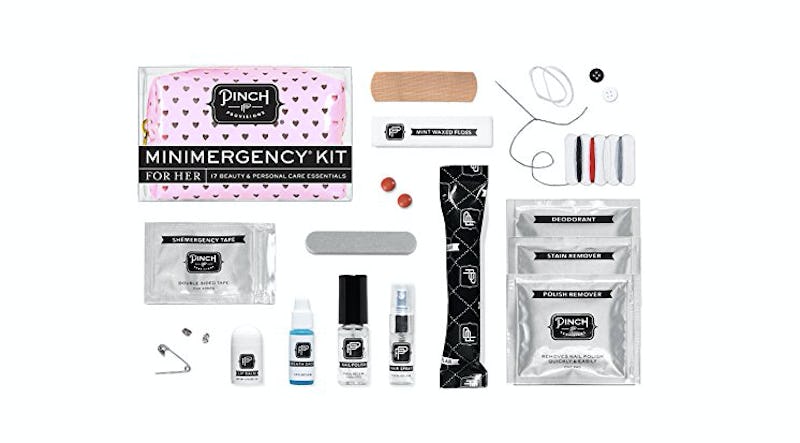 Nip slips, see-through clothes, and even sweat stains happen to everyone. They're no big deal by any means, but that doesn't make their presence any less annoying when you're on your way out the door. While ignoring them is one way to deal, there are also a crop of clever things that prevent wardrobe malfunctions and other fashion emergencies.
You probably remember the term "wardrobe malfunction" gaining popularity back in 2004 after the Super Bowl Halftime Show, right? While you likely don't have to worry about fashion mishaps being exposed on national television, it's always a little nerve-wracking to break in that new pair of high heels. Wearing a top that's cut lower than your usual looks can also leave you adjusting (and readjusting) all night, which gets in the way of actually enjoying yourself. And with so many new fashion products on the market aiming to prevent slips, stains, and other mishaps, you wonder how effective they actually are.
Whether you're prone to spilling or just need relief from a pair of high heels, these tools have got you covered. Check out my favorite-ever products for fashion emergencies. Follow this list, and you'll always look fly without breaking a sweat.
1. Fashion Tape For A More Secure Fit
Hollywood Fashion Secrets Fashion Tape, $12, Amazon
Fashion tape is one of the most versatile of all wardrobe malfunction products. The clear strips allow you to blouse gaps, hide bra straps, and secure necklines to avoid any nip slips. And believe me when I say, it's strong so can enjoy more and worry less.
2. A Fabric De-Fuzzer For Cozy Sweaters
Conair Battery Operated Fabric Defuzzer, $13, Amazon
Your most well loved sweaters are the ones that need the most upkeep — and same goes for the swimsuit you're going on season No. 3 with. Get rid of fabric pilling with a defuzzer like this one. It's battery operated, has a three different distance settings for fabrics, and just requires one AA battery.
3. Bra Converter Clips To Keep Straps From Slipping
Bra Strap Clips, $7, Amazon
There's nothing more annoying than falling bra straps. Strap clips convert any bra into a cross-strapped style without having the bra uncomfortably rise up your back, and you won't be annoyed by slippery straps under your racerback top next time.
4. Deodorant Stain Removing Sponges
Hollywood Deodorant Removing Sponge, $10, Amazon
It's like no matter how hard you try, having a deodorant stain appear on your top is inevitable. Then of course, they're impossible to get off. This sponge is the solution, specifically designed to remove all pesky white marks. And you don't even need water. Just rub, and poof! Gone.
5. For When You Want A Snug Fit Without Wearing A Belt
Hollywood Fashion Tape Black Adjustable Fit Hip Hugger, $8, AmazonIs there anything more annoying than that gap between your lower back and jeans? This clever product does the trick. Its elastic back attaches to the belt loops to effortlessly close the gap, so you don't have to worry about grabbing a belt that throws off the look.
6. Sweat Stain Shield
UnderArmz Armpit Sweat Pads, $14, Amazon
For those who experience pit stains regularly but would rather not — these sweat pads are pretty much essential. The sweat pads sop up all the sweat, so it doesn't land on your blouse, preventing stains and odors.
7. This Shoe Stretcher For Avoiding Blisters Later
Houseables High Heel Stretcher, $30, Amazon
Avoid scrunched toes and bunion pain by stretching out your shoes before you wear them. This tool stretches the the widest part of your shoes, making it more comfortable to wear and walk around. Now, you'll be able to tolerate those high heels for more than an hour.
8. Anti-Static Spray
Static Schmatic Solution for Clothes, $8, Amazon
Skirts have a way of getting all up in there, but this anti-static spray prevents clothes from clinging to your body. And it's 100 percent natural and chemical-free, too.
9. Steam Away Wrinkles & Creases In Tough Fabrics
Fabric Steamer Garment Steamer, $25, Amazon
If you have an embellished coat or silky blouse that's too delicate for an iron (or you're just too impatient to set up the iron), this portable steamer is the answer. It takes 60 quick seconds to heat up, is super small and compact, and then gives you eight minutes to work the wrinkles out of your piece.
10. Nude Underwear
Jockey Women's No Panty Line Promise Tactel Bikini (M-XL), $8-12, Amazon
There's nothing worse than realizing your ensemble is see-through after you left the house. That's why everyone should have a least a few pairs of nude underwear in stock. These Jockey briefs are seamless, so no panty lines, and you'll confidently know there's not cheetah print underwear peeking through those white shorts.
11. A Portable Stain Remover
Tide To Go StainEraser Remover, $10, Amazon
Next time you spill coffee all over yourself again at the office, breathe. This stain eraser gets rid of even the toughest spills. One of my co-workers once had avocado smeared all over her white shirt, and after a few applications, it was like nothing ever happened.
12. Nipple Pasties For When Bras Don't Cut It
Pinky Petals Reusable Silicone Nipple Covers Set, $15, Amazon
Sometimes a bra just doesn't cut it. Nipple covers provide coverage when you want it for backless dresses, low-cut tops, and other outfits where a regular bra won't work. These silicone covers are self-adhesive, too, and are reusable for future occasions.
13. Foot Petals For Unbearable High Heels
Foot Petals Tip Toes, $15, Amazon
Foot petals provide sweet relief to feet that are prone to soreness. Placing them inside shoes stops your feet from sliding forward and crushing your toes (ouch), and will provide extra cushioning to the bottom of your feet. In other words, they help make high heels just a little more bearable.
14. Pinch Emergency Kit For Everything In Between
Pinch Provisions Minimergency Kit, $31, Amazon
These "minimergency kits" have everything you need for wardrobe malfunctions and other emergencies. Small enough to stash in your purse, the kit includes a tampon, hairspray, double-sided tape, and other essentials, so you can have everything you need, wherever you are.
Images: Amazon (14)
Bustle may receive a portion of sales from products purchased from this article, which was created independently from Bustle's editorial and sales departments.