I Tried 23 Of The Weirdest Face Masks I Could Find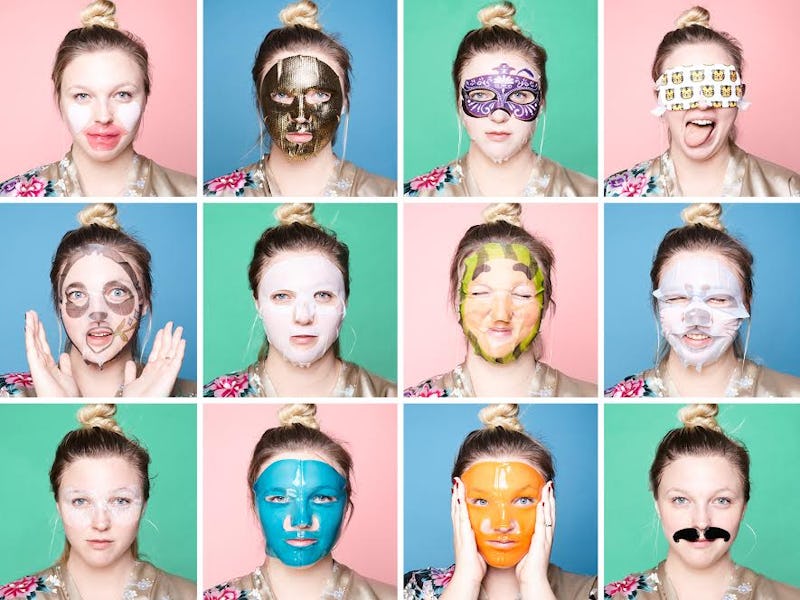 I'm a big fan of alone time. This is partly because there are few people who are really willing to watch nine straight hours of Chopped Junior with me, and partly because making the time to take care of myself makes me happy. I like making dinner, lighting a candle or six, reading a good book, and, of course, settling in to enjoy a nice face mask. And after all, what kind of beauty editor/human who enjoys Instagram would I be if I didn't try a face mask every now and then? And even if I can't get my life together in other ways, sometimes doing a face mask is all I need to do to feel like I'm on top of everything. A mask might not solve all my other problems, but at least it makes my face as soft as hell.
I've tried my fair share of charcoal and green masks (I just assume the green ones are helping something because, vegetables), but once I discovered the world of Korean beauty, I realized that I really needed to step up my mask game. So while, yes, it was a big task for me, a mere mortal, to undertake alone, I decided to be the person who would try the weirdest face masks out there and rate them all. For you, for me. For humanity. No, I probably couldn't tell you what to do in a life crisis, but if you're wondering whether or not the horse oil face mask is for you — I've got you. Here are 25 of the weirdest face masks I could find, and what I thought of every single one of them.
Intracell 24K Gold Therapy Mask, $3, beauteque
This mask is beautiful. It made me feel wealthy and important, and left my skin dewy and gorgeous. I have only good things to say about this mask. It's a winner.
Rating: 9.5/10
Nature Republic Real Nature Tomato Mask, $15, Amazon
To me, there's nothing particularly relaxing about the idea of a tomato. However, this, strangely, did not smell like tomato at all, but more like soap. It's a pretty straight forward sheet mask — normal size, normal hydration, normal texture. I found it a little irritating near the eyes, though. It left my skin feeling insanely moisturized and even, but the serum takes a little while to sink in and not feel sticky. No breakouts after.
Rating: 5/10
Tony Moly Earth Beauty Kelp Mask Sheet, $8, Beauteque
This is what it looks like: straight up kelp. It felt like a sushi roll on my face, which although I had never imagined it before, was not terrible (not great, either, to be fair). It was very moisturizing, but my face smelled like a dead beached whale for a while after. Not ideal. I looked like a Spongebob character, though, so worth it overall. It felt nice, but was hard to keep it on my face, and the smell takes away from the relaxing aspect of a mask.
Rating: 3/10 (7/10 in the "Makes You Looks Like Kelp Thing" category)
My Beauty Diary Horse Oil Ultra Moisturizing Mask , $16, Amazon
What exactly is in a horse oil face mask? I don't know, and I don't particularly want to know. All I do know is that it was extremely moist... to the point where it was dripping (ew) off my face. It smelled normal surprisingly, but also not particularly great. It was a traditional white sheet mask, but seemed to be in a yellow-ish color while in the packet. It was hands down one of the most moisturizing masks I tried, though, and it calmed and evened the tone of my skin overnight.
Rating: 8/10
Koelf Hydro-gel Mask Pack, $18, Amazon
I took a nap in this mask after not getting a lot of sleep the night before. It stayed in place perfectly. This type of mask (hydrogel) is my favorite, and way better than sheet masks in my opinion. It cools, relaxes, and soothes the skin while not budging at all. I woke up with my skin feeling plump, calm, and more awake.
Rating: 8/10
Banila Co. Radiant Lace Hydrating Hydrogel Eye Patch, $7, Beateque
This was the prettiest mask by far, but probably one of the least practical. It smelled like roses, but in a way that was relaxing and subtle rather than completely overpowering. It was fun to wear and, as a bonus, I didn't feel like I looked like a horrifying swamp monster or serial killer. The effects were decent, but nothing life changing.
Rating: 5/10
OOPS! Poretox Mask , $15 (for 5), sasa.com
This one didn't cover my forehead, which was weird. My forehead is usually my problem area, so that wasn't ideal for me personally. The mask's bubbles are activated once you put it on, which is very cool, because you can feel/see it happening as you wear it. It smells like lemons/limes, which is nice, but also made me feel like a can of Sprite.
The mask gets heavy when bubbles start appearing and it starts to slide off, which can be annoying. The overall effects were hard to gauge, but it felt good and the mask in general is on the more fun/cool side for sure.
Rating: 4/10
The FaceShop Intense MasCreme Sheet — Nourishing, $4, Beauteque
This was basically like soaking a washcloth in heavy cream moisturizer and putting it on my face. It left my face feeling sticky for a while, because it is so much moisture, but definitely felt good. The packaging appears to have been inspired by Silence Of The Lambs, which... well, I'll let you form your own opinion on that one.
Rating: 6/10
Etude House Bubble Tea Sleeping Pack, $17, Beauteque
This was, as you can see, the cutest mask of them all. You sleep in the mask, which essentially goes on like a very thick, clear moisturizer. This doesn't feel the best when my head first hit the pillow, but I woke up with super dewy, gorgeous skin. Granted, it didn't help the pimples I already had, but I mean it comes in a tiny cup with little bobas in it. Worth it.
Rating: 8/10
Skin79 Fruit Mask, $3.50, beauteque
Have you ever thought, "Wow, what would a watermelon as a human look like?" Well, this mask is your answer to that question and much more! This one looks truly horrifying on, but is fun to wear around to say the least. Other than it's appearance, though, it's a pretty standard sheet mask situation.
Rating: 6/10
Scinic Intensive Dual Mask, $5, Amazon
This one was much easier to put on than some other masks for some reason, however it came with a neck flap thing, which was a bit of an issue. For one, the phrase "neck flap" in general is unsettling, and it also kept falling off of me because said flap + gravity was dragging it down. Generally, though, my skin felt great. Didn't wake up with any breakouts. It was a little sticky, but that's normal.
Rating: 6/10
The Face Shop Character Mask, $12, Amazon
Dragon? Kraken? Sea monster? Nessy? I don't know. The mask smelled like really, really nice body wash. It felt nice and stayed on relatively easily. Did the dragon aspect add much to the experience? Not sure, but it was a welcomed change from the usual sheet mask situation, even though I looked horrifying.
Rating: 5/10
13. Purple Masquerade Mask
Mediheal Mask Dress, $17, Amazon
It was a traditional sheet mask, with a really soothing scent and serum that absorbed into my skin really well. This one looked pretty cool, but unlike some sheet masks (looking at you, dragon), didn't make me look totally terrifying. Always an added bonus. I (as you can see) paired this mask with a lip mask (below), which was a fun experience although I don't advise it if you're trying to get the best possible effects out of both.
Rating: 5.5/10
Tony Moly Kiss Kiss Lovely Lip Patch, $9, Amazon
Pro tip: Do this one after you brush your teeth, not before. Otherwise, when you brush, your mouth will probably taste a little weird. It's difficult to talk with it on, and generally feels a little strange. My lips did, surprisingly, feel softer the next day, though.
Rating: 4/10
15. Rubberizing Mask
Bliss Mask-A-Peel Rubberizing Mask, $30, Amazon
This was by far one of my favorite masks of the group. It was fun to mix, fun to put on, and super satisfying to peel off. Plus, it left my skin feeling brand new. I will say that, as you can seen in the photo, if you don't put enough of it on some areas of your face it gets very dry and is nearly impossible to get off.
Rating: 9/10
Wellage Injection Mask, $3, Beauteque
A SYRINGE??????? Terrifying. I'm not even sure if it was necessary to include the syringe, but it certainly felt like I was doing something important in the moment. I mean, albeit, anything involving a syringe terrifies me, but it was super moisturizing and I woke up with great skin. However, it has so much moisture that you have to be laying down to properly use it or it just... drips... everywhere. Ew.
Rating: 3/10
Skin79 Animal Mask, $4, Beauteque
This does not look like monkey at all. I went into this expecting I'd look like the IKEA Monkey and came out looking like a murderer. Disappointing.
Rating: 2/10
Benton Snail-Bee High Content Mask, $19, Amazon
Honestly, this was worth it just to say I once had bee pollen on my face aka the only thing Gwenyth Paltrow and I may ever have in common. The mask tingled after a while, but it may just have been because of the combination with all the other products I was using. Or, you know, the bee pollen, I guess.
Rating: 4/10
Tony Moly Mr. Smile Patch, $2.45, vutydesign
Let's be real, here. This is the most impractical thing I've ever used. Yes, most of us have laugh lines where this mask hits, but I'm assuming I would have to wear this every day or every night to really see results. On the plus side, I now know what I would look like with a mustache and, to be honest, I'm not mad about it.
Rating: 3.5/10
Flawless By Friday 5-Day Mask Detox System, $45, Lordandtaylor
I only used three of these masks (even though you're supposed to use them in succession to get the best results), but I loved everything about them. They don't stay on your face particularly easily because they're pretty heavy, but they are so cooling, relaxing, and fun to look at, too.
Rating: 9/10
Banila Co. Beautiful Basics Mask Set, $33, beauteque
OK, so. Very questionable name. The other downside of this one is that it's super delicate and, as you can see, it broke apart when putting it on. This one felt amazing on, and was super cooling. It stayed on easily and was super relaxing for my eyes after a long day of staring at a computer screen. Still no idea what "black foods" (AKA the ingredients of the mask) are, but alas. Bonus points for making me feel like a superhero who may be also be into magic and/or sexy things. Zero breakouts post-mask, too.
Rating: 7/10
Leaders Cosmetics Superfood Mask, $12, Jet
This one was really difficult to get out of the packaging because it came in two parts. It was hard to tell what is what when removing them from the package, so I was afraid I was going to break one and/or both. However, when I finally got it on it felt amazing. Definitely one of my favorites.
Rating: 7/10
SNP Animal Warming Eye Mask, $16, Amazon
Ever wanted to wear a lavender-scented maxi pad that's covered in tiny cartoon tigers over your eyes? Yeah, me neither. However, this mask is pretty much that. But, to be honest, this would be so ideal for wearing on a plane for a long-haul trip. It's relaxing, soothing, and fun once you get over how much of an idiot you look like while wearing it. Oh — and it gradually heats up on your face. Pretty sweet.
Rating: 7/10
After 23 face masks (and more than a few more that didn't make this list), do I believe that a single sheet masks or eye masks will change your entire complexion? Probably not. They can definitely help in combination with other skin care treatments, but they're not miracle products. Regardless of how effective or not they are, though, face masks are always relaxing, fun, and — like all the very best things in life — endlessly weird.
Images: Hannah Burton, Bry Crasch/Bustle; Olivia Muenter