You Seriously Need To Try On Mott & Bow's Jeans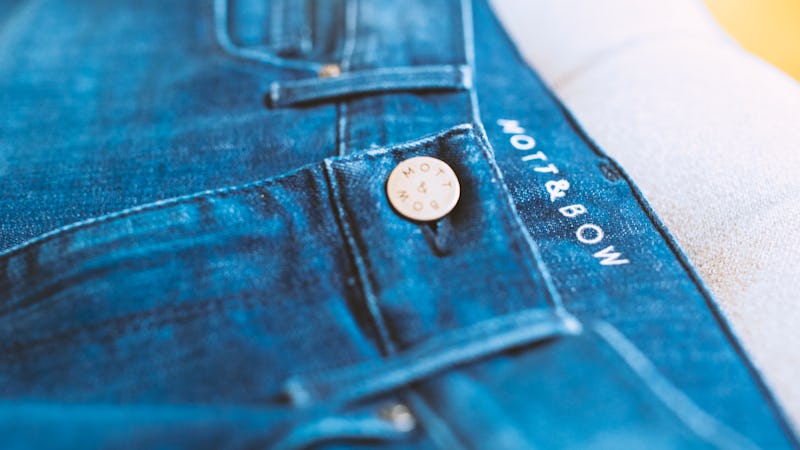 Shopping for jeans online can certainly be easier said than done. Heck, trying pairs on in person is difficult enough. So, anything that a brand can do to give you more of a "dressing room" feel is definitely appreciated. Well, this company is working to make the virtual jean-shopping process way more simple. Are Mott & Bow's jeans worth it? Here's what I thought after giving the brand a try.
OK, so a pair of jeans from Mott & Bow ring in around $100, depending on which style you choose. Now, that's not exactly cheap, but let me assure you, this denim will not disappoint. The best part about committing to shell out the cash on these pants is that you can select two options to try on. Select the size you think you'll need, as well as a size up for no extra cost. They'll ship you both pairs, and you have five days to decide which ones you'd like to keep. Before the fifth day is over, be sure to mail back the pair that didn't work. There's a pre-paid shipping label in the box, so all you have to do is drop the package off at your nearest Fed-Ex.
I had the chance to try this denim service out first-hand, and let me tell you, getting to try on two pairs of pants, in the comfort of your home, might I add, without having to tie up $200 (which is what it would normally cost to purchase both sizes) is incredible. Seriously, all jean companies should consider providing this option. In the meantime, though, you should definitely be shopping from Mott & Bow.
Receiving a package is always exciting, but knowing that you get to basically turn your bedroom into a fashion show runway makes this shipment a little sweeter.
"As a direct-to-consumer brand, one of our pillars is convenience. I found that jeans are often vanity sized and differentiated by brand. I wanted our new customers to feel comfortable trying Mott & Bow for the first time by giving them this home try-on solution - truly bringing the dressing room to them," Mott & Bow's founder, Alejandro Chahin, tells Bustle via email.
As if the at-home try-on service wasn't enough to get you excited about this brand, the fit of the denim surely will be.
According to the website, "These are jeans you can really live in the right amount of stretch & compression."
I found the jeans to run true to size, and I really liked the amount of stretch in the material.
I gave the Carmine High Rise Skinny jean a whirl.
The waistline hit me above my bellybutton.
These jeans had a 30" inseam, and perhaps my favorite part was how great they looked with a pair of boots!
My final consensus: these jeans are definitely worth it. Once you experience the convenience of trying on these pants without leaving your house, you'll never shop for denim the same way again.
Start your at-home trial today!
Images: Dario Ortega/Bustle (9)