What Is The Hatch Act? The FBI Director May Have Allegedly Broken The Law, According To Complaints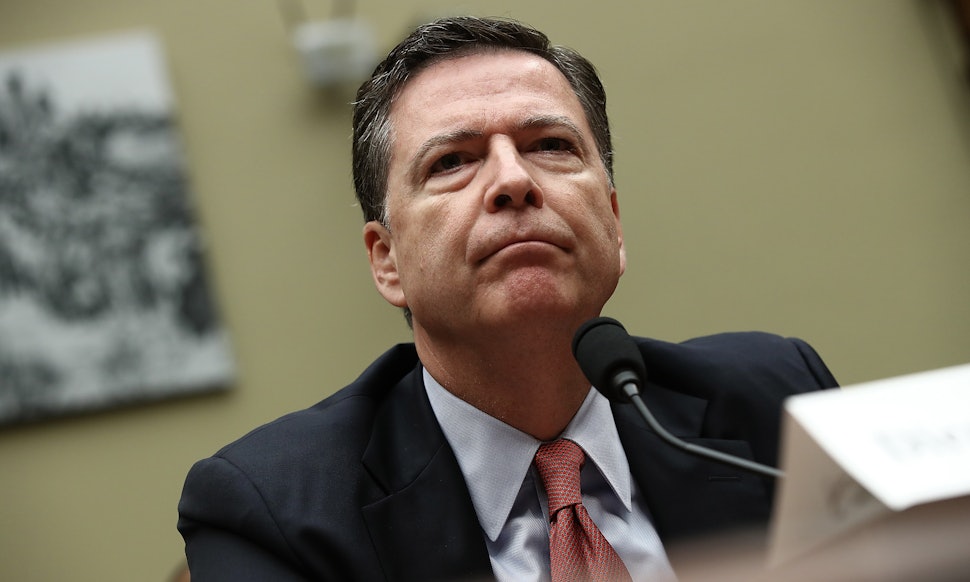 Win McNamee/Getty Images News/Getty Images
When FBI Director James Comey sent a letter to a congressional committee informing its members that new emails related to Hillary Clinton had been found, many in the United States were outraged. Even the Department of Justice had warned him that the letter would violate a policy that stipulates no comment may be issued on an investigation close to an election. The effect this letter could have on the election could be a violation of the Hatch Act, political experts have claimed. Bustle has reached out to the FBI for comment on these allegations.
Richard Painter, the former chief White House ethics lawyer, filed a complaint against the FBI for potentially violating the Act, which, as he wrote in an op-ed for The New York Times, "bars the use of an official position to influence an election." Senate Minority Leader Harry Reid also sent a letter to the FBI, claiming that Comey's announcement so close to the election indicated "a clear intent to aid one political party over another." He added, "Through your partisan actions, you may have broken the law."
The Hatch Act was passed in 1939 to limit political activities of federal employees in an effort to keep federal programs and the workplace nonpartisan as well as to protect employees from political coercion. One of its first guidelines asserts that an employee may not "use his official authority or influence for the purpose of interfering with or affecting the result of an election."
The FBI — which stands for the Federal Bureau of Investigations — is clearly a federal agency, and therefore its employees, including the director, fall under the rules of the Hatch Act. According to the U.S. Office of Special Counsel, an investigation into whether someone has violated the Hatch Act is a administrative, not a criminal matter.
Hatch Act matters are adjudicated before the Merit Systems Protection Board, which is an administrative agency. However, federal employees also should be aware that certain political activities may also be criminal offenses under title 18 of the U.S. Code.
Comey hasn't yet commented on the complaints filed against him, and it's unclear whether or not he actually did violate the act. It's certainly plausible that he merely sent the letter to inform the committee of a new situation. However, the fact that he had already declared the investigation over, the fact that the FBI didn't even have a warrant for the emails yet, and the fact that he therefore hadn't even read them and didn't know if there was actually anything pertinent to update the committee on certainly raised some questions.
As for whether or not the new revelations will end up influencing the election or not remains to be seen, as it's also not clear whether or not the FBI will be able to release results of what these new emails say until after the election.