Will Annette Bening Win An Oscar This Year?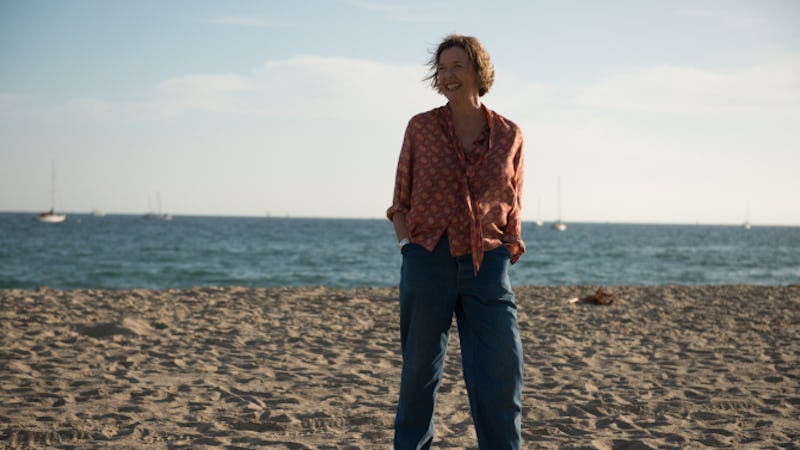 The 1970s-set dramedy 20th Century Women doesn't even hit theaters until Dec. 25, but Annette Bening's performance in the film has already caused the kind of conversation that comes along with Oscar season. The film, which screened at the New York Film Festival a few weeks ago to strong reviews, has seemingly earned Bening a stake in the Academy Awards game, and with no real frontrunner in the 2017 Best Actress category just yet, it seems like 20th Century Women might be the movie that finally gets acting veteran Bening the shiny Oscar she deserves.
Bening has a whopping four Oscar nominations under her belt. Her first came for Best Supporting Actress in 1990 for her role in The Grifters. She lost out to Whoopi Goldberg for that actor's hilarious take in Ghost, a sad,but understandable loss. But then came Bening's streak of losing the Best Actress Oscar to Hilary Swank twice in a row. The first was in 2000 for American Beauty, in which she gave a seriously powerful performance, yet she lost the Oscar to Swank for Boys Don't Cry. She was nominated again in 2005 for Being Julia, a period piece about 1930s Hollywood, but Swank took that one as well for her knockout performance in Million Dollar Baby. Bening's most recent nomination came in 2011 for The Kids Are All Right, but Natalie Portman took that one home for Black Swan, a win hard to argue against. With all of these nominations, many would say it's about time Bening nabs a win, and perhaps 20th Century Women will be the movie that finally gets her that golden statuette.
Set in 1979, 20th Century Women tells the story of hippie, single mom Dorothea (Bening), who's raising her teenage son Jamie in California. As a mostly hands-off mother, Dorothea is unprepared when her son hits his vulnerable teenage years, so she enlists the help of some of her boarders and neighbors to keep him on the right track. Greta Gerwig plays Abbie, a young, punk-leaning photographer who takes Jamie under her wing, while Elle Fanning is Julie, slightly older than Jamie and going through some growing up of her own. Then there's Billy Crudup as William, who's not exactly a great father figure, but the only adult male in Dorothea and Jamie's lives. Thanks in part to the cast's performances, the film is a wonderfully moving, gorgeous examination of multi-generations of women, and Bening's turn as a woman trying to make her own place in the world while raising her son to be a good man, is definitely award-worthy.
After the film's premiere at New York Film Festival, Bening's name started popping into the lists of many Oscar prognosticators, and anyone who's seen her in the film can attest that this inclusion is well-deserved. The star has proven herself worthy of acclaim over the course of her long career, and her four nominations are proof that the Academy admires her work. The question just remains if she and her team can advance the chatter over 20th Century Women and go all the way with a win. It'll be a tough road; though Bening is a good bet for a Best Actress nomination this year, she does have some strong competition.
Though most current predictions for Best Actress don't indicate a frontrunner, Natalie Portman's portrayal of Jackie Kennedy in Jackie has certainly been lauded, and she's been a staple on those lists for weeks. Emma Stone, meanwhile, is earning strong praise for her role in the musical La La Land, and Amy Adams, another multi-time Oscar nominee, is on many lists for the sci-fi film Arrival. And when the trailer for Fences hit the web, Viola Davis seemed like been a shoe-in for a nomination, and perhaps a win, but recent weeks have seen her slip from the Best Actress lists to the less crowded Best Supporting Actress category, where she might have a better shot.
Which means it could definitely be Bening's year. Portman has already won a trophy, and the Academy likes to award long-time nominees for sticking it out through the long haul of multiple nominations until they finally see a win. In that sense, Adams would be Bening's biggest competition, but the Academy tends to have an aversion to sci-fi films. With that in mind, my bet is that if Davis sticks with the supporting category, Bening might emerge as the frontrunner come December once 20th Century Women is released and her wonderful performance becomes the talk of tinsel town.
Images: A24, DreamWorks, Focus Features