The Best Shower Routine To Get Beautiful Curls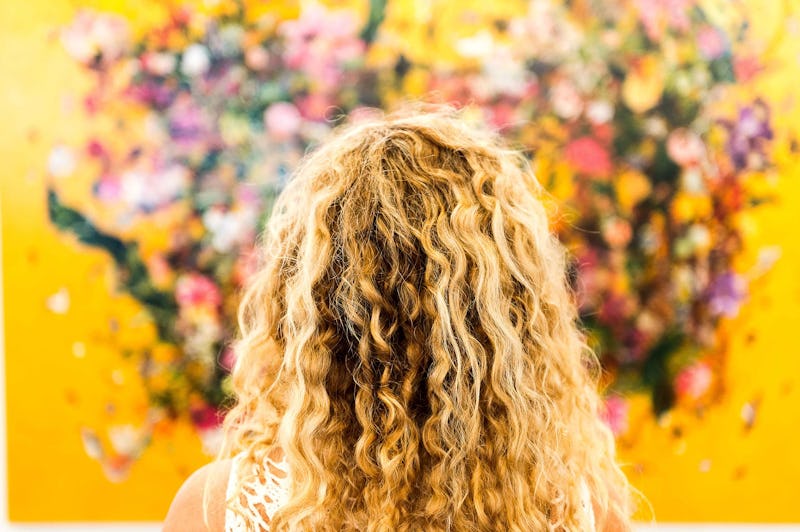 With the odds stacked against you, curly-haired girls could be set up for disaster before so much as stepping out of the house in the morning. No fear, I've rounded up the best shower tips to get perfect curls — yes, even when the humidity index is high and the time to prep your strands is low.
It's no secret that mastering a hair routine for ringlets can be extremely challenging. One spiral goes one direction while the next one looks less bouncy, not to mention all that frizz. Ugh, no thank you! If you're blessed with curls, this is precisely why you should know that hair styling begins once you step into the shower, not when you get out. Putting excess water to use, as well as picking the right arsenal of hair products, can make a huge difference in your beauty routine — just ask the specialists. I asked for advice from several knowledgeable stylists whose expertise helped me gather the best tips for curly hair, plus their favorite products, so you can style your strands like a true pro.
So, if you're a curly girl yourself, take the advice below into consideration. And don't worry, these aren't tricks that take tons of training or practice. Instead, they're just totally doable techniques accomplished with products that won't break the bank. Follow their wisdom and I promise, your curls will always be A+.
1. Co-Wash Your Curls To Get Clean, Healthy Hair
Mielle Organics Detangling Co-Wash, $30, Amazon
"When in the shower, I recommend using a co-wash, a.k.a. conditioning wash, after cleansing your hair," says Gregory Patterson, Celebrity Consultant for Sally Beauty. "Apply the detangling co-wash and gently massage it into your scalp and through your curly strands." He recommends Mielle Organics Detangling Co-Wash to get the job done. On top of removing any impurities left behind on the scalp without stripping it of its natural oils, it's loaded with ultra-moisturizing ingredients that your curls just soak right up. Got fine strands? Don't worry — Patterson notes that this formula is "packed with power, but light enough for even fine curly hair."
2. Go Sulfate-Free For Gentle Moisture
DevaCurl No-Poo, $32, Amazon
"When it comes to curls, you want to be sure to avoid cleansers with sulfates, as these harsh detergents will strip the hair of the natural moisture it needs," warns Cal Ellis, Curl Master for DevaCurl. DevaCurl's No-Poo Original is a great choice because it help your ringlets stay moisturized. Its formula features peppermint and grape seed oils that clean the hair without leaving it dry and stringy.
3. Save Time In The A.M. With A Cleansing Cream
Oribe Cleansing Crème for Moisture & Control, $44, Amazon
When you're pressed for time, skip the two-in-one shampoo and conditioner and opt for a cleansing creme. "Curly hair usually needs extra moisture, so I recommend using Oribe's Cleansing Crème instead of a the traditional shampoo and conditioner combo," says Judy McGuinness, senior stylist at Mizu New York salon. "It's super nourishing and it's only one step, so you're out of the shower quicker."
4. Get Perfect Ringlets With Deep Conditioner
DevaCurl Delight One Condition, $30, Amazon
"For defined and clumped curls, you should cleanse and condition, then rinse your hair thoroughly," explains Ellis. "Then apply small amounts of conditioner to large sections of your hair, working it through with tension until your curls appear ribbony." Once you're done, finish off your shower with a quick cool rinse. This not only ensures maximum definition, it also helps set curls and fight frizz.
5. Brush Curls While You're Still In The Shower
Kérastase Discipline Curl Ideal Masque, $60, Amazon
Surprise surprise, shower time is actually the best time to brush out your curls and let them form, according to Nast. She recommends using a moisturizing conditioner like this high-end hair mask which strengthens and controls volume at the hair root, as well as taming the frizz. Use a wide tooth comb to gently brush out your curls, then rinse hair and pat dry with a towel without rubbing. The results: perfectly coiled curls.
6. Moisturize, Moisturize, Moisturize
ORIBE Shampoo for Moisture & Control, $45, Amazon
I can't stress it enough: you've got to hydrate those curls. "Curly trends to be more dry, so you should use a moisture rich shampoo like Oribe Moisture and Control Shampoo," says Darby Backes, senior stylist at Mizu New York salon. "Make sure to scrub well as most curly-haired people don't shampoo as often and this will help eliminate any buildup on the scalp." Once you're done, apply conditioner and comb it through the hair with a wide tooth comb, the rinse.
7. Avoid Washing Your Hair Too Much
Hairstory New Wash Shampoo, $40, Hairstory
"If you have curly hair, it's typically dry, so my first tip would be to not over-wash hair," says Jennifer Nast of Sharon Dorram Color at Sally Hershberger. Going overboard can deliver dry, unruly results, rather than the ringlets you seek. And when you do wash it, don't overdo it with the shampoo, she suggests. "I suggest using New Wash Shampoo since it's super gentle and will keep in the moisture that's necessary for your curls to look their best."
8. Don't Rinse Your Strands All The Way Out
OGX Quenching + Coconut Curls Curling Leave in Hair Butter, $17 for two, Amazon
We've all been told to lather, rinse, and repeat, but what if you simply put product in your strands, then didn't totally bother with the second step? Apparently, it's a simple technique that works. "Don't rinse off all the conditioner — leave some in your hair to hold the curls in place," says Jennifer Matos, Stylist at Rita Hazan Salon in New York City. A great one to try: Hair Butter by OGX, as its nourishing coconut and honey ingredients that hydrate and tame frizz. Once you're out of the shower, apply your other styling product to your hair and mix it all together."
9. Start Styling As Soon As You Get Out Of The Shower
Devacurl Ultra Defining Gel, $19, Amazon
Make sure your hair is soaked when you style. "Curls crave moisture, and this method ensures maximum hydration," explains Ellis. "Flip your head over and scrunch upward to encourage your curl pattern as much as possible. If you're using gel glide the product on the exterior of the hair, coating it well, then scrunch to distribute." Plus, if you have cowlicks, this technique can prevent 'em from popping up.
Images: AjayGoel/Pixabay (1); Amazon (8); Hairstory (1)
Bustle may receive a portion of sales from products purchased from this article, which was created independently from Bustle's editorial and sales departments.