National Sandwich Day Is Finally Upon Us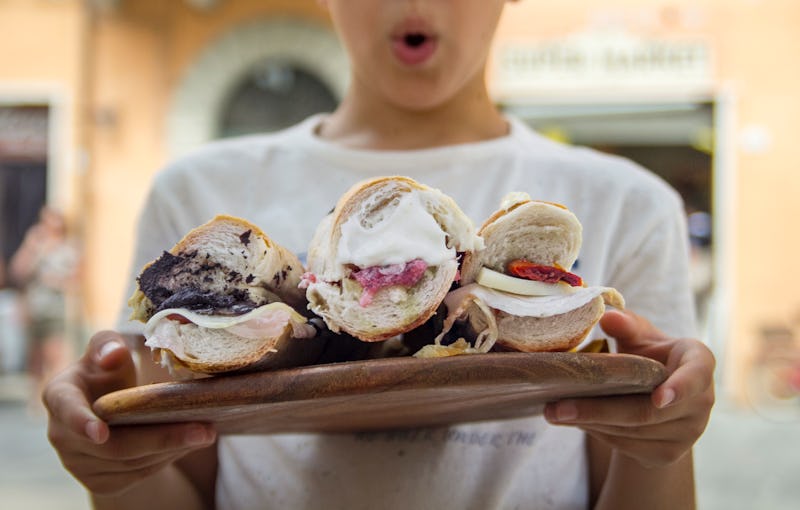 elvira boix gomez/Moment/Getty Images
When it comes to defining all-American lunches, it's hard not to conjure up an image of a sandwich. There's just something about a classic sandwich that can appease every appetite — and I have to say, these quotes about sandwiches for National Sandwich Day (which just so happens to fall on Nov. 3, 2016) will likely leave you craving for one.
If you're not sure whether or not sandwiches deserve a whole day, think about it: what other food can you pack in a plethora of flavors and eat with your hands? Along with being able to eat sandwiches on-the-go and sans knife and fork, their versatility is a creative chef's dream come true. Whether you're stuffing your sandwich with meats, cheeses, vegetables, fruits, spreads, eggs, or just about anything else, it's going to be delicious so long as the flavor combos are working.
There are a few important things to make sure you fit into your agenda come this National Sandwich Day. For starters, get yourself a sandwich (or two). Secondly, take a nice, long scroll through these quotes to get yourself more psyched than ever to eat said sandwich. If there's one thing that can make a sandwich taste better than it already does, it has to be hype. Now get to it.
1. "By and large, we're a bread-eating culture. People like sandwiches. We don't really over-think that one." — Fred DeLuca
2. "I love a sandwich that you can barely fit in your mouth because there's so much stuff on it. The bread should not be the main thing on a sandwich." — Adrianne Palicki
3. "I come from Yorkshire in England where we like to eat chip sandwiches - white bread, butter, tomato ketchup and big fat french fries cooked in beef dripping." — Helen Fielding
4. "Too few people understand a really good sandwich." — James Beard
5. "Call me All-American, but I love Ham and Cheese sandwiches. And not just any old ham and cheese sandwich... My mother's is the best. I've tried many times to make these sandwiches on my own, but it's never the same." — Andy Roddick
6. "It has been well said that a hungry man is more interested in four sandwiches than four freedoms." — Henry Cabot Lodge, Jr.
7. "The most appealing thing to me about food is combining and layering flavors, tastes, and textures. So the perfect sandwich has to be toasted. It has to have Emmenthal Swiss cheese and a combination of sweet and savory — some cranberry or fig thing happening — with different kinds of meats like Black Forest ham and roast beef." — Kyle MacLachlan
8. "I make a mean peanut butter and jelly sandwich." — Jack Black
9. "I am a sandwich man. Somewhere early in life, my epigenetic switches got flicked to 'likes sandwiches,' and that's where they still are. I suspect it's at least in part because they're easy to eat while reading." — Tad Williams
10. "Sandwiches are wonderful. You don't need a spoon or a plate!" — Paul Lynde
11. "I survived on sandwiches, and I was on stage every night for six years of my life. I was working 16 hours a day between class, rehearsal, being on stage." — Thierry Mugler
12. "Enjoy every sandwich." — Warren Zevon
Images: Getty Images (4)