A Lot Of Historical Research Went Into 'The Crown'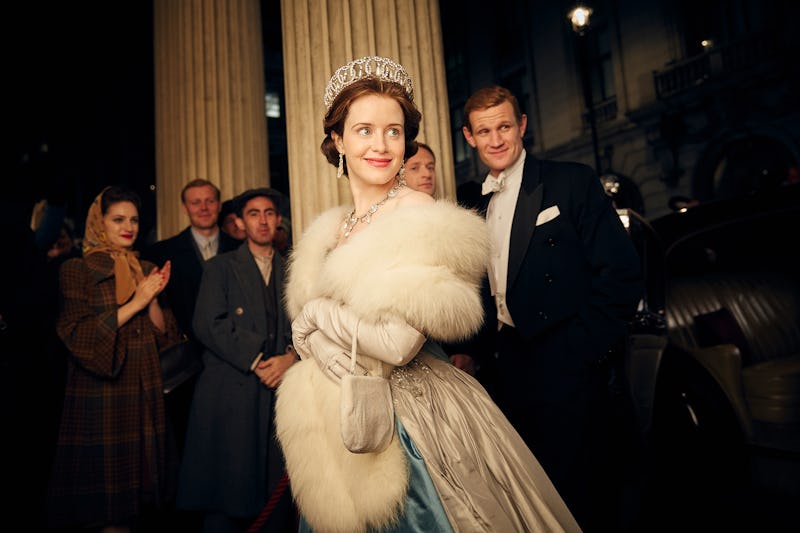 As every fan of British TV knows, we often have to wait our turn before our favorite shows premiere across the pond. I twiddled my thumbs impatiently while I waited to watch The Fall and The Night Manager, but that's neither here nor there because Season 1 of Netflix's new series The Crown will be released in its entirety on Nov. 4. Produced by Left Bank Pictures, an award-winning UK production company, the lavish new series focuses on the reign of Queen Elizabeth II. Now 90 years old, she became Queen at the young age of 25 after her father passed away and she remains a beloved figure in England. Her reign continues, but the series begins in the late 1940s, so there's a lot of history to cover. With that in mind, is Netflix's The Crown historically accurate? Bustle reached out to the royal press office for comment and was given this statement: "The Crown is a fictional drama. The Royal Household has had no involvement."
The series will depict historical events but, because the Royal family didn't participate in the series, artistic license is necessary for any scenes that didn't play out in the public eye. In an interview with reporters at a Netflix junket, John Lithgow, who plays Winston Churchill, says that the series is "a piece of speculative history, which means it's virtually fiction. These are not exactly the words they spoke behind closed doors in the palace or in Parliament." In order to prepare for his role, he did extensive research using books, audio, video, and visited places like the Winston Churchill Museum and the War Room bunkers.
Kirby, who plays Princess Margaret, tells Bustle that although the conversations we'll see are fictional, the show was kept as "strictly to truth as much as possible." As an actor, she describes it as an amazing opportunity because: "It meant that we could do all of our research and obviously we wouldn't have to try and bend our minds to an imagined reality." Kirby immersed herself in as much archive footage as she could find, including Princess Margaret's music.
For Jared Harris, the biographical and historical research was integral to getting into the character of King George VI. He tells Bustle that it helped him "create some sort of connection with the character empathetically." All the cast members clearly did their homework so, although we'll never know the details of the Royal family's private conversations, each actor approached his or her role with as much knowledge and context as possible.
In short, fans can expect historical accuracy when it comes to the major events depicted on screen. But, when it comes to the focus on the characters' private lives, there will be a great deal of artistic license — because no amount of research or insight into these figures can reveal the details of what happened behind closed doors and out of the public eye. According to The Telegraph, showrunners are eager to hear what the Queen thinks of The Crown and are even hoping to secure an endorsement from her. If she speaks out, we may receive a whole lot of insight into how much accuracy was achieved.
Images: Robert Viglasky; Alex Bailey/Netflix