Jouer's Best Of Nudes Mini Gift Set Is Coming Soon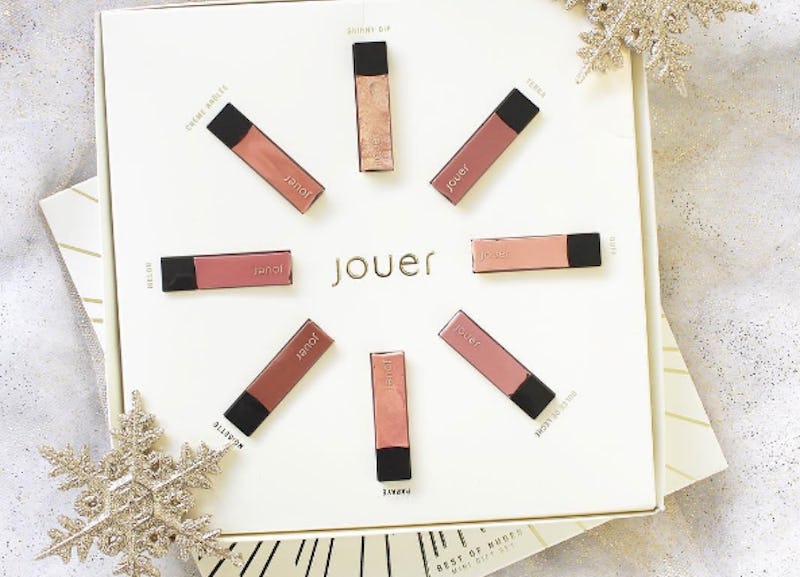 The beauty launches are in full swing and another great one is coming your way. Jouer's holiday collection is filled with tons of great products, but this is the best one of all — literally. Of course the new products are great, but their set of all-star lip products is one to add to your wish list. When is Jouer's Best Of Nudes Mini Gift Set available to shop? The exact time is here, and it's sooner than you might think.
Best Of Nudes Mini Gift Set, $36, Jouer
If you're looking to try out all the best Jouer lip products, then you're in luck. Just for the holiday, the company put together an eight piece mini lippie collection that's filled with all of their bestselling shades. Think of it as a sampling platter of gorgeous liquid lipsticks that you can't order anywhere else. Like the name suggests, you'll only get nude shades in the set, but it's still one heck of a deal.
The best part is that it's available super soon. According to the company's Instagram, you can start shopping the mini-lipstick set on Nov. 2 at 2pm EST. It won't be around for long though, so you'll want to be sitting by your computer. This is one gift that's perfect for giving or getting this holiday season.
Best Of Nudes Mini Gift Set, $36, Jouer
Not to mention the price. You'll get eight different shades For $36. That's $4.50 a shade. Even though all the products are miniature, this is still on heck of a deal. Especially considering that the company's full-sized products are $18 each.
Jouer Long-Wear Lip Crème Matte Liquid Lipstick, $18, Amazon
Long-Wear Lip Crème Liquid Lipstick Trio, $34, Jouer
That's not the only product that will be available at that time either. The entire holiday collection will sit the site as well. That includes the Holiday Lip Crème Trio, which are all brand new shades, as well as the Slim Crème Liner Set.
Slim Crème Eyeliner Set, $38, Jouer
This is one collection that you won't want to miss out on. There's no telling how fast these sets will sell out either. Get those wallets ready, because the big launch is almost here.
Images: jouercosmetics/Instagram (1)