'The Crown' Shows Margaret's Ill-Fated Love Story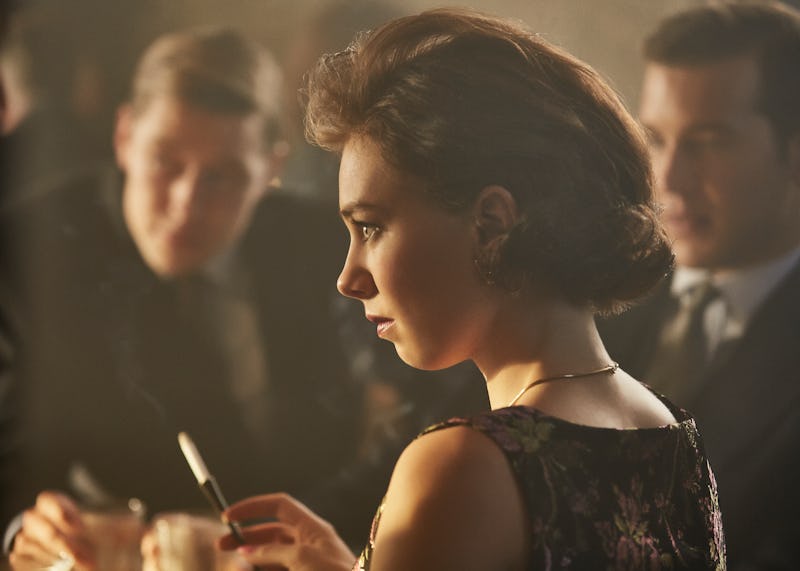 Royal weddings seem to be the most romantic way to tie the knot, but the reality is a little different. Netflix's new series The Crown, about Queen Elizabeth II's rise to power, features several relationships within the royal family that are more scandal than happily ever after. For example, Princess Margaret and Peter Townsend have a relationship in The Crown — did that happen in real life?
It's a pretty tragic true story, actually. According to the Daily Mail, the two met when Princess Margaret, Elizabeth's younger sister, was just a teenager. Townsend worked at court as and equerry, and additionally became a distinguished fighter pilot and Group Captain in the Royal Air Force. Winston Churchill was a fan of the match, particularly in war time. However, Elizabeth asked her sister to wait a year before considering marriage, perhaps in the hopes that their relationship would fizzle out. Under the Royal Marriages Act of 1772, Margaret needed the consent of the crown to marry anyone while she was under the age of 25. Bustle reached out to the royal press office for comment on why Queen Elizabeth asked Princess Margaret to wait as well as the royals' thoughts on the Netflix show tackling the subject. A rep for the palace provided this statement: "The Crown is a fictional drama. The Royal Household has had no involvement."
According to the New York Times' profile of Captain Townsend upon his death, the connection between the two was first noticed at Elizabeth's coronation. Unfortunately, as Townsend was divorced, the royal family could not really allow them to get married, especially after King Edward VIII gave up the throne for his divorced fiancé and caused a scandal. Following her heart would mean that Margaret had to give up her home, title, and royal career. The British Parliament made that abundantly clear. One letter, recently uncovered and discussed in The Telegraph, suggests that Margaret was having doubts about the match. Still, it appears that they mutually decided that too much was at stake, and, in 1955 Margaret instead issued this royal statement ending the relationship with Peter, according to The Daily Mail.
"I would like it to be known that I have decided not to marry Group Captain Peter Townsend. Mindful that Christian marriage is indissoluble and conscious of my duty to the Commonwealth, I have resolved to put these considerations before others."
The Mail reported that they both went on to marry other people and the last time he saw her was "in 1993 when she invited him to lunch." He died two years later and Margaret died in 2002. This doomed royal romance will be a big part of the story of The Crown — though, in this case, the truth is much more tragic than fiction.
Images: Robert Viglasky, Alex Bailey/Netflix