14 Of The Best Poetry Debuts Of The Last 5 Years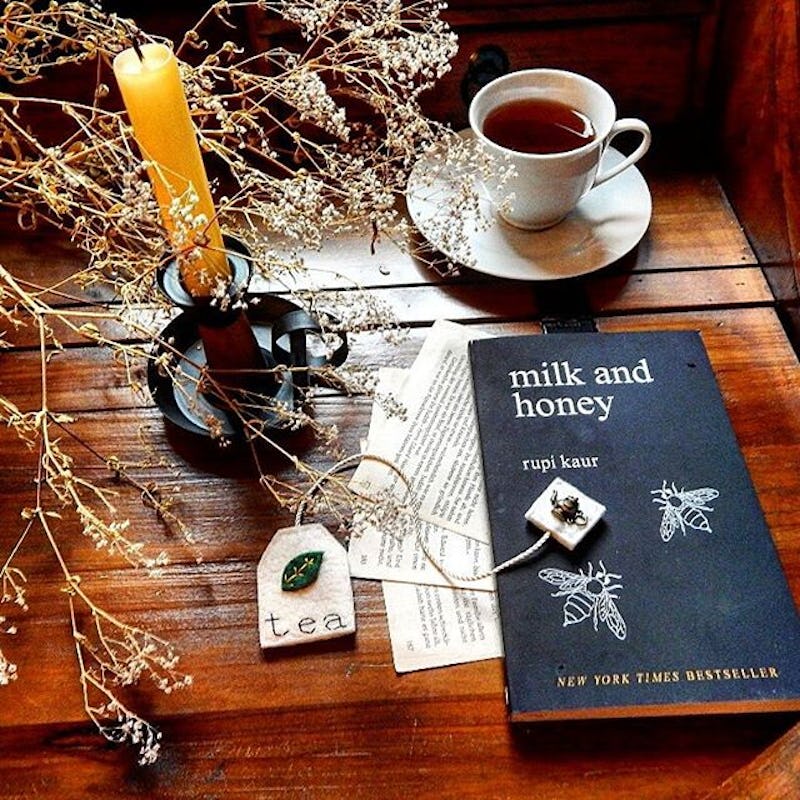 Is it just me, or are people making more room for poetry on their bookshelves these days? With an increasing number of contemporary poets appearing at the forefront of both pop culture (think Warsan Shire) and politics (think Claudia Rankine and Elizabeth Alexander) I have never been as excited about poetry as I have been in recent years — and to celebrate the ever-growing number of poetry collections appearing on my own bookshelves, I've put together this list of some of the best poetry debuts of the last five years. (So you'll have some great suggestions for expanding the poetry section of your own personal library as well.)
For anyone who is still lingering in poetic skepticism, I know where you're coming from. I wasn't always as intrigued by poetry as I am now. But in a world that's gotten especially wordy lately (thanks, social media) sometimes the things that are said using 100 words can be better described in 10. Or 5. Or 3, if you're feeling inspired by the haiku. Plus, poets are just badass — they go places prose writers don't always think to go, and I love them for that.
Here are 14 of the best poetry debuts of the last 5 years.
1. Infinite Citizen of the Shaking Tent by Liz Howard
Winner of the 2016 Griffin Poetry Prize — and the youngest winner ever of the prize, to-date — Liz Howard is a poet to keep your eyes on. Her debut collection, Infinite Citizen of the Shaking Tent explores in electric, musical, and occasionally scientific language, how we define ourselves while attempting to make sense of the world around us. There is an intense urgency to her poetry that will keep you reading, and thinking, and investigating the human condition alongside her.
2. Voyage of the Sable Venus and Other Poems by Robin Coste Lewis
This debut collection won the 2015 National Book Award in Poetry, and made Robin Coste Lewis one of last year's most compelling and powerful poets. Voyage of the Sable Venus explores how the black female body has been thought of, used, depicted, and imagined throughout history — in life, in art, in literature, and in politics. Using bold, difficult, and beautiful language, Lewis describes the painful journey of the black female body while simultaneously celebrating her own racial heritage, and the poems in this collection challenge current understandings of race, sexuality, and feminism in our world.
3. Look: Poems by Solmaz Sharif
Currently shortlisted for the 2016 National Book Award for Poetry, Solmaz Sharif's debut collection Look packs a serious punch — and it's one of my favorite collections on this list. Look explores the myriad ways humans go to war today: against other countries, against ourselves, and against our own language and the ways we express the inherent truths about our lives. Incorporating words and phrases from the Department of Defense Dictionary of Military and Associated Terms into her poetic lyric, Sharif has written a jarring and haunting collection that deserves to be read with intention.
4. Loop of Jade by Sarah Howe
Winner of the 2015 T.S. Eliot Prize for Poetry, Sarah Howe's debut collection Loop of Jade reads like a meditation on Howe's identity and family history. In the collection, the poet travels to Hong Kong in search of her family's roots, (Howe's father is English and her mother is Chinese, and the poet herself grew up in England) and what she discovers throughout her journey — and conveys in her poetry — is a collection of universal truths about the human spirit that transcend time and place, culture and language, race and nationality.
5. how to survive a hotel fire by Angela Veronica Wong
If a hotel fire is a metaphor for life, then Angela Veronica Wong's debut collection, how to survive a hotel fire, acts as a guide for how to survive life in our messy, fractured, heartbreaking, violent, beautiful world. Destruction and desperation, urgency and intensity, violence and chaos, poignancy and beauty all work together in this collection, which offers a series of vivid snapshots from urban and domestic life in America.
6. Dear Boy by Emily Berry
Winner of the 2013 Forward Prize for Best First Collection, Emily Berry's debut collection Dear Boy reads like a kaleidoscopic journey through a series of dark, wicked, and playful fairy tales. What joins each of these poems together is the story of one relationship — told with intimate (disturbingly, at times) detail and a dose of dry humor. Dear Boy is a bold collection that pulses with strong, feminine energy.
7. Prelude to Bruise by Saeed Jones
It's hard to believe that Prelude to Bruise is Saeed Jones's debut collection, since I feel like I've seen his name everywhere over the last few years. This winner of the 2015 PEN/Joyce Osterweil Award for Poetry focuses on the experience of being a minority in America today, and deals with issues of grief and violence, race and gender, pain and bitterness, sexuality and relationships, prostitution and drug use, and above all: surviving the seemingly-unsurvivable. The intensity of Jones's words will reverberate through you long after you've finished reading this collection.
8. The Shark Cage by Laura Seymour
Wild and visceral, Laura Seymour's debut collection The Shark Cage, takes readers on a coming-of-age journey — exemplified by the recurring poetic imagery of being lost at sea. This collection also dives deep (pun intended) into father/child relationships, featuring a number of bizarre, dysfunctional, and failed father figures — but Seymour's narrator is a girl who is comfortable going it alone, without her father by her side. This is an interesting and adventurous debut, and anyone who reads it will undoubtedly be looking forward to more from Seymour.
9. Mad Honey Symposium by Sally Wen Mao
The interplay between nature and complicated, inventive language is what will make Sally Wen Mao's debut poetry collection, Mad Honey Symposium, really stand out on your bookshelves. Mao reads like a poet who loves language — arranging her words and images in a manner that is creative, compelling, and unfamiliar. The sophistication of her language contrasts with her pastoral settings in a way that will disrupt how you've previously understood poetry.
10. Rapture: Poems by Sjohnna McCray
Winner of the 2015 Walt Whitman Award, Sjohnna McCray is the child of a Korean mother and an American father, born in the United States during the tense years of the Vietnam War — and his debut collection of poetry, Rapture, explores exactly how this unique family history and the individual histories of his parents, informed the person McCray grew up to become. Rapture takes readers on a journey of identity, exploring the different spaces in which the human experience can unfold simultaneously.
11. Liffey Swim by Jessica Traynor
This Strong/Shine Award shortlisted debut collection reads like a collection of Missed Connection blurbs from a writer to their very own life — a stolen future, a lost chance, an avoided kiss, a missed train, and a series of dozens of other small, seemingly-inconsequential moments that when reflected upon form a young life of missed opportunity. Liffey Swim is a sad, but completely relatable first collection.
12. Beautiful Nerve by Sheila Squillante
This debut collection of poetry and prose is unsettling, disturbing, and beautiful — playing on the anxieties and insecurities inherent in modern life. Shelia Squillante's poems take place on an operating table, in a three-walled room, on a sinking ship. There is something slightly wild, possibly violent about many of the poems in Beautiful Nerve, which exist in the space just between dreaming and waking, and make you question what is real.
13. The Verging Cities by Natalie Scenters-Zapico
Set along the fraught landscape of the U.S./Mexico border, the poems in Natalie Scenters-Zapico's debut collection, The Verging Cities (referring to El Paso, Texas and Ciudad Juárez) challenges current immigration politics both in the United States and in Mexico, taking a critical look at two governments who fail to look at individual lives when making national and international decisions — even though it is those individual lives that are profoundly affected by the turmoil of the borderlands. The chaos of Scenters-Zapico's poetic themes are contrasted by the exactitude of her poetic expertise, as she plays with style and form in a precise and measured way.
14. milk and honey by Rupi Kaur
Rupi Kaur began her poetic journey through performance poetry and spoken word, and then self-published this first collection of poetry and prose, milk and honey, in 2014. The debut was then picked up and republished by Andrews McMeel Publishing, and was recognized as Amazon's bestselling poetry collection written be a woman poet that year. Centering on themes of struggle and survival, milk and honey takes a feminist stance against issues of abuse, violence, loss, and love.
Image: sarahlostbutfound/Instagram