6 Reasons CBS Would Be Crazy For Canceling 'The Crazy Ones'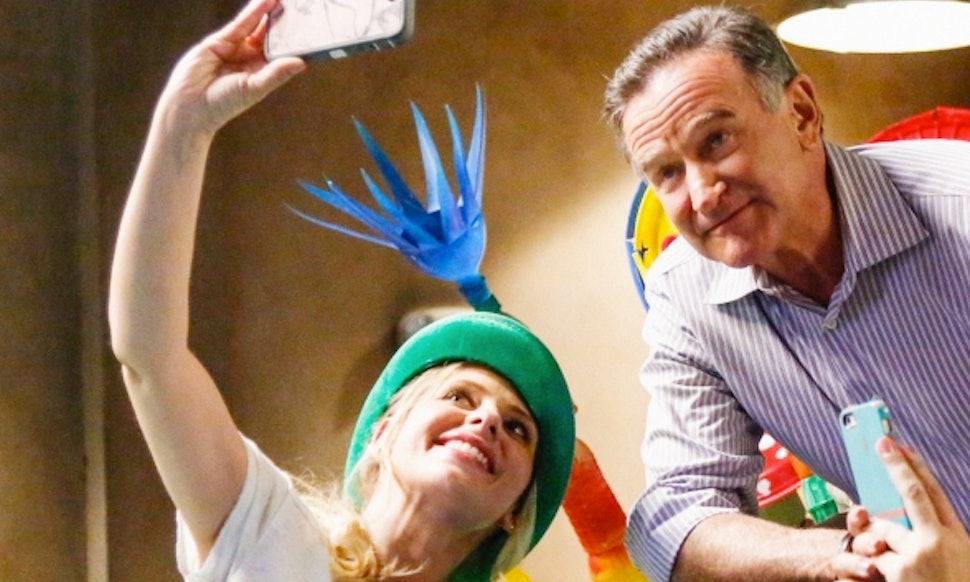 CBS is hinting at the possibility of canceling The Crazy Ones . This is greatly upsetting. Apparently it's not measuring up to the audience expected by presence on the same night of Big Bang Theory and Two and a Half Men. What they don't seem to understand is that this show is a treasure just waiting (and ready) to be discovered.But cancelling The Crazy Ones would be a big mistake on CBS' part. Here's why.
Images: CBS
It's DELIGHTFUL.
Seriously. This show figured itself out quicker than most, and from there it was cake. Delicious, funny, endlessly charming cake.
Robin Williams Is Still Great
Robin Williams may not have the same pull he did back in the '90s — but he should. He's the benevolent patriarch here, but nothing about him, from his position to his persona, feels overbearing. He's just funny, and charming, and rearing to pull us all out of our funks, just like we like him.
James Wolk Is A National Treasure In the Making
Remember how a portion of the Internet freaked out last year because it was obvious Mad Men's Bob Benson was more than he appeared? Well Mad Men's Bob Benson (James Wolk) is more than he appears. Because he appears charming and great, and he is, but he's also hilarious and the perfect addition to the Crazy Ones cast. Why settle for just watching James Wolk as a 1960s ad man when you could also watch him as a modern day ad man who sometimes does Priscilla Queen of the Desert homages with Robin Williams?
The Ensemble Works Great Together
I singled out Robin Williams and James Wolk because they seem to be the most persuasive elements, but you really should be paying attention to the entire cast. Sarah Michelle Gellar's proving she's still got a long post-Buffy career ahead of her through her role as Sydney, for example, and Hamish Linklater is a perfect foil for literally everyone. Amanda Setton, too, is sparking with this group in a way she never did with The Mindy Project — in fact, the entire group's meshing and playing with each other almost seamlessly — something that's actually pretty rare for a first year sitcom.
It's Got A Lot Of Potential
The father-daughter dynamic between Simon (Williams) and Sydney (Gellar) is already aces. The bromantic co-dependency between Zach (Wolk) and Andrew (Linklater) can stand among the best of 'em. The best-friendship soulmate connection between Andrew and Sydney is still just planting the seeds of something potentially great.
The relationship and comedy dynamics on this show are already flying along pretty damn well — they deserve the chance to follow through, especially since they're already doing a lot better at it than a lot of freshman comedies.
Sitcoms Without Mega-Audiences Are the Future
CBS is no big failure when it comes to getting audience to sitcoms. Big Bang Theory, Two and a Half Men, 2 Broke Girls — all sitcoms with huge numbers. And that's great for them, in some really big, obvious ways. But in another way, it's less and less what's going to keep them noticed. How I Met Your Mother, perhaps their most beloved sitcom, is ending next week. Numbers are important. But beloved sitcoms are where the heart is, and The Crazy Ones is shaping up to be one fast earning that title.