'Hidden Figures' Shows The Need For Sisterhood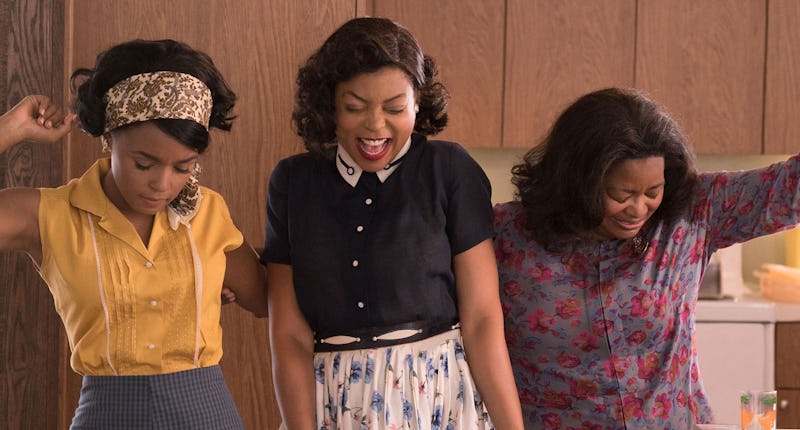 There is nothing like a film that features women empowerment at its finest, and judging from the trailer for the biopic Hidden Figures, it seems like this new movie will do exactly that. Directed by Ted Melfi, Hidden Figures, out Dec. 25, is a film about the three Black women who played integral roles in many of NASA's first space missions as the human "computers" who helped launch astronaut John Glenn into space in 1962. The central trio features Oscar nominee Taraji P. Henson, Oscar winner Octavia Spencer, and Grammy-nominated musician Janelle Monae. These three powerful actors just add to the excitement many women have for the film, which seems to be a rare example women of brilliant, ambitious women shown as allies on-screen. To often we see women — especially those of color — depicted as competitors and enemies, and it's time to see them working with each other on-screen rather than against.
The actors involved seem excited about the message shown by Hidden Figures, too. "You see women [in the movie] come together and support each other," Henson told The Hollywood Reporter at the Toronto Film Festival in September. "Not cat-claw, fight [and] hate on each other for one role. But when you embrace each other and you stick together — look what these women were able to accomplish. The power in women sticking together — we will change the world. Until we get that we are going nowhere."
The movie is based on the nonfiction book Hidden Figures: The American Dream and Untold Story of the Black Women Mathematicians Who Helped Win the Space Race, written by Margot Lee Shetterly. The book covers the contributions of the Black women who worked for NASA and highlights the journey of overcoming racism and sexism to become major members of the organization, and the movie seems like it'll follow suit. "I'm…excited that we finally get to see a different side of black women," said Monae in an LA Times interview on Nov. 4. "We get to see us as brilliant-minded mathematicians who are necessary to the culture."
This film is giving honor where it is due, to the women so often ignored by history. It is stunning to realize that many people — like myself —never heard the story of these significant women, and are only learning the details through Hidden Figures. As Spencer told The Hollywood Reporter, "We are representing them because they were never ever recognized... No women were mentioned in Apollo 13. I'm sad that Dorothy [Vaughn] and Mary [Jackson] can't see this day, but I'm proud that [98-year-old] Katherine Johnson will."
And as Henson said in her own interview with THR, "This movie represents what she [Katherine Johnson] should be thinking about right now…We need it right now." Yes we do. Here are a few reasons why Hidden Figures' message of empowerment and female solidarity is so important.
All. Of. This. Melanin.
It's so empowering to see women of color in such pivotal and positive positions. It's not often that we get to see Black women in tech or even playing techies in major films. In its 2016 research update, the National Center for Women & Information Technology showed that Black women hold just three percent percent of computing roles. It's a distressingly low number, but perhaps seeing Black women succeed in tech on-screen will encourage more women to join. Even more, the resilience of these characters to push forward despite the many hurdles being placed in front of them due to their gender and race speaks volumes to Black history. Seeing all of these Black women representing every shade, shape and personality in a affirmative light could spark the interest of little Black girls everywhere.
Woman-To-Woman Empowerment
As Henson stated, female empowerment and support for one another is necessary for solidarity in all areas of life. It's not a competition about who is better or who deserves a position over someone else, but it's about working together to make spots for everyone, equally. When women support each other, they're stronger as a whole, and any woman winning is a win for all of us. There is power in numbers and Hidden Figures shows us the true meaning of that, figuratively and emotionally.
The Badassery Of The Trio
This movie seems set to show audiences a truly multifaceted image of how complicated women can be and how many things they have to balance in their lives. The women at its center pay attention to the details of their work, the emotions they're feeling, and the harsh realities of their lives — all while holding grace in their composures.
Not only did the women of Hidden Figures juggle the struggles of being double minorities in the workplace, but they also handled their personal family lives, their own self-discovery, and their desire to stay on top of the game all while working under the force of a male-dominated workplace. Pretty badass, if you ask me.
Images Twentieth Century Fox, Giphy, Primo Gifs