How To Buy The Mt. Nasty T-Shirt ASAP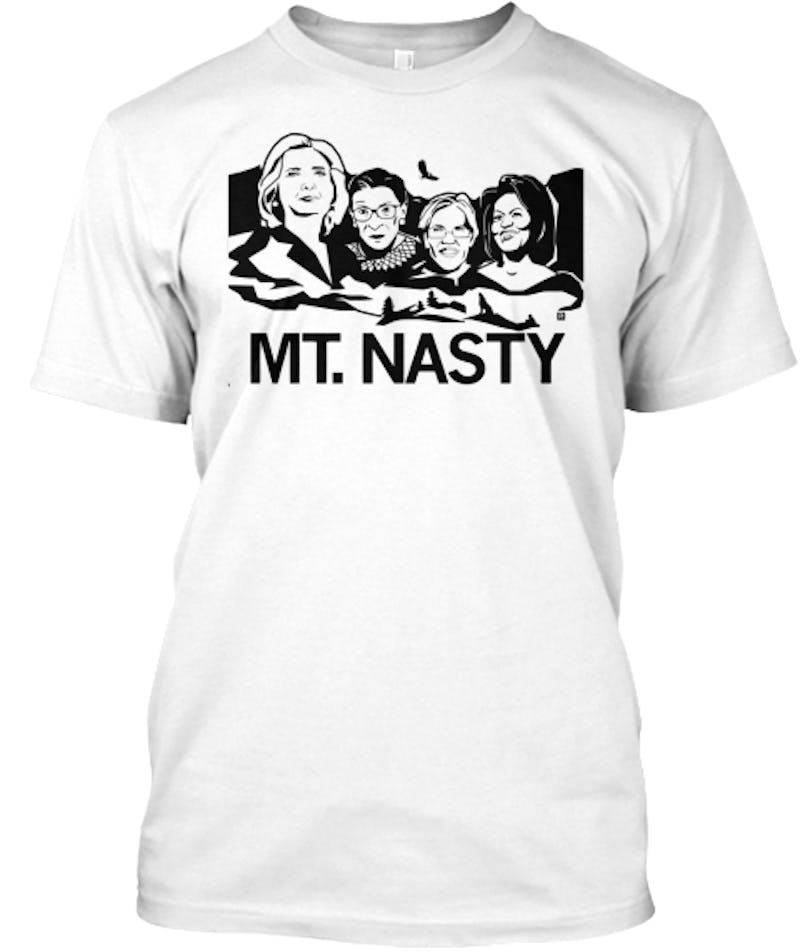 A brand new pair of pumps might be nice when Saturday night rolls around, but if you're a lady, you need one shirt now that trumps all other ensembles (wait for it). The Mt. Nasty T-Shirt is a major fashion do, and they're actually incredibly stylish and versatile. Since the debate on October 20th, 2016, the term "nasty woman" has gone viral. In fact, Mike Lin had filed a trademark for the term and began selling nasty women shirts immediately.
Unfortunately for Lin, many other wise entrepreneurs have gotten on board and have been selling new styles on various channels (women can never have too many shirt options, of course). The trademark war might be ugly, and it typically can take a year to become registered and safe.
The good news? These shirts are everywhere. We've seen people walking around with t-shirts representing the term, dressing up as the quintessential nasty woman for Halloween (beats the typical cat woman costume, right?), and taking a stance on their opinions for this year's election. If you want to get on board with this latest trend and express yourself, it's easy to buy the fabulous Mt. Nasty T-Shirt and flaunt your power in this year's election. It's the best yet.
Mt. Nasty T-Shirt , $17, Amazon
Mt. Nasty Tank Top , $24, Tee And Gifts
Casting a vote this year is something to be cherished, and there's no shame in wearing your vote on your sleeves. Get your credit card ready, don your favorite pair of jeans, and be the proud, nasty woman that you are. You can order the Mt. Nasty T-shirt in tank top (sleeve-less), sweatshirt, mug (great for that morning cup of coffee or for sitting atop your work desk), long sleeve, or traditional short sleeve. Even better? Get a few. You can share with friends, or wear different options throughout the week. These shirts have certainly made quite a hit, and I don't see the trend dying down anytime soon.
Here are some other styles that say #ImWithHer, too, if you can't get your hands on Mt. Nasty.
#NastyWoman Hillary Clinton American Apparel T-Shirt, $27, Tee Shirt Palace
I Never Dreamed I'd Grow Up To Be A NASTY WOMAN, T-Shirt, $20, Amazon
Nasty Women Make History - Rosie The Riveter, $16, Amazon
New wardrobe, maybe?