This Lifetime Movie Brings Horror Home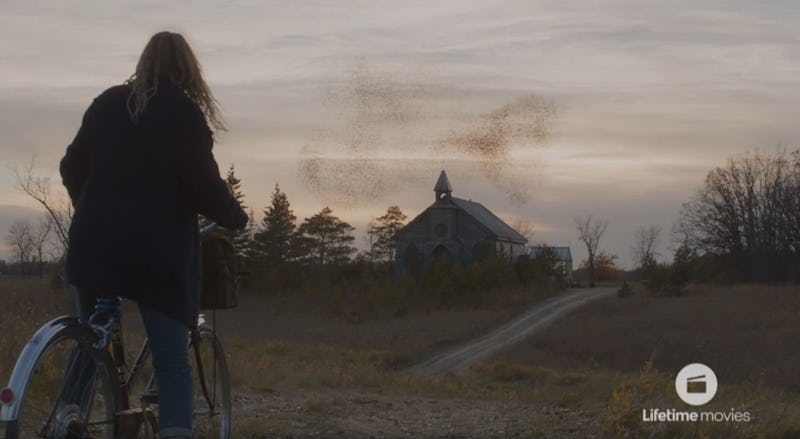 Halloween may be over for this year, but apparently Lifetime didn't get that memo. I only say that because the latest movie to debut on the network on Saturday, Nov. 12 at 8/7c, Little Girl's Secret, appears to be quite the frightening flick. I mean, I just dare you to watch the eerie preview for the film available on Lifetime's website and not get the chills. But since many of the movies that air on Lifetime are based on true stories, it makes you wonder if Little Girl's Secret is a true story, too.
Since the sneak peek of the movie seems to tease that it will feature a haunted house, possessed children, and unsettling natural phenomena, I certainly hope that no real-life events inspired this tale because all of that sounds incredibly traumatic. But you never know. The synopsis of the film provided by Lifetime on its website gives me a better idea of exactly what this movie is about. "When her family moves to a converted church in the country, teenager Molly must save her troubled step-sister from a dangerous relationship with the desperate ghost of a young girl," the description reads. Unfortunately, that doesn't really tell us much about whether or not Little Girl's Secret is based on a true story.
Actually, what is clear about Little Girl's Secret is that the film's original title was Wait Till Helen Comes, and it is based on the 1986 novel of the same name by Mary Downing Hahn, according to the movie's production company, Caramel Films. The book version of Wait Till Helen Comes is described as "a ghost story" on its cover, so you you would think that it's purely fiction.
But, in fact, Wait Till Helen Comes does have real-life inspiration. In a 2014 interview with Tattle, Downing Hahn revealed that she was inspired by the parents of her daughter's friend who moved into an old church that had a graveyard behind it, which she paid a visit to. "So here I am and I started thinking about how I would have felt, how scared I would have been," she explained. "And then I thought what if the graveyard really were haunted? And what if the ghost who haunted it was a really scary little kid? What if somehow she made contact with the girl in the house?" Downing Hahn also said in the interview that she came up with the title Wait Till Helen Comes from a scary story by Malcolm Schwartz called Wait Till Martin Comes.
Little Girl's Secret seems to follow Wait Till Helen Comes pretty closely with both centering on siblings Molly and Michael as they move into a former church in the countryside with a cemetery in the backyard with their parents and stepsister Heather, with whom they don't get along. Molly starts to suspect that Heather has befriended a ghost named Helen and is in danger, but no one else seems to believe her. And you know nothing good is going to happen when Helen eventually comes. Downing Hahn also makes a cameo in the movie, according to Variety, making an even bigger link between the film and book.
Of course, Heather comes from a long line of creepy children getting into trouble with ghosts, evil spirits, demons, and even the devil. It's kind of a horror movie trope — and no, I'm not talking about Casper and Wendy. You'll find similar spooky stories in films like The Exorcist , Mama , Insidious , and many more.
But if you're looking for a scare that probably won't give you as many nightmares, Little Girl's Secret may provide just the right amount of frights for your Saturday night.
Image: Lifetime