Eat This Raw Cookie Dough. Seriously.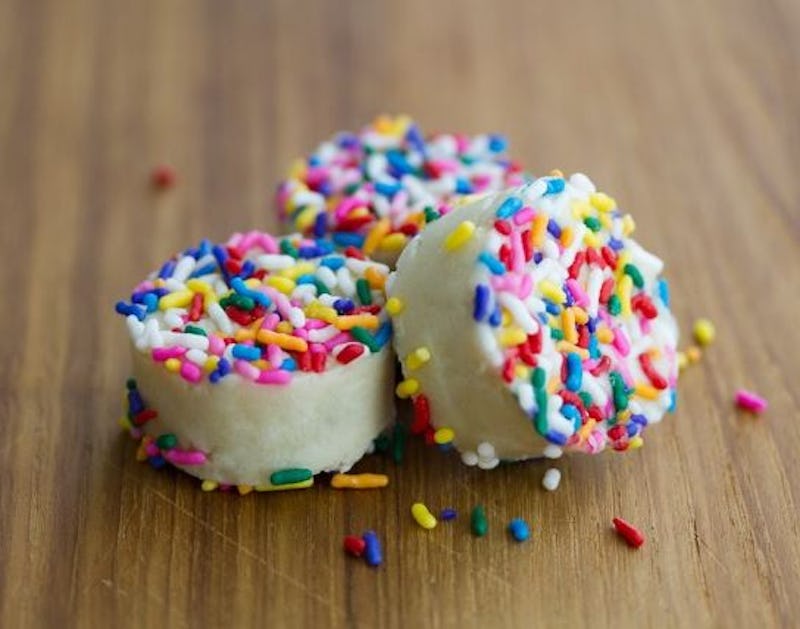 File these under "Things I need to shove in my mouth right now": Bite-sized tidbits of cookie dough that are meant to be eaten as is — no cooking required. No more shall we worry about the dangers of consuming unbaked cookie dough! No more shall we be victim to the raw-egg-laden temptations of the mixing bowl! For now we have… Unbakeables!
No, seriously, you guys. These might just be the greatest invention of all time. The creation of mother-daughter team Corey and Julie Tolkin (no, not that Tolkien), Unbakeables are egg-free cookie dough bites topped with all kinds of glorious tasties that are totally safe to eat without needing to stick them in a 450-degree oven for 20 minutes. They sound a little bit like those Cookie Dough Bites candies I sometimes see at the cinema — but way, way better. You can choose from nine different flavors, ranging from chocolate chip cookie dough topped with peanut butter to birthday cake dough topped with sprinkles; there's even a vegan, gluten-free peanut butter banana one.
This will be me as soon as I get my hands on these suckers.
Obviously you'll want to eat them in moderation, but seriously. I can't wait to put them on top of cupcakes… or crumble them over ice cream… or, y'know, just jam them in my mouth all on their own. You can pick them up in person from a few locations scattered throughout Connecticut and New York, but luckily, they deliver now, too. They're available in three-piece and 10-piece tubes; if you get them shipped right to your door (best idea ever!), you can get them as a boxed set with five 10-piece tubes or as a sampler set with one 10-piecer and one three-piecer.
Now if you'll excuse me, I have some salivating to do.
Image: Unbakeables