What Makes Grumpy Cat So Grumpy?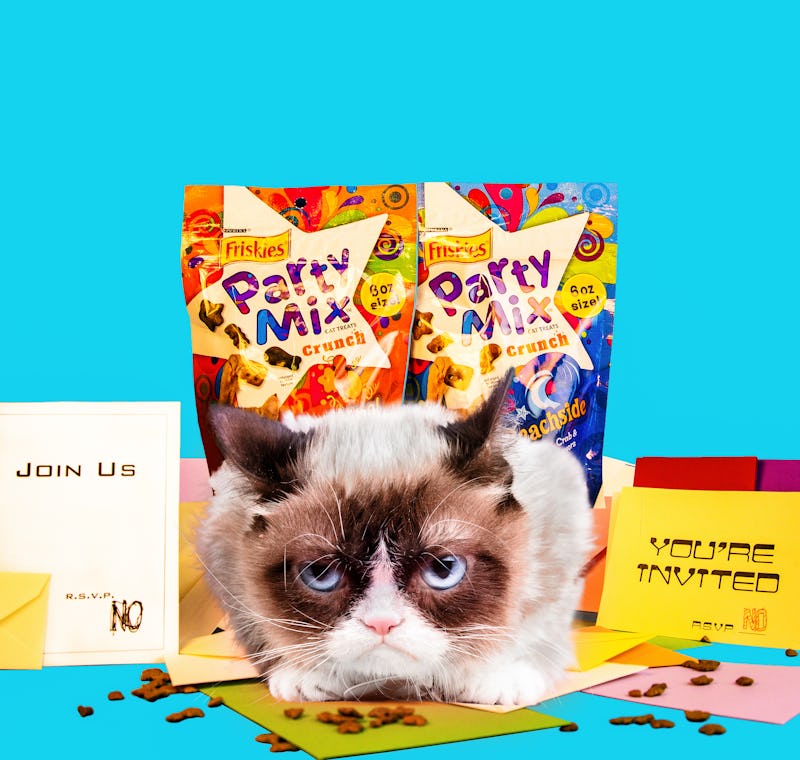 Does the name Tardar Sauce ring any bells? Better known as Grumpy Cat by her fans, this frowning feline has gone from an internet star to a recognizable celebrity with her very first blog post. As the official "Spokescat" for Friskies since 2013, Grumpy Cat's blog post is in partnership with PawCulture.com and outlines her top ten pet peeves. With a global following that includes 8.7 million Facebook fans, 500k+ Twitter followers, and 1.9 million Instagram followers, there's no shortage of people who have been wondering exactly what makes Grumpy Cat so, well, grumpy.
Grumpy Cat's owner Tabatha Bundesen spoke on behalf of the famous feline about the post and Grumpy's top ten pet peeves. "She doesn't like being asked to smile, being groomed, or social media," Bundesen told Bustle — so basically everything that comes with being famous. Still, with a name like Grumpy Cat, it isn't really surprising that everything annoys her. For longtime fans of Grumpy, the reasons behind her grouchiness have always been a mystery. But, thanks to a partnership with Purina and PetSmart, Grumpy can finally outline what it is that gets under her fur.
The post is available exclusively on PawCulture.com, along with a free Cat Clubhouse membership for special deals from Purina and PetSmart. Pet owners can even get horoscopes for themselves and their pets. In case you were wondering, Grumpy is an Aries, which she definitely isn't happy about.
Everyone knows Grumpy isn't a fan of many things. From dangling curtains to the dreaded selfie stick, there are plenty of everyday items and occurrences that get on her nerves. In her first blog post, Grumpy doesn't shy away from explaining just why these things make her so grumpy, and even provides a photo to accompany each point and illustrate her frustration.
While there are many things in the world that irritate Grumpy endlessly, one exception is her love for Friskies cat food, specifically Party Mix and Shreds with Gravy. When fans visit PawCulture.com to read Grumpy's blog post, they will also have the opportunity to sign up for Cat Clubhouse and get special deals on a variety of Friskies treats for cats.
Along with Grumpy's exclusive blog post, fans will also find interesting and funny content about cat culture on PawCulture.com. In order to celebrate the unbreakable bond between a pet and their person, the site provides helpful advice for owners and entertaining content to bring smiles to everyone's faces (except Grumpy's).
Even if you don't have a cat of your own, Grumpy's post is still worth checking out for a moment of cuteness or a laugh to brighten up your day. "Whether you own a cat or not, it's still fun to read the stories about cats," Bundesen said. "Obviously, they're all unique in their own personalities, so there's lots of interesting stories about the funny things that they do."
A film star in her 2014 film Grumpy Cat's Worst Christmas Ever and the main character of The Little Grumpy Cat that Wouldn't , Grumpy is also releasing a new Little Golden Book this November. A is for Awful is an alphabet book with plenty of classic animation for young fans to enjoy and makes a great stocking stuffer for longtime Grumpy Cat fans.
Before she left to take her tenth nap of the day, Grumpy wanted to remind all of her fans to "stay grumpy," because there's always something to be grumpy about.
So, if you're a fan of Grumpy Cat or you just love cats in general, check out her blog post at www.PawCulture.com, or sign up for Cat Clubhouse by visiting www.PawCulture.com/catclubhouse.
Images: Courtesy of Taylor Strategy